Novotel New York Times Square, an AccorHotels property
In February, AccorHotels announced it invested a 30-percent stake in Miami-based Oasis Collections, which operates an accommodation-sharing model that incorporates some hotel-style amenities.
The French hotel giant's move into the sharing economy model might be the start of a growing trend, and further proves the Airbnbs of the world aren't going anywhere anytime soon.
The funding will accelerate Oasis' global footprint—which launched in 2009 in Buenos Aires—expanding from 17 markets to 30 in the United States, Europe, Latin America and Asia by the end of the year, with the goal of reaching more than 50 by 2018. (The recent investment boosted that goal to reaching 70 gateway cities by 2019.)
"We have been looking at this space for a while, prompted by Airbnb having so much momentum," Vivek Badrinath, deputy CEO at AccorHotels, told Skift. "This is very much a learning experience for us because we want a better grasp of the sharing platform space and how to manage it."
The Oasis Collection's model can't exactly be compared to Airbnb, however. Employees of the brand are located in each destination and are available 24/7, acting as both a concierge and local guide. The brand has partnered with activity companies like SoulCycle and clubs to give guests comparable gym and lounge access they'd receive in most hotels.
There are no booking capabilities for the Oasis Collection on AccorHotels' site yet, and a time frame has not been set for its availability.
The market, as Skift points out, is an interesting one: travelers who want to feel like locals but still expect the quality and uniformity that come with hotel stays, referred to as the "home meets hotel" experience.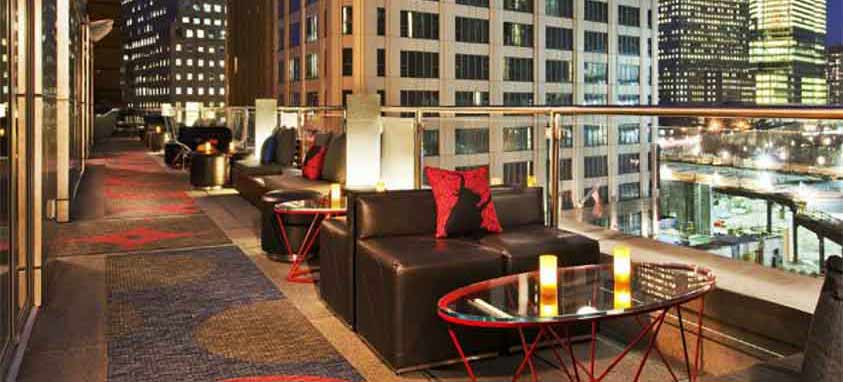 A one-bedroom home within an apartment building in the NYC financial district offers a balcony and views of the city. (Photo courtesy Oasis Collection)
"We appreciate the confidence AccorHotels has in our value proposition, and their expertise and resources will be transformative for Oasis," said Parker Stanberry, Oasis Collection co-founder. "We share the same hospitality DNA and ambition to deliver exceptional experiences to guests all over the world."
Oasis initiated an expansion strategy last summer, opening simultaneously in New York, Los Angeles, Paris, London and Barcelona. Further expansion is planned in Austin, Texas; Madrid; Mexico City and Milan by June.
Oasis also plans to introduce a more robust technology platform in the first quarter of the year, including seamless booking and a mobile app featuring city guides, perks for Oasis guests in each destination and direct messaging with local concierges.
AccorHotels made headlines in December with the purchase of FRHI Hotels & Resorts, consisting of three prestigious luxury brands—Fairmont, Raffles and Swissotel—for $2.89 billion. This, in addition to their investment in Oasis Collection, ensures they're reaching travelers on both ends of the spectrum.