AECC rendering
Imagine meeting in a brand-new convention center in a destination no one in your group has ever been to or even thought about visiting. Your offsite reception takes place in a castle where whiskey tasting is one of several activities that reflects the culture of the destination. The keynote speaker hails from one of the oldest universities in the United Kingdom. And for a post-conference trip for top achievers, how about coordinating a Northern Lights experience or maybe a round of golf at St. Andrews?
Visit Scotland recently met with Smart Meetings in San Francisco to share news about several projects, including the construction of a new convention center scheduled to open in Aberdeen in 2019. Located on the island nation's northeast coast, where the North Sea is a global center for sub-sea technology, Aberdeen is capitalizing on the region's cutting-edge solutions for oil extraction by building a $440 million convention center, which has the full support of local businesses, regional government and Visit Scotland.
"We are very serious about growing our [meetings] industry and to spread the benefits across the country," says Lord John Thurso, chair of Visit Scotland. "It's really an exciting time to visit Scotland."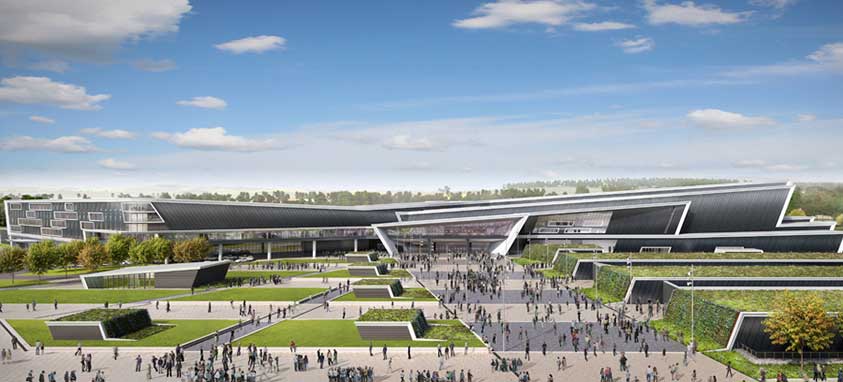 Aberdeen Exhibition and Conference Center (AECC) will feature a 12,500-seat arena with a moveable stage and 518,950 sq. ft. of flexible exhibition space. The site also will have three hotels, including a 200-room Hilton property, an energy center and two business parks. Aberdeen's existing convention center has 80,729 sq. ft. of exhibition space, two 700-person suites and a 440-seat auditorium.
Aberdeen International Airport (ABZ) is undergoing a three-year, multimillion-dollar renovation that begin in May 2016. This project includes a 50 percent expansion of the existing terminal and upgrades to the national and international baggage claim areas. ABZ has the second-most airlift in the United Kingdom due to helicopter service supporting offshore oil extraction.
Visit Scotland has a string of pearls along its northeast coast. About 90 minutes south of Aberdeen is Dundee, which will unveil a centerpiece museum in 2018. As part of a $1 billion waterfront development project, V&A Museum of Design Dundee is the first design museum in the United Kingdom outside London.
Just south of Dundee is famous St. Andrews Links, considered the birthplace of golf some 600 years ago. It offers seven courses that are open to the public.
"We are going through one of our exceptional bouts of being a good value," Lord Thurso says. "We have bucket loads of opportunities. The challenge is picking the right ones for your group."
For more on Scotland, see the Smart Dispatch in our recent United Kingdom feature.