Hotel Via rendering courtesy of Hotel Via
New hotel construction is closely linked to a destination's demand. A spate of upcoming openings indicates that both are thriving in San Francisco.
"Visitors understand our brand, its uniqueness, what it has to offer. There is a need for rooms in San Francisco. We've been told that by our customers," says John Reyes, executive vice president and chief sales officer for San Francisco Travel. "Companies and ownership groups are looking at San Francisco because they've seen that there are business results.
"These hotels will fit perfectly into the appeal of the various neighborhoods. If you look at these hotels, they are almost part of San Francisco's DNA. We are pioneers. We love to challenge the status quo. These hotels are responding to that next generation of travelers."
Here are some newcomers set to bolster the city's accommodations inventory in 2017 and beyond.
Hotel Via
The sunny South Beach neighborhood will welcome Hotel Via, a boutique hotel with a focus on technology, the environment and personalized service. Like the city it will soon call home, Hotel Via is an original. The independently owned property is custom-built from scratch.
Features include versatile meeting and event spaces, in addition to upscale lobby and rooftop bars. Located across the street from AT&T Park, the 159-room property will provide an enticing new option for groups attending events at the San Francisco Giants' home stadium. Guests will also be able to make use of easily accessible transit options such as Caltrain, Muni and ferry service.
Hotel Via is currently accepting reservations for stays beginning July 1.
San Francisco Proper Hotel
The forthcoming 131-room San Francisco Proper Hotel will occupy a historic building in Mid-Market. Formerly known as a theater district, the dynamic area is experiencing a revitalization fueled in part by the arrival of tech offices. Kelly Wearstler's design of San Francisco Proper Hotel mines this mix of history and modernity, resulting in an ambience that is both contemporary and old-world.
With three ground-floor restaurants and an indoor/outdoor rooftop restaurant and bar offering panoramic views, your group will never want to leave. But if they have to, Moscone Center, Union Square and San Francisco City Hall are all less than a mile away.
San Francisco Proper Hotel expects to open in June.
Yotel San Francisco
Yotel San Francisco, also scheduled for a June debut, will join San Francisco Proper Hotel in Mid-Market. The project in progress at 1095 Market Street marks not only the brand's first West Coast U.S. location, but also its first adaptive reuse development. Office space in the landmark Grant Building will be converted into affordable luxury lodging.
"Yotel's digital brand and guest experience are well matched to San Francisco, and the tech-centric Mid-Market area in particular, and our proven ability to fit double the amount of keys into the same square footage versus a traditional hotel is a win for all involved," Chief Development Officer Jason Brown said in a statement.
The property's 203 cabins will include a mixture of premium cabins, loft-style rooms, and larger first and VIP suites. Distinctive features such as space-saving convertible beds, flexible check-in and check-out times, and meeting and co-working spaces will create an adaptable environment. Of course, there will be a rooftop lounge, too.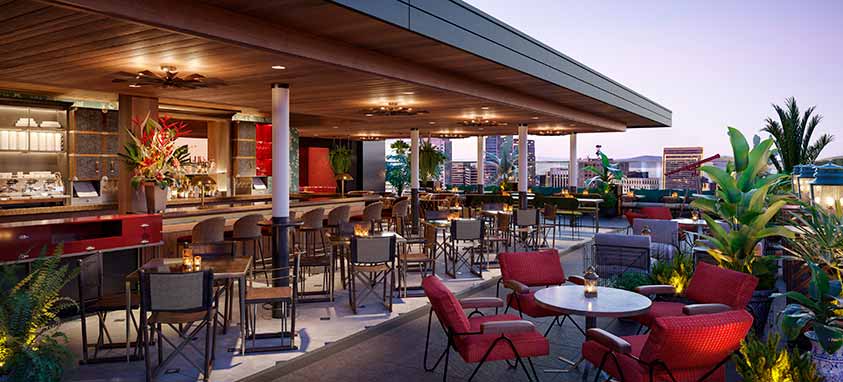 Rendering of Virgin Hotels San Francisco rooftop bar courtesy of Virgin Hotels 
Virgin Hotels San Francisco
For its second property, Richard Branson's Virgin Group picked a location that meeting planners will appreciate. Virgin Hotels San Francisco will be situated South of Market, just steps from Moscone Center. In true Virgin fashion, the hotel offers more than prime positioning.
"Virgin Hotels' approach to service and functionality stems from our positioning as the 'consumer champion,'" says Doug Carillo, vice president of sales and marketing. "Our guests trust that we won't charge them for extraneous items like minibar restocking, room service, extra Wi-fi bandwidth and resort fees. We also make stays more comfortable with tech-forward touches combined with warm and personalized service. This has been highly successful at our first property in Chicago, and we're excited to bring this level of service to San Francisco."
The hotel will contain 196 chambers and grand chamber suites, The Commons Club lounge, numerous meeting spaces and—not to be left out—a rooftop bar.
Virgin Hotels San Francisco will open in summer 2017.
Future Developments
Two major hotels are coming to the burgeoning Transbay neighborhood surrounding the Transbay Transit Center, which is currently under construction. Waldorf Astoria San Francisco will anchor a 2 million-square-foot mixed-use complex featuring entertainment, retail and office space. Visitors can expect the property to blend local influence with the brand's signature sophistication. But they'll have to wait—as of now, the completion date is estimated at 2020 or 2021.
The emerging locale will receive another infusion of classical elegance from Langham Place San Francisco, scheduled to debut in 2020.