Barbacoa de Res de Zaachila, Xochi
As a first-timer to Texas, I didn't know what to expect upon touching down in Houston for a fam trip this spring. For the uninitiated like me, Houston can seem indistinguishable from any other bustling metropolitan city.
This city of more than 2 million has a lot going for it, though. Downtown Houston is buzzing with new restaurants, hotels and retail outlets. Public parks such as Discovery Green and Buffalo Bayou provide an inviting environment that encourages outdoor activity. And the city boasts no ethnic majority, making its population one of the country's most diverse.
Houston's diversity is most evident in its vibrant food scene, which is one of the best in the South. I quickly discovered that the cuisine goes beyond regional staples such as Tex-Mex and barbeque.
The first item on my itinerary was dinner at Xochi, an upscale Mexican restaurant created by James Beard Award-nominated chef Hugo Ortega. Xochi serves modern cuisine inspired by the flavors of Oaxaca, Mexico. Boasting six James Beard Award nominations and four Houston-area restaurants, Ortega is one of the city's most celebrated culinary figures.
We were served a variety of delicious dishes, from tortillas with a seemingly endless selection of moles—including one made with ants—to rich, hand-mixed hot chocolate with handmade churros. Authentic, adventurous and delicious, this meal was a great introduction to the city's food scene. I went to bed that evening feeling stuffed and satisfied.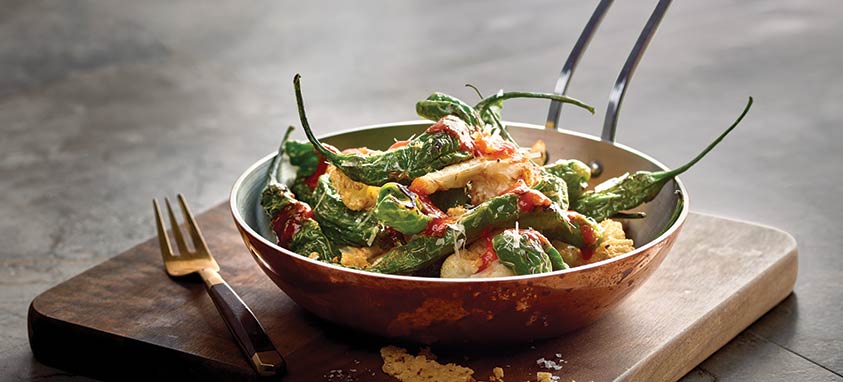 Shishitos, Grotto Downtown
The next day, the itinerary had more delicious surprises waiting for me. After a walking tour of downtown meeting properties such as the brand-new Marriott Marquis Houston, Hilton Americas-Houston and newly renovated Four Seasons Hotel Houston, we took a quick jaunt to George R. Brown Convention Center (GRB).
Aside from the mesmerizing art installations placed throughout the facility, what makes GRB truly stand out is the food. Yes, you read that correctly. GRB may have some of the best convention center food in the country. Take all of your expectations about stale, bland convention-center food-court dining and throw them out the window.
Eschewing hot dogs and nachos, GRB has redesigned its ground floor to add restaurants that give visitors a taste of the city. World-famous Texas barbeque makes its appearance at Bud's Pitmaster BBQ, which is slated to open in May. Houston's beloved Pappas family of restaurants is well-represented with Pappadeaux Seafood Kitchen, a modern Cajun kitchen. Attendees looking for something quick and delicious are also well-served with McAlister's Deli, a fast-casual sandwich chain popular throughout the South.
For lunch, we dined at Grotto Downtown, the convention center outlet of a well-loved Italian restaurant group. Tasty items filled the table, then quickly disappeared. Grilled tenderloin skewers paired with absolutely irresistible parmesan fries, Instagram-worthy panini shooters and perfectly sauteed shishito peppers were just a few of the selections.
I learned a valuable lesson on this trip. If you're traveling to Houston, keep an open mind—and an empty stomach—because you never know what you'll be served.