Photo credit: Julie Sullivan
April 1 marked four years that Association for Women in Events (AWE) has been bringing industry members together as a community dedicated to the professional advancement of women. The group has grown tremendously in that time, recalled board President Julie Sullivan during the group's first virtual happy hour on Monday.
More: Obama Speechwriter Shares Tips for Speaking Effectively
A Convergence of Women for a Cause
AWE launched its first event, Elevate!, in March at Mandarin Oriental Washington, D.C., featuring a conversation with Sarah Hurwitz, Michelle Obama's speechwriter. The gathering put the dynamic attendees at the center of the discussion by including an Elevate Stories area where they were encouraged to share personal journeys and get actionable feedback. Of course, they also had access to adoptable puppies, makeovers, headshots and feminist apparel from Article22. A fundraiser brought in $1,500 for End Child Prostitution and Trafficking (EPCAT).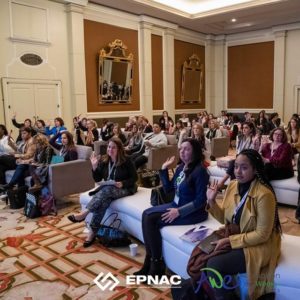 The event also took time to take stock of progress the #MeToo movement has made in the industry in the past year—and what still needs to be done. Courtney Stanley, a creative at CS Consulting, and Sarah Soliman Daudin, president and CEO of Soliman Production, who are open about their experiences being harassed, spoke about their mission to make it easier to have conversations around the challenges women face. The pair recently founded Sarah x Courtney and launched CAPTURE, a professional development platform that uses storytelling to deliver the #MeetingsToo message and help women grow their careers. In addition to talks such as the one given at AWE, they are also working with companies through human resources department to do training. Video interviews of male and female leaders at focused workshops share the challenges and solutions inspirational members of the industry faced as a way to help others not feel so alone.
Future Focused
AWE Co-founder and new Executive Consulting Officer Carrie Abernathy sees more growth in the coming year. "My vision in the beginning was to create a community where women could feel safe and find resources to elevate their own careers. Today, the vision stays similar, but the future looks global and the scale is much larger," she said. She wants to keep that sense of community while honoring the women—and men who support women—through AWE's Hall of Fame awards. "We also want to create global resources and help connect people peer-to-peer, because I believe that is where our best resources come from—the experience of others in our tribes," she said.
In an attempt to bring more resources to the "movement" and inspire everyone in the events community, AWE has opened up webinars to everyone and made it easier to join at a level that makes sense to more people in the industry.