The 2019 edition of C2 Montreal is taking the exploration of commerce and creativity to a whole new level—and venue. After seven years, the event that pioneered alternative conference delivery opened on Wednesday with a Cirque du Soleil extravaganza for 7,500 people in a massive hangar on Rue Le Ber. The theme of the gathering is "Tomorrow."
"After years of talk—about climate change, diversifying the workforce, embracing new business models, and holding ourselves to higher professional and societal standards—the time has come to take action," is how Genifere Legrand, chief creative officer for C2 Montreal, described the event's purpose.
In the days before the opening, Legrand offered a look behind the scenes at the rotating stage, brain dates and a new batch of labs designed to get participants—attendees are expected to actively engage rather than passively watching—talking to each other.
A Greek-style amphitheater will allow for "moments of connectedness"; soundproof workshop spaces make use of a previous sound stage previously; and a content wall will keep ideas alive after the event ends. "The new venue, with its 60-foot-tall ceiling and oversize windows, will offer more proximity, make it easier to engage and include a lot of nature inside the venue," Legrand explained.
The center stage will host former Apple Retail Senior Vice President and Burberry CEO Angela Ahrendts, filmmaker Spike Lee, chef and entrepreneur Marcus Samuelsson, Cirque du Soleil founder Guy Laliberte, and musician and tech entrepreneur will.i.am. "Presentations will be a mix of well-known and unknown thought leaders who might be working on projects that could impact our lives," Legrand said.
The event will also be red-meat-free, a sustainability measure Legrand described as "a bold move that costs more, but will reduce the carbon footprint. We are walking the talk."
Beyond the formal brain dates that connect people in micro-meetings, advanced badge technology allows attendees to map their sessions and exchange contact information with others through their name tags. "We are encouraging behavior, such as leaving comments, by giving away personalized prizes," Legrand said.
Experimental Meeting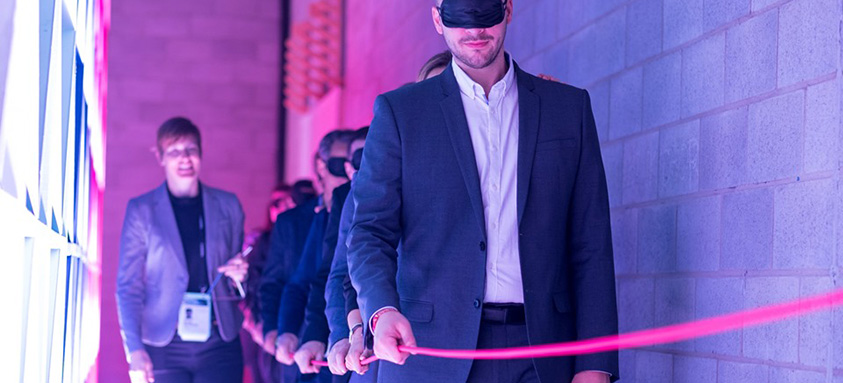 In place of the perspective-changing, elevated meeting rooms of past conferences, C2 Montreal 2019 is introducing six new experimental labs to "challenge participants to find new ways of being in the world."
Slow Lab: Participants look at a work of art together (including an exclusive Andy Warhol print) for 15 minutes. Theory being tested: Practice of attentive observation unlocks new modes of learning, meaning-making and critical thinking.
In the Dark: Participants are immersed in a completely lightless room to explore leadership and communication without sight. Theory being tested: Listening and speaking with intention could lead to more effective collaboration.
Alter Ego: Participants adopt new identities through a mirrored experience. Theory being tested: Breaking perceptions of ourselves can help us be bolder.
Pivot: Participants work with professional dancers to challenge assumptions about strength, trust and collaboration. Theory being tested: Understanding the mechanics of the body can help deepen trust in teams.
Sync: Participants take part in a group experiment about the influence of online platforms. Theory being tested: Staying both critical and optimistic about social media could improve it.
Barometer: Participants literally take a stand on issues—business, cultural and societal. Theory being tested: Challenging assumptions will provoke peer-to-peer debate and open new perspectives.