"When you surround yourself with inspiring people, hard things get easier." That was the message from author and Superbowl-winning executive Michael Lombardi at Smart Meetings Northeast Experience in Boston this week. "Winners do what we do not because it is easy, but because it is hard," he continued. "When you embrace hard, it gets easier."
Be in the room at a future Smart Meetings Experience. Register today. 
An Innovative Backdrop
The challenging work of getting the industry back to meeting was definitely more fun when surrounded by meeting professional friends in the new, luxury Omni Boston Hotel at the Seaport in the fast-growing Innovation District. The 1,054-room towers connect to the 516,000-square-foot Boston Convention and Exhibit Center through an underground tunnel and boast 100,000 sq. ft. of its own flexible meeting space. That includes the largest ballroom in the area, clocking in at 26,000 sq. ft. with floor-to-ceiling windows and sweeping views of the city and the port beyond. Museum-quality art punctuates the lobby and guest-room spaces as a reflection of the city's intense artistic culture.
Nothing says welcome like paella and spritzers with the restaurant windows open to a lovely breeze. Thank you @OmniHotels for a @SmartMeetings that kicked the networking into high gear. #MeetSmart pic.twitter.com/EE6VL3ZOX7

— JT Long (@SmartMtgsJT) July 27, 2022
The signature property boasts seven unique dining experiences, including a sophisticated sports bar with a VIP room, an all-day dining restaurant offering Mediterranean fare, and a rooftop pool bar and grill with exquisite skyline and water views. Coquette, a Spanish-French restaurant from local celebrity restaurateurs at Coje, serves up sophisticated Basque specialties in an elegant Old-World dining room. The same culinary team operates Cocorico, the lobby coffee shop that draws on pastries whipped up in the on-site bakery. The catering menu reflects the diversity and sophistication of Executive Chef Yousef Ghalaini, who returned from vacation to wield the paella pan himself at the Smart Meetings opening reception at the open-air restaurant Lifted.
Learn more about big changes in Boston.
"Group is the bread and butter" of the much-anticipated property that opened in September of 2021, said Managing Director Michael Jorgensen. While the Smart Meetings group was on-site multiple events, including a large medical conference, were able to inhabit their own floors with plenty of room for break-out sessions.
Culture Shifts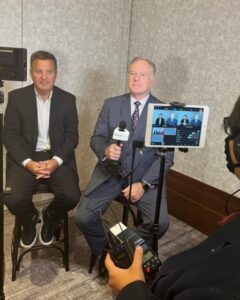 Back to the lessons learned from Lombardi, the author of "Gridiron Genius: A Master Class in Winning Championships and Building Dynasties in the NFL." His tips for managing shifting realities was a boon for meeting professionals figuring out how to adjust, book, and rebook events in a world where hotels are booked solid and clients are nervous.
His words of warning stem from working with legendary coaches such as the 49ers' Bill Walsh, the Raiders' Al Davis and Patriots' Bill Belichick: "If you don't like change, you will dislike irrelevance even more." But he also brought a solution. "Changing the culture is the best way to manage change."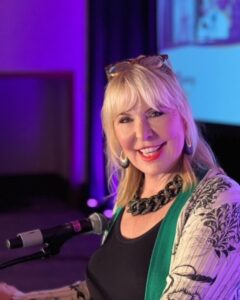 His recommendation, culled from movies and real life, are meant to encourage competitive stamina and the ability to handle volume by focusing on what lies directly ahead.
The most successful athletes can power through boredom to focus only on the present task without being overwhelmed—good advice for meeting professionals who must focus on the details and not worry about the length of their to-do list. "You have to master your craft and your ego," he said.
When problems do arise, divergent and second-order thinking can help find solutions that address deeper causes of the disruption. "The problem is rarely the problem," he said. "The response to the problem invariably ends up being the real problem."