The new Association for Women in Events (AWE) launched in March and just had its first board meeting on Thursday in Washington, D.C. AWE was founded by Carrie Abernathy, Tamela Blalock, Mas Tadesse Harris, Mary Higham and Kiki Janssens to empower and support women in the meetings industry through the sharing of innovative ideas.
"This organization fills a need," Abernathy says. "There are a lot of resources out there, but it's difficult to find anything specifically geared toward women. AWE empowers a thirsty community; a community that should feel like home."
AWE does not discriminate against men and actually has several board members who happen to be male.
"Whether you are male, female, supplier, vendor, organizer, young professional or seasoned veteran, we need you," Higham says. "The Association of Women in Events mission and purpose is to serve the entire events industry and we need your valuable input in order to make this a success."
The new board includes meeting professionals with a variety of backgrounds, including: Alisa Peters, CMP, CMM, from Experient—A Maritz Travel Company; Dionne Maniotes Hulsey from Tourisme Montreal; Johnnie White, CMP, from American Academy of Otolaryngology; and Julie Sullivan, CMP, CEM, from International Association of Amusement Parks and Attractions.
To read more about AWE and support for women in the meetings industry click here.
ALHI Hosts 50 Senior-Level Women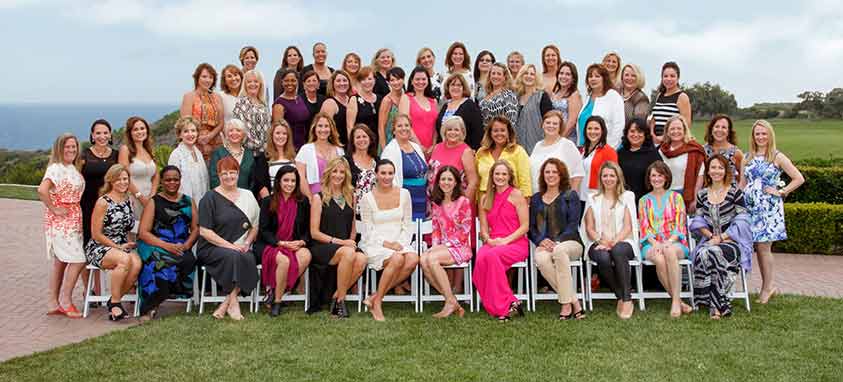 Associated Luxury Hotels International (ALHI) held its 10th annual "Executive Women in Leadership Conference" in June at The Resort at Pelican Hill in Newport Beach, California. Fifty senior-level women executives from the hospitality and meetings industries met for three days at the AAA Five Diamond property.
The conference chairperson was Victoria Hettleman, ALHI senior vice president of sales. The event was co-hosted by Delta Air Lines and The Resort at Pelican Hill.
ALHI includes more than 170 AAA Four and Five Diamond hotels and resorts worldwide. This includes The Resort at Pelican Hill, which sits on 504 acres and features panoramic views of the Pacific. The resort also offers 44,000 sq. ft. of meeting space, 54 holes of championship golf and a Forbes Five Star Spa.