IMEX America 2015  adds more of what makes the industry's biggest event GREAT
IMEX America celebrates its fifth anniversary with the 2015 show (Oct. 13–15 at Sands Expo and Convention Center in Las Vegas). As has been the case with each successive show, this year's event is poised to be bigger and better than ever, with more exhibitors, an expanded education program and engaging keynote speakers. This growth is exactly as had been planned from the first IMEX America show in 2011, according to IMEX Group CEO
Carina Bauer.
"It is always our goal to deliver increasing value and ROI to our exhibitors, hosted buyers and attendees," Bauer says. "Adding more new exhibitors, new buyer groups and providing new education ideas each year is our way of achieving this objective."
Guaranteed Growth
Anticipation for IMEX America 2015 builds with the announcement of every new or expanded exhibitor—as does the potential for return on investment for exhibitors and attendees from every point on the industry's spectrum.
Based on tremendous success in past incarnations of the meetings and events industry's biggest trade show, more than 50 exhibitors are increasing their IMEX footprint—and dozens of new suppliers are joining the game (there are 60 rookies joining the trade show as of press time, but that number may well climb as the show nears).
New faces will appear from across the globe, including Montage Hotels & Resorts, Cincinnati USA, Oklahoma City CVB, Detroit Metro CVB, SMG Convention & Exhibition Centers U.S., Cuba Travel Services, Hungary, Paraguay CVB and Taiwan.
IMEX America 2015's flair doesn't stop there, though. Exhibitors such as Visit Orlando, Greater Fort Lauderdale CVB, Visit Savannah, Cirque du Soleil, Carnival Cruise Lines, Mexico, Bahamas and Thailand are among those returning to the trade show with expanded booths. Hotels are upping their presence as well, with Hilton, Hyatt Hotel & Resorts, Omni Hotels & Resorts and more set to bring more to IMEX than ever before.
Leading by Inspiration
In partnership with Meeting Professionals International (MPI), the speakers set to deliver keynote speeches promise to ensure attendees come away with a transformational experience.
"The education that MPI provides at IMEX America through their morning keynotes…is second to none," Bauer says, "and provides both buyers and exhibitors alike a true added value benefit to attending IMEX America."
Filmmaker Josh Tickell, whose environmental messages resonate with millennials, will speak to "future-focused" values of sustainability and communication that already drive the next generation of the industry. Tim David, former illusionist, will share his vast experience with developing connections and intensifying the sense of purpose in the workplace. Nashville songwriter Patrick Henry will bring real-world stories from his book, The Pancake Principle: Seventeen STICKY Ways to Make Your Customers FLIP For You, for expert advice on how to make yourself more memorable.
In addition, industry leaders such as Paul Salinger, vice president of marketing at Oracle; Marsha Flanagan, vice president of learning experience with the International Association of Exhibitions and Events; Annamaria Riffini from the Society for Incentive Travel Excellence's board of directors; and Dane Risely, Cvent's vice president of enterprise event marketing will share their insights throughout the event.
Exceptional Education
The speakers won't be the only source for inspiration at IMEX America 2015. The trade show's world-class education features—collectively dubbed the "inspiration hub"—are expanding as well.
Eclipsing all previous years, the 2015 event will hold 180 educational sessions over the course of three days. Making it easy for attendees to select which ones will benefit them best, the sessions are divided into 10 tracks, including business skills, marketing and communications, technology and social media, trends and research, creative learning and sustainability.
Attendees with fewer than four years of experience in the industry might target sessions designed for young professionals, and veterans of eight years or more will find advanced sessions for senior professionals.
A downloadable CMP tracking sheet is available on the IMEX America website as well as at the show in the Inspiration Hub. 
Get It While You Can
With the most opportunities for education, inspiration and return on investment ever for attendees, IMEX America 2015 promises to be an enriching experience for all involved.
---
Get Social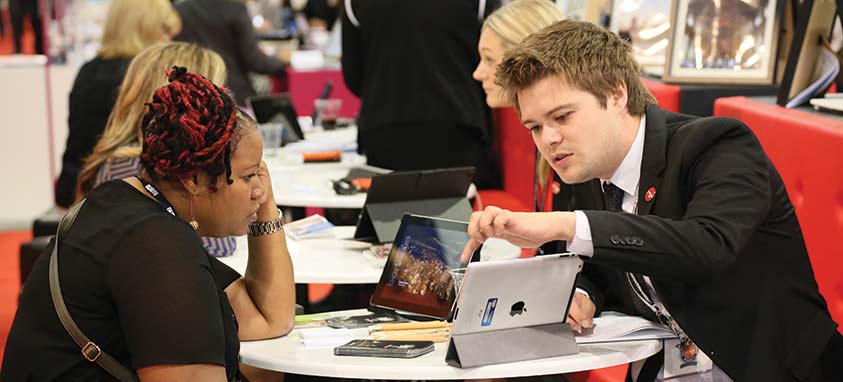 IMEX America is always looking to create more opportunities to connect and experience the show before, during and after Las Vegas. Social media and technology are a big part of this, and the 2015 show has more mediums than ever.
The IMEX show app provides a view of the show and its features. It allows buyers and exhibitors to manage their schedules from a smartphone or tablet. The IMEX America 2015 edition will be available in mid-September.
@IMEX_Group on Twitter (with nearly 17,900 followers) and #IMEX15 make up the social media epicenter for all that's happening. IMEX uses Storify to capture some of the best tweets made throughout the show, then will share them on the IMEX America 2015 blog.
What's On is a real-time education session listing displayed at the Inspiration Hub and key locations throughout the show floor. This system updates automatically so the screens are always up to date in case of any changes.
iBeacons and Geofencing will be employed at IMEX America to send important messages to attendees and monitor traffic flows on the show floor and at key service points.