Photo Courtesy of Rand Larson
A buzz was in the air from the moment I arrived on Jan. 1 for the Palm Springs International Film Festival, and it reached a frenzy the following night for the Black Tie Awards Gala.
The Southern California festival, held Jan. 1–11, is world renowned for the gala, featuring A-list celebrities presenting and receiving awards—but it's hard to imagine a more stellar bunch than the one at this year's event.
Michael Keaton, Kate Winslet, Michael Fassbender, Helen Mirren, Johnny Depp, Cate Blanchett, Ridley Scott, Matt Damon and rapidly rising star Saoirse Ronan all took the stage at Palm Springs Convention Center, to the delight of the 2,100 attendees.
Awards were presented to honor top cinematic achievements in 2015. The recipients were:
Chairman's Award: Damon
Desert Palm Achievement Award, Actor : Depp
Desert Palm Achievement Award, Actress: Blanchett
International Star Award, Actor: Fassbender
International Star Award, Actress: Ronan
Rising Star Award: Alicia Vikander
Sonny Bono Visionary Award: Tom McCarthy
Spotlight Award: Rooney Mara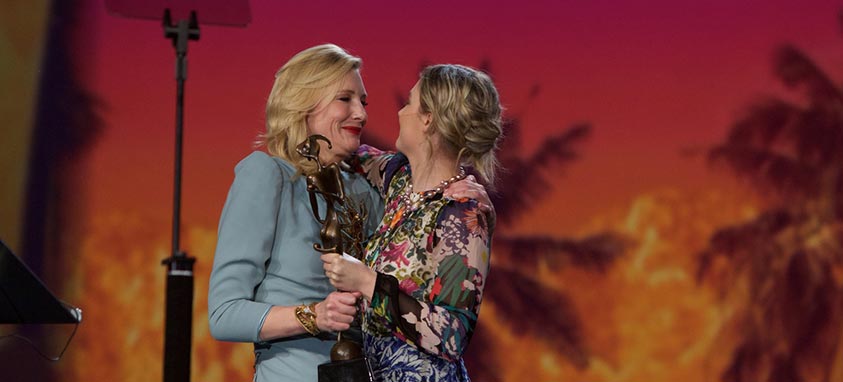 Photo Courtesy of Rand Larson
Just before the program ended, my group—a diverse lot consisting mainly of meetings and hospitality professionals—was rushed out of the building and into limousines to attend the gala after-party at the luxurious Parker Palm Springs. We had been told that celebrities typically show up only for a few minutes, at the beginning of the party.
Shortly after we arrived, I spotted Blanchett, who was surrounded by a virtually impenetrable wall of people. Despite the claustrophobic situation, she seemed as light as a feather as she beamed her famous smile and chatted with attendees.
The following day, film screenings continued. The Palm Springs film festival is one of the largest and most well-respected film festivals in North America, and features a culturally diverse program of some 200 films from more than 60 countries. Nearly 137,000 people from throughout the world attend the Palm Springs festival each year.