There's no better place in the world to celebrate Global Meetings Industry Day than Las Vegas. That was the theme of the day on April 14 in Las Vegas and was reinforced by Roger Dow, president and CEO of U.S. Travel Association.
"If I'm going to be anywhere, it's going to be in Las Vegas," Dow said as he kicked off the local festivities at the new T Mobile Arena. "What happens in the meetings industry happens in Las Vegas and keeps coming back to Las Vegas."
A group of 250 meeting leaders and local hospitality suppliers gathered at T Mobile Arena to celebrate Global Meetings Industry Day. Dow reported that 110 events took place in 30 countries in the first truly international day that calls attention to the importance of meetings and events.
In 2015, Las Vegas, regarded as a meeting mecca, hosted 6 million delegates, which accounted for an economic impact of $9 billion. The Las Vegas Convention and Visitors Authority (LVCVA) says that the meetings and events industry supports 65,500 jobs.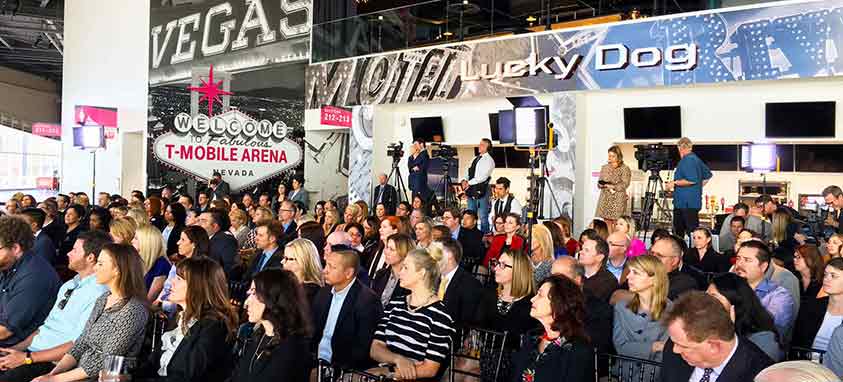 Besides Dow, the event drew a who's who of the Las Vegas meetings and events industry. A panel discussion included Rossi Ralenkotter, president and CEO of LVCVA, Mike Massari, senior vice president for national meetings and events for Caesars Entertainment, Chris Flatt, executive vice president of hotel sales and marketing for Wynn Resorts, Chandra Allison, vice president of sales for Sands Corporation, and Chuck Bowling, president and COO for Mandalay Bay.
Here are five takeaways from their panel discussion:
1. Virtual reality and other technology will not replace meetings and events; today's technology is expected to improve engagement before events begin, creating excitement that will elevate attendance. "Tech isn't taking over meetings–it's expanded meeting purpose," Bowling said.
2. Wi-Fi is no longer a perk. It's a necessity that attendees expect, especially millennials. The Venetian and The Palazzo just invested $8 million in Wi-Fi improvements.
3. The word attendees will fade from meetings language; the new buzzword is participants, since people attending events want to experience things, not just be a bystander.
4. The impact of meetings and events has transformed Las Vegas to much more than a gaming city. Celebrity chefs, adventure opportunities outside the city limits, shopping, spas and entertainment contribute more to the Las Vegas economy than gaming. "Business does get done in Las Vegas," Ralenkotter said.
5. There's more excitement for meetings in Las Vegas than ever as fewer companies consider the destination a distractive atmosphere or even a boondoggle, instead offering great value, convenience and meetings infrastructure.
"I'm thrilled to be in the No. 1 meeting destination–Las Vegas," said Dow to an appreciative and agreeing audience.
---
Live Updates: Last Updated April 14, 2016 – 4:32 PM
Las Vegas A Team with Roger Dow during #GMID16 festivities at new T Mobile Arena. @LVCVA @SmartMeetings pic.twitter.com/S4OitpKmQi

— Holly Woolard (@SmartMtgsHolly) April 14, 2016
Happy #GMID16 from the new T Mobile Arena. @LVCVA @SmartMeetings pic.twitter.com/k057DyfSvR

— Holly Woolard (@SmartMtgsHolly) April 14, 2016
The Park is a new green space by @MGMResortsIntl that leads to new T Mobile Arena. @LVCRA @SmartMeetings #GMID16 pic.twitter.com/lBmB3YCbYr

— Holly Woolard (@SmartMtgsHolly) April 14, 2016
The bread kitchen at @WynnLasVegas is operating 21 hours a day to spoil guests. @LVCVA @SmartMeetings #GMID16 pic.twitter.com/f0thSlwUmz

— Holly Woolard (@SmartMtgsHolly) April 14, 2016
New Las Vegas virtual reality app is poised to change site selection process. @LVCVA @SmartMeetings #GMID16 pic.twitter.com/Z7qLJL36U7

— Holly Woolard (@SmartMtgsHolly) April 14, 2016
Great show @VenetianVegas featuring @HumanNatureLive with covers that make you sing & dance @LVCVA @SmartMeetings pic.twitter.com/ildRuVPGEx

— Holly Woolard (@SmartMtgsHolly) April 14, 2016
With 2.3 mil sq. ft. of meeting space, @VenetianVegas & @PalazzoVegas is celebrating #GMID16 @LVCVA @SmartMeetings pic.twitter.com/wx79hnTd97

— Holly Woolard (@SmartMtgsHolly) April 14, 2016
Frank Gehry's Keep Memory Alive Event Center is spectacular and supports a great cause. @LVCVA @SmartMeetings pic.twitter.com/a1xXQCJhuZ

— Holly Woolard (@SmartMtgsHolly) April 13, 2016
Hit the jackpot on this trip with a visit to Neon Museum. Thanks @LVCVA for the hookup. @SmartMeetings #GMID16 pic.twitter.com/jfk5BTHP4L

— Holly Woolard (@SmartMtgsHolly) April 13, 2016
Look who I ran into at the Giada restaurant during breakfast. @LVCVA @SmartMeetings #GMID16 pic.twitter.com/8tAuLn3x14

— Holly Woolard (@SmartMtgsHolly) April 13, 2016
I got high in Vegas on a @SundanceHeli ride. The Strip sure is colorful from 800 feet above. @LVCVA @SmartMeetings pic.twitter.com/Eb4RvPn8U1

— Holly Woolard (@SmartMtgsHolly) April 13, 2016
James Guilford's Spark Sessions bring @Cirque to team building. @LVCVA knows how to have fun #GMID16 @SmartMeetings pic.twitter.com/EA8Jjh1vsU

— Holly Woolard (@SmartMtgsHolly) April 12, 2016
Pretty awesome to get to stay at @AriaLV during #GMID16 festivities. Feeling like a celeb. @SmartMeetings pic.twitter.com/UxPByztz6F

— Holly Woolard (@SmartMtgsHolly) April 12, 2016