How have IMEX America's offerings, in general, evolved over the years?
IMEX America has grown and evolved considerably since its inception in 2011. Every sector of the show has grown, in particular participation from Asia, the Middle East and Africa, Europe and South America. Some of the largest growth has also come from North American exhibitors, hotel groups, technology providers and incentive products.
An important evolution has been the educational offerings, which have grown not only in terms of number of sessions, but also in terms of scope, with a focus on delivering sessions in new learning formats that focus on interactive, fun and immersive learning. Over the years, we've also developed our wellness offerings in the form of our Be Well Lounge and IMEXrun—both of which now provide enormously important elements of the show.
Finally, we have worked hard to evolve and improve our sustainability credentials—last year diverting 93 percent of our waste from landfill.
How have the educational offerings developed?
Over and above pure numbers, education has evolved in a number of ways. For a start, Smart Monday, which is powered by MPI, now also includes a vast of array of sessions from partner associations representing all corners of the industry. We've also focused on offering certification programs, deep-dive immersive sessions, interactive workshops, back-of-house tours, as well as fun activities such as the Play Room and puppy cuddling.
Through the wider education program, a number of new tracks have been added to ensure that broader business skills are incorporated into more industry-specific topics. A focus on research was introduced successfully to the program a few years ago through the Research Pod. We've also been focused on evaluating learning styles and adapted our learning formats accordingly so that people can attend traditional lectures and keynotes, through to campfires and chat bar sessions.
Finally, over the past few years we have also made a concerted effort to increase the number of sessions that qualify for CMP points, as well as reviewing the gender balance of our speakers, aiming for a 50:50 balance.
How have efforts to assure the safety and security of participants evolved?
The Sands has an outstanding security team and processes, and we work closely with them and the LVCVA [Las Vegas Convention and Visitors Authority] to ensure that our guests are as safe as possible and to adapt to new security challenges. Over the years, we've introduced bag searches, sniffer dogs and plain-clothes officers to ensure the safety and security of the event.
What have been IMEX America's greatest successes, and what are the main challenges that remain?
I think what I am most proud of is IMEX America's ability to bring the industry together; to support the industry trade associations in raising funds for their foundations and in assisting the industry to develop business opportunities; to move forward on key issues such as sustainability and diversity; and to serve as a platform for growth and development.
Looking ahead, what are some of the major plans for IMEX America?
We remain focused on our mission to unite and advance the meetings industry, and will continue to develop both IMEX America and IMEX in Frankfurt in creative ways to support this mission. In the medium term, we're also looking forward and already planning for our IMEX America 10-year anniversary next year (2020) as well as our subsequent move to Mandalay Bay in 2021.
---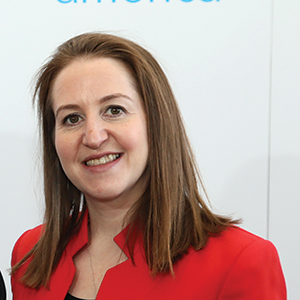 What exciting things are planned for IMEX America 2019?
With IMEX in Frankfurt always preceding our America show, we get the chance to experiment in Frankfurt and then bring many of those lessons to Las Vegas. So, we're aiming to bring some of the activations and installations that were successful in Frankfurt to America if we possibly can.
One example is the Nook meeting pods. While people are focused on getting the most from business and networking, we know that most attendees need—and want—to take a break to do some work close to the show floor, whether to call into the office, review a document or simply check on emails, all while using outlets to recharge their devices. The branded Nooks—three-quarter enclosed booths with a desk—provide an escape from nonstop business activity and are an example of how we are now curating spaces at the show with a new, more imaginative mindset. These little pockets act as space for quiet and concentration, and we know that attendees want that experience as much as the buzz—or is it a roar?—of the show floor.
We also created two small showcases in Frankfurt that we're going to bring to America, and we're going to make them bigger and even better. "What we are made of" featured samples of all the sustainable products that we now use at the show. Be it a piece of carpet, some paper or a signage board, we'll show people precisely what the product looks like and what it's called. In this way, planners can take a quick photo or make some notes, effectively giving themselves their very own green checklist for their next event.
Will IMEX America focus on themes this year, as it did last year, and if so, what are they?
I think the best way to describe the show is that there are some fundamental threads that will always be there. Many of these are addressed through our free education program, while others come to life in experiential or other ways. These fundamentals are what meeting and events planners tell us time and again are the subjects—or objects—they want to know more about.
Health and well-being is one, and this is bigger now than ever. CSR and sustainability is another. Quite simply, this is because we're about to hit a tipping point on the planet because of the environmental impact caused by humans. Some planners know this. Some parts of our industry know this. It's time for us all to wake up and start to think and act differently, and that starts with waste reduction, be that plastics, food or water.
Technology is an important third. We're living in a world that's changing faster than ever. Just think about it: You can look at a movie from the 1970s or 1980s, and except for the hairstyles and clothes, life didn't seem that different. But if you look at a movie from 10 years ago, it's the technology that looks out of date. Technology is changing our experiences in health, infrastructure and travel, and beyond. What used to be imagination is now for-real or on the cusp, such as smart homes, driverless cars and holograms.
The power of "experiential" is also key. Remember, this word barely existed in our industry three or four years ago. However, demand has sky-rocketed recently as we've come to acknowledge the gap between awe-inspiring and memorable consumer events—big brands, big stadiums, big experiences—and business events. That gap is not tenable anymore and planners are eager to know how to close it and to deliver more "'wow" to their portfolios.
Why does the educational component at IMEX America receive such strong emphasis?
It's true that we put a lot of focus on giving our attendees professional learning and development opportunities. For a trade show, that's extremely unusual, but it's part of our USP [unique selling point] and our mission to help unite and advance the meetings and events industry globally.
The reason for Smart Monday, powered by MPI, is that everyone who is engaged in their career wants to learn, grow, improve their skills and prospects, and become better at their jobs. By providing a whole day of education and networking prior to the exhibition, we're giving everyone the chance to focus wholeheartedly on their professional development. Once the show starts, we switch to shorter-format learning and we place education right on the show floor, close to where business is being done.
Our attendees want networking and they also want structured time to learn, whether through practical workshops, keynotes or deep-dive sessions.
Tell me about new CSR and sustainability additions this year.
Sustainability continues to be a very important area of focus for us. For the first time at IMEX America, we'll be encouraging exhibitors to sign a Sustainable Exhibiting Pledge, in which we ask them to undertake a minimum of three sustainable practices to help us achieve a more sustainable event. This includes initiatives like hosting water-refill stations to encourage delegates to use reusable bottles and reduce single-use plastics at their booths.
We'll also be eliminating the use of delegate bags and our lanyards will be fully sustainable and recyclable—made of material derived from bamboo.
Building on previous years, we'll be eliminating straws from catering outlets; encouraging better waste diversion by giving each exhibitor a recycling bin at their booth; using recycled carpet; and adapting our menus to include water-wise options.
What new wellness features will be included?
The Be Well Lounge, powered by Lee Papa, Mindful Makeovers and Imprint Events, is a space for meditation, yoga or simply quiet reflection from the bustle of the show floor. The continual increase in attendees using this space shows that it is increasingly relevant.
Is there anything else you would like to say about IMEX America 2019?
Although I can't disclose the full round-up of activities for this year's show, I can say we've introduced lots of new moments of surprise, delight and laughter that I know will charm and excite our attendees. The American market is particularly receptive to these and, of course, Las Vegas almost demands more showbiz and razzmatazz by dint of its own attractions and reputation for world-class entertainment.