Jonathan M. Tisch, CEO of Loews Hotels & Co. and namesake for the hospitality school in the NYU School of Professional Studies, was realistic about the effects of Covid on the travel industry but remained optimistic about the upward trends of 2022. He said in his opening remarks, "Travel is essential to the way we work and live–because it has tremendous potential to connect us."
With the world slowly opening back up, people are more eager than ever to travel for business, pleasure or something in between. The United States travel order mandating a negative Covid test before flight will be dropped on Sunday, June 12, making it the perfect time to plan your next business getaway. The first day of the hospitality conference held at NYU earlier this week discussed the growing trend of returning to travel, at times exceeding pre-pandemic rates.
As one of the leaders in travel business thought, the Jonathan M. Tisch Center of Hospitality in the NYU School of Professional Studies is the ideal host for a conference discussing today's trends in the travel industry. The 44th Annual NYU International Hospitality Industry Investment Conference was started on June 6 and brought together executives, experts and attendees from around the world.
Day one of the conference offered a wide variety of insights that indicated a national increase in travel. Here are some of the highlights.
Travel Brings Us Together
The center's namesake, who is also chairman and CEO of Loews Hotels & Co. and co-chairman of the board of Loews Corporation, began the conference with an address to everyone in attendance. Jonathan M. Tisch was realistic about the impact of Covid on the industry but remained optimistic about growing excitement for travel.
Coming out of an era that necessitated isolation, Tisch toted travel as the best way to recover. He said that getting away from home "brings people together, broadens perspectives and spurs innovation and progress. It's the antidote to isolation and tribalism." This desire for human connection can be used to innovate and improve the travel industry for a technologically advanced future.
Read More: How Hospitality Programs Are Innovating: East and West Coast Perspectives
Changes to Hospitality After the Pandemic
An all-CEO panel featured an array of hotel executives discussing how the travel industry has changed after two years of the pandemic. Moderating the session was Sara Eisen, anchor for Closing Bell on CNBC. Speaking on the panel was Keith Barr, CEO of IHG Hotels & Resorts; Sébastien M. Bazin, chairman and CEO of Accor; Antony Capuano, CEO of Marriott International; Mark S. Hoplamazian, president and CEO of Hyatt Hotels Corporation; and Christopher J. Nassetta, president and CEO of Hilton. They discussed their perspectives on the evolution of tourism, including:
Guests, including meeting attendees, are expecting more out of their vacation experiences.

Rising prices should reflect better-quality service.

The labor shortage needs to be addressed with flexible schedules and higher pay.
Numbers Show a Return to Traveling
This valuable talk gave listeners a deeper insight into the numbers and tendencies of the hospitality industry. Amanda Hite, president of STR, and Stephen Rushmore Jr., president and CEO of HVS, each gave their analysis of how travelers are changing their habits.
Since President's Day weekend, travel has increased distinctly. According to the U.S. Travel Association travel spending in April was 3% higher than in April 2019–the highest it's been since the start of the pandemic. This is a continuation of the overall increase in business and leisure travel thanks to strong household income and employment statistics. Though this trend is expected to slow down in 2023, it is still encouraging to know that people are eager to spend time out of the house.
The number of new convention hotels being built in popular meeting destinations may not be as robust as before, according to the Orlando Business Journal and the San Francisco Business Times. Pandemic disruption is still wreaking havoc in the form of inflated prices for materials and labor, volatile plans and continual supply chain issues. New developments are underway, but the process is a slow and difficult one at the moment.
Read More: Leading Hospitality, Travel and Events Orgs Are Investing in the Next Generation of Talent
Making New York the Perfect Hospitality Destination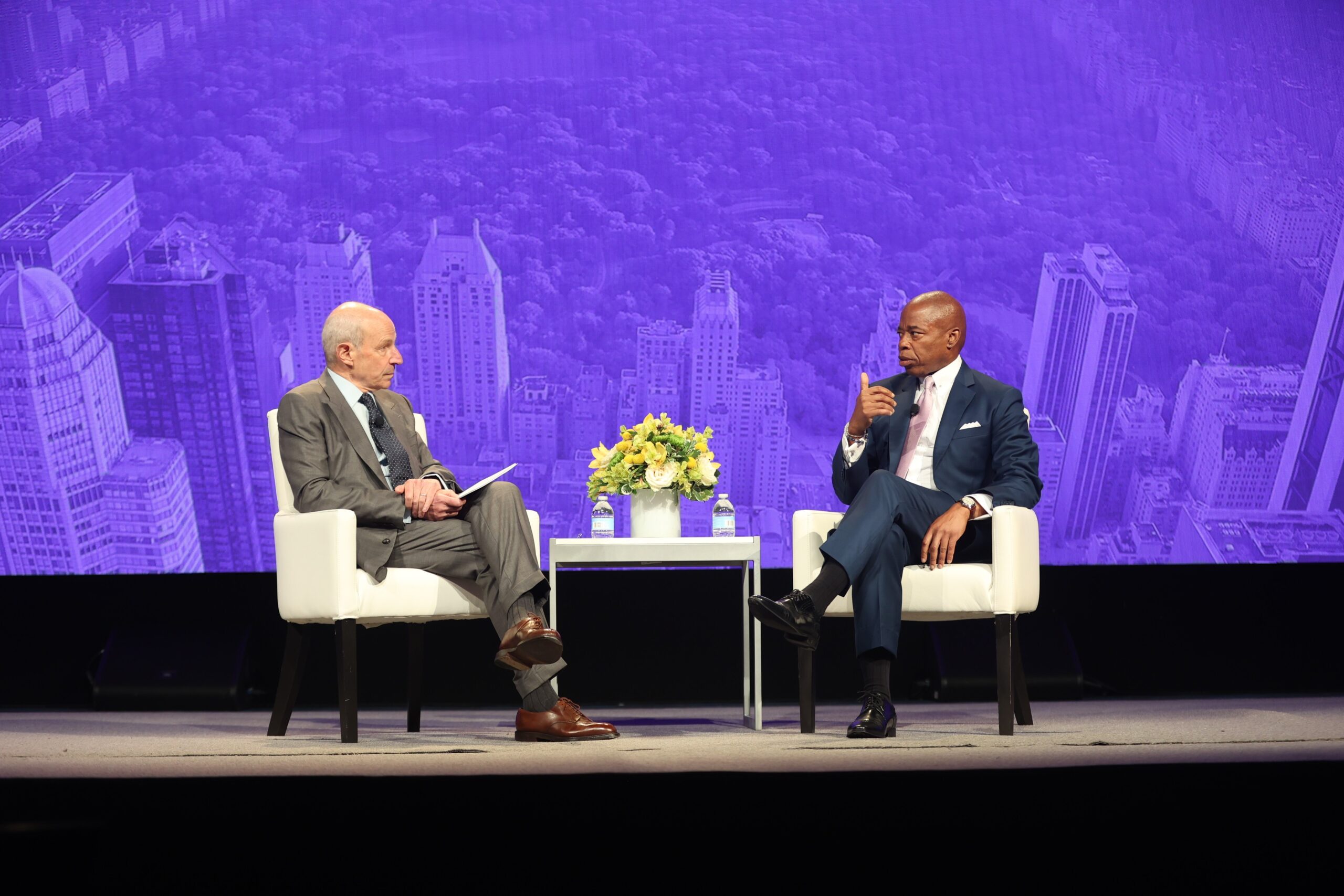 In a special fireside chat, Tisch brought New York City Mayor Eric Adams onstage to talk about the importance of tourism and travel in the city. They discussed Adams' primary strategies for bringing people back to NYC; reducing crime, making the city more business friendly, and encouraging workers to return to the office.
He also discussed the benefits of the city's rich history of diversity. As varied experiences become more important, diversity becomes a selling point to potential tourists, industries and businesses. That same day on Twitter, Adams celebrated a rebound in hotel demand as bookings reached 95% of pre-pandemic levels over Memorial Day week. Adams hopes to grow NYC's reputation as a destination for meeting and vacation planners.  
The first day of NYU's Hospitality Conference was productive for both speakers and listeners. With so many experts working together to improve the tourism industry, business and leisure travelers are in for a more productive future.