Smart Woman Summit
Times Square, Manhattan, NY

Thursday, August 3, 2023

New York Marriott Marquis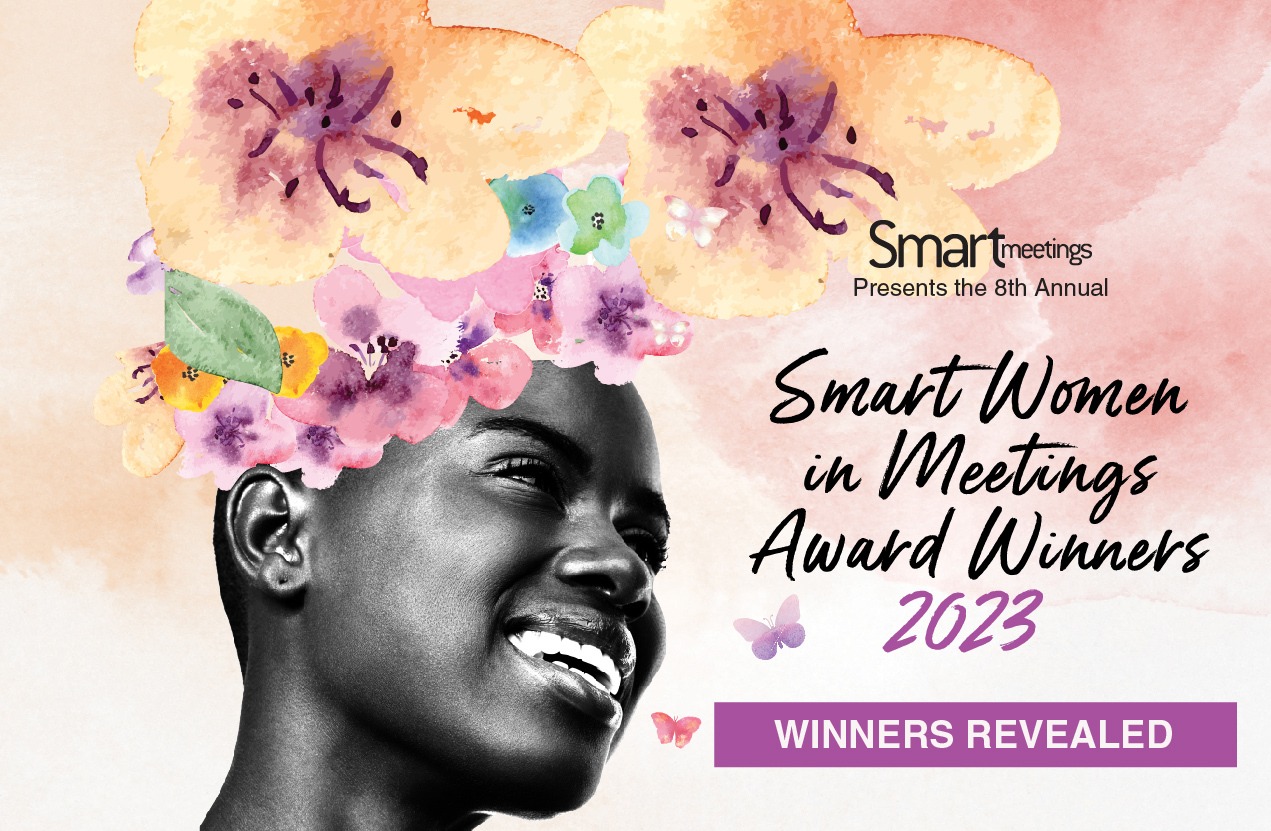 Get Ready for The Most Empowering Day of Your Meetings Life
Make plans today to join the community of leaders at the original gathering of influential women in meetings: Smart Woman Summit. This is your chance to champion your career by being in the room where alliances are formed, problems are solved, and futures are made. By celebrating your greatness, we all rise up together.
Highlighted Sessions:
Ladies Who Lead Lunch
Join your fellow Smart Women in a brainstorming afternoon that tackles the biggest challenges in the meetings industry as you band together to solve shared problems. Trained "provocateurs" will lead your matched group through an exercise in discovery and innovation.
This is your chance to build your personal advisory board of experts to turn to for expert advice when you need it most.
Luxury "Me Time"
It's pampering time as you will be treated to a personalized gifting experience worth more than $1,000 from Bulova Watch, Joycoast, Essential Bodywear and more. We pop the cork on an afternoon that celebrates your fabulousness.
Smart Women in Meetings Awards Gala
This is the most exclusive evening of the year in the meetings industry. Dress for the occasion as we celebrate the leaders who elevate our events and spread joy and transformation. The spotlight is on you and your allies as we sing the praises of the Visionaries, Innovators, Industry Leaders, Stellar Performers, Entrepreneurs and Rising Stars. We invite winners from all years to join us as we celebrate greatness and encourage more of it in the years to come. This is where the movement happens.
Special Performance by the Watercoolers
Get ready to laugh, nod in recognition and sing along as this celebrated troupe of Broadway singers and comedians brings a debut performance of their Women in Meetings musical to the gala stage.
Learn More about the Watercoolers Here: https://seethewatercoolers.com/
2023 SMART WOMAN SPEAKER LINE UP
'Dr. Romie' Romila Mushtaq MD, Chief Wellness Officer Evolution Hospitality
BrainSHIFT for Women Leaders: Brain Science of Success
Don't let having one of the most stressful jobs on the planet keep you up at night. Romila "Dr. Romie" Mushtaq, MD, will teach you to quiet your busy brain based on your personal sleep profile. She is a traditionally trained neurologist, mindfulness, and yoga expert and combines her unique skill set to discuss the neuroscience behind mindfulness.
This session could be the missing piece that restores your sleep, mental and physical health, empowering you with the energy to accomplish what you never before thought possible.
Check out Dr Romie's Website
Michelle Roark, Olympic Skier and Wellness Entrepreneur
Overcome the Unthinkable to Be a Force
You are a unique individual. When you are brave enough to embrace all of your gifts, you will be unstoppable. Don't take our word for it. World Cup Champion Michelle Roark proved that you can be a fierce athlete, sparkle like a pink diamond, innovate by mastering the application of a mass spectrometer in the lab and demonstrate the tenacity of a bulldog in the market. As the founder, CEO, and aromatic scientist of Phia Lab, she has learned to harness biological essences to enhance individual performance.
This session could unleash the energy and confidence that has been missing in your life and career.
Visit Phia Alchemy Here
Michele Rigby Assad, former undercover CIA agent and author, "Breaking Cover"
Operation True Grit
Negotiating event contracts and advancing your career is a lot like the job of an international undercover operator. You must keep secrets, but skillfully persuade others to tell you theirs. You have to love your life, but willingly leave it behind to produce programs around the world. Michele Rigby has done all of that and more. You have to be one step ahead of everyone else on the team. Working undercover for the CIA, she served in treacherous areas throughout the Middle East—a woman leading some of the most highly skilled operatives on the planet. The threats were real. The missions were perilous. Now, she has been cleared to share her success secrets with you: understanding what really matters in the face of your greatest fears.
This session could change the way you look at your life and make you the emotionally smartest person in any room.
Contact Mchele's Agent
PROGRAM OVERVIEW
Wednesday, August 2, 2023 - All Times Eastern Standard Time
| | |
| --- | --- |
| 4:00 pm – 6:00 pm | Welcome Reception: Mix and Mingle at a fabulous networking reception |
Thursday, August 3, 2023 - All Times Eastern Standard Time
| | |
| --- | --- |
| 7:30 am- 8:30 am | Breakfast: Check in and fuel your day with tasty morning bites |
| 8:45 am - 10:00 am | Welcome Remarks & Keynote - Dr. Romie Mushtaq, MD |
| 10:00 am - 11:00 am | Keynote Speaker - Michelle Roark |
| 11:00 am - 11:30 am | Inspiration Networking Break: Spark creativity and inspiration with your fellow event attendees |
| 11:30 am - 12:30 pm | Keynote: Speaker -Shirin Behzadi |
| 12:30 pm - 1:30 pm | Ladies Who Lead Lunch |
| 1:45 pm - 3:00 pm | Keynote - Michele Rigby & Wrap up |
| 3:00 pm - 5:00 pm | Smart Woman Gifting Experiences |
| 6:00 pm - 7:00 pm | Awards Gala Cocktail Reception |
| 7:00 pm - 10:00 pm | Smart Woman Summit Awards Gala |
2022 RECAP
PEOPLE ARE TALKING
FAQ'S
Full Smart Woman Summit Conference and Smart Women in Meetings Awards Gala pass (including a 1-year membership in Smart Woman VIP Club [a $199 value], welcome reception on August 2, gourmet meals, workshopping with peers, career-boosting speakers [see below], gala dinner and entertainment): $799 Smart Woman Summit (conference only): $499 Smart Women in Meetings (Gala only): $499 Guest of Smart Women in Meetings Awards (Gala only): $249 Table for 8 for Smart Woman Summit and Smart Women in Meetings Awards Gala: $4,995
Full-Day Conference Attendee Welcome Reception on Wednesday and all scheduled conference meals, General Sessions, Education Sessions, Gifting Experiences, and SWAG bag are included in your conference pass. Full-Day Conference Attendee & Gala & Awards Dinner Everything is included in the full-day conference pass and the awards gala and dinner. Travel and Hotel Accommodations are not included
We ask that you RSVP for the Wednesday evening welcome reception in your event profile We assume you will be participating in all other scheduled events included in your purchased conference ticket.
Smart Meetings has secured a limited number of guest rooms for our conference attendees. You will be responsible to secure your own hotel accommodations using our group room block link. Once you secure your conference pass, you will receive an email confirmation with the link to access our room block. The guest room rate is $269 plus applicable taxes. Parking is not included Please note guest rooms are limited and will be available on a first-come-first-serve basis. Extended stays are currently being offered from Tuesday, August 1, through Friday, August 4th.
What works best for you works best for us. As a conference attendee, you are responsible for securing all of the necessary travel arrangements; therefore, we do not have any restrictions. Feel free to check out the hotel website for more information New York Marriott Marquis 1535 Broadway, New York, New York, USA, 10036 https://www.marriott.com/en-us/hotels/nycmq-new-york-marriott-marquis/overview/
Dress Code Casual Cocktail - Welcome Reception Business Attire - Conference & Education Sessions Prepare yourself for a day of Inspiration, Motivation, and Goal Setting. Formal - Reception & Gala Glam up for an elegant evening and walk the red carpet!
Yes! You will receive CEU credits for each Keynote session that you participate in. Our event team will submit them on our behalf within 7 days of the event.
SPONSORS
PLATINUM & EVENT SPONSORS