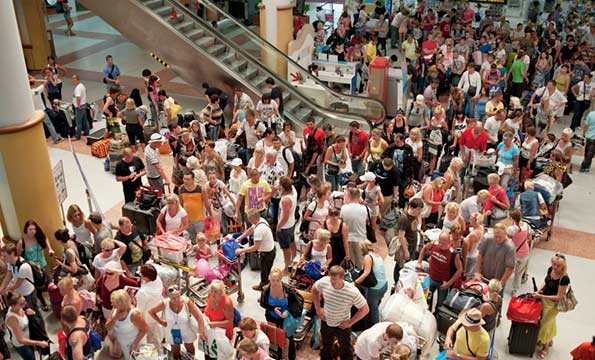 More than 1 million travelers are moving through airports faster these days after enrolling in the Transportation Security Administration's PreCheck program, Mary Forgione reports in the Los Angeles Times.
The TSA, which began the program in 2011, says 4.6 million have also enrolled in some form of a trusted traveler program that allows them to leave laptops and liquids in their bag, rather than removing them and putting them in trays.
Travelers can receive PreCheck screening at 133 airports in the United States. To apply, go online and download a PreCheck application. Applicants must be a U.S. citizen or a permanent resident, a valid ID is required and the fee is $85 (non-fundable). Applicants will receive an email telling them to make an appointment to be fingerprinted.
Once accepted, a Known Traveler Number is issued and can be used with 11 participating airlines, the Times says: Air Canada, Alaska Airlines, American Airlines, Delta Air Lines, Hawaiian Airlines, JetBlue Airways, Southwest Airlines, Sun Country Airlines, United Airlines, US Airways and Virgin America.
The TSA website shows where the enrollment centers are.
PreCheck also is included in the Global Entry program, which has hit 2-million enrollment. That program requires a passport, a $100 fee and fingerprints, but qualifies travelers for faster re-entry into the United States.