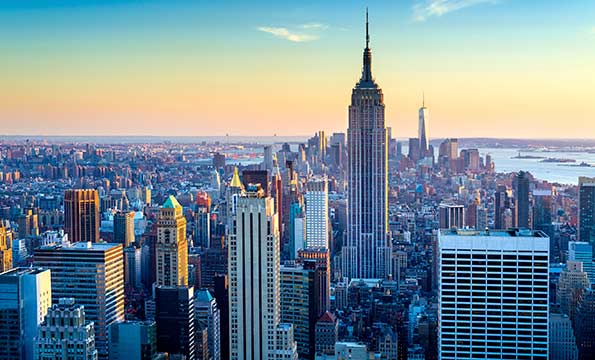 New York City is a prime meeting destination. The city had 102,000 hotel rooms in its active inventory in 2014, and is expected to top 115,000 rooms by 2017. Below is a list of 10 intriguing new openings and re-openings in 2015:
1 Hotel Central Park
This boutique refuge, steps from Central Park, boasts 229 eco-conscious rooms specifically designed to provide a blissful escape from urban grit and grime. Unique features include a three-story living wall, reclaimed rustic-chic materials and a signature scent of cedar, vetiver and lemons. Planners can take advantage of volunteering opportunities organized by local nonprofits, and pop-up meetings in Central Park.
Baccarat Hotel
Get a taste of Paris in Manhattan. The luxury hotel features 114 Art Deco-inspired rooms, salons with crystal chandeliers, a bar inspired by Versailles's stables and a modern-French restaurant. The Harmonie Room has 800 sq. ft. of event space overlooking the Museum of Modern Art. A 50-foot black-and-white marble-lined indoor pool and spa will open soon.
Martha Washington
Martha Washington is located just blocks from The Empire State Building, Union Square, Bryant Park and The Fashion District, and surrounded by trendy boutiques, restaurants and bars. Built in 1903 exclusively for women, the restored hotel is now open to everyone. It features 261 guest rooms and more than 7,000 sq. ft. of indoor/outdoor event space, including a 2,700-square-foot ballroom.
SIXTY SoHo
This newly renovated boutique hotel in SoHo has 97 guest rooms and suites. There are several upscale event spaces, including the restaurant Sessanta (formerly Kittichai), Lobby Bar, the bi-level SIXTY Loft and Above SIXTY SoHo, a luxurious rooftop bar that is a favorite of locals and visitors alike.
The Gregory
The Gregory, a 132-room boutique hotel, will open in Herald Square in May. The hotel debuted as The Gregorian in 1903 with soaring ceilings and mosaic tile detailing. Many of these original features have been retained in the recent remodel. The lobby has been reimagined as sophisticated living room library, reminiscent of an Upper East Side townhome.
The Knickerbocker
The legendary New York City landmark with a Beaux-Arts façade, originally opened by John Jacob Astor IV in 1906, has been reborn. The luxury property features 330 guest rooms and three food-and-drink venues overseen by Master Chef Charlie Palmer. The 7,500-square-foot rooftop bar and terrace overlooking Times Square is a terrific meeting spot.
The Marmara Park Avenue
The 21-story building housing this new hotel dates back to 1927. The Istanbul-based brand that has taken over the property offers Turkish touches such as wines from Turkey and hammam treatments at the spa. The hotel's 128 suites offer unparalleled views of the New York skyline; 40 suites have private terraces. It features 1,375 sq. ft. of event space.
The New York EDITION
The New York EDITION is located across the street from Madison Square Park. Originally built in 1909 as the headquarters for The Metropolitan Life Insurance Company, the historic 41-story clock tower is an iconic New York landmark. The hotel has 273 guest rooms and suites with spectacular views, and 2,100 sq. ft. of versatile meeting space. The property also features a restaurant, lobby bar, fitness center and spa.
The Renwick
Creative intellectuals such as John Steinbeck, F. Scott Fitzgerald and Thomas Mann have all slept in this hotel. It will open in August with 173 loft-like rooms that reimagine historic artists' studios and apartments. Easels, paint, writing paper and ink, as well as legendary literary works, will be available in the guest rooms. The property will also include a restaurant with a soon-to-be-announced star chef.
Warwick New York Hotel
Warwick New York Hotel has hosted many celebrities over the years, including Elvis Presley, The Beatles and Cary Grant, who was a long term resident. Media tycoon William Randolph Hearst commissioned the hotel in 1926 for the love of his life, Marion Davies. The revamped elegant and charming property has 426 guest rooms, including 67 suites. It also has 10,066 sq. ft. of versatile event space that can be used individually or in combination.