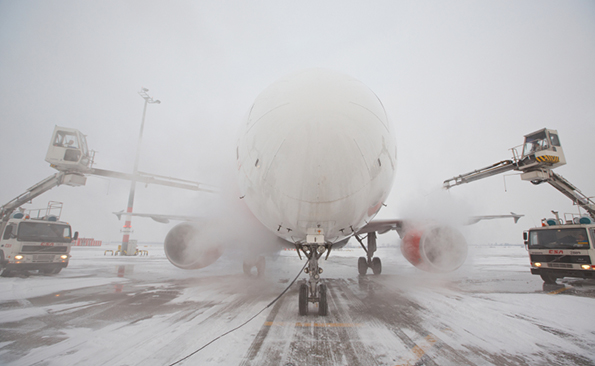 Anticipating a massive storm, expected to be a historic blizzard with potential to dump three feet of snow in the next days from Pennsylvania to Maine, major airlines have cancelled more than 7000 flights. The National Weather Service (NWS) expects conditions to worsen Tuesday morning and travel to be exceptionally dangerous.
Extreme weather conditions in the path of the storm are expected to begin Monday (Jan. 26) and major airlines have issued waivers to accommodate travel conditions. Here is a list of major U.S. airlines waiving change fees for travelers ticketed to fly to East Coast and Midwest airports:
Air Canada
Air Canada has revised ticketing policies for travelers impacted by the snow forecast and customers can make alternate travel arrangements without penalty and space permitting. For more information on delayed or cancelled flights visit: Air Canada's Daily Travel Outlook.
Alaska Airlines
The airline will waive change fees and the difference in the price if new flights are booked in the same cabin, and completed before Jan. 30, 2015. Refunds can also be requested, but hotel or amenities will not be provided by the airline. Additional information can be found here: Northeast Winter Storm.
American Airlines
Ticket reissue charges will be waived for single-ticket changes for Jan. 26-27. New travel must occur no later than Jan. 30, 2015. For more information visit: American Airlines Travel Alerts.
Delta Air Lines
Cancelled or significantly delayed flights will be refunded, and even if your flight is not canceled you are allowed a one-time change without a fee. View affected cities here: Northeast Inclement Weather.
Frontier Airlines
One itinerary change is permitted for tickets purchased on or before Jan. 25, 2015. Travel must be completed by Feb. 12, 2015 and the destination must remain the same. Standard change fees, advance purchase, blackouts and maximum stay requirements will be waived. Learn more: Northeast Corridor Weather Alert.
JetBlue
Change and cancellation fees and fare differences for passengers flying on Jan. 26-27 are waived, and customers can book new flights through Feb. 1, 2015. For more information visit: Jetblue Winter Storm Juno.
Southwest Airlines
Customers can change travel dates or flight times at no additional charge. Travel must take place within 14 days of the original travel date, and only customers who purchased their ticket(s) on www.southwest.com are eligible to book online. Read Southwest's policies here: Southwest Winter Storm Juno.
United Airlines
Travel may be rescheduled in same fare class and cabin for travel dates, Jan. 26-27. Passengers can change to earlier or later flights and final travel must be completed one year from ticket issue date. View affected cities here: United Important Notices.
Virgin America
Waived change fees apply to any difference in fares for travel Jan. 27 – Feb.3, 2015. Cancelations are permitted without fees for any flights scheduled on or before Jan. 25. Keep track of the airlines travel alerts: Virgin America Traveler Alerts.