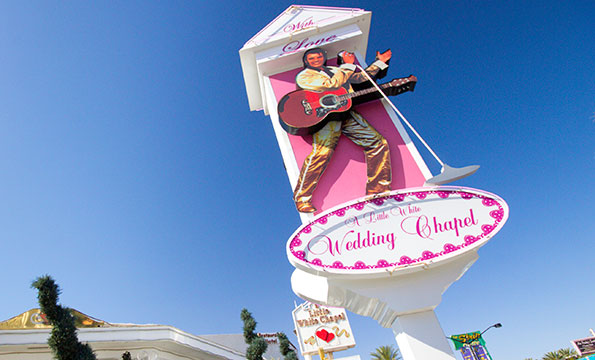 Elvis Presley is returning to Las Vegas—this time in the form of an exhibition. Elvis Presley Enterprises Inc. and the Westgate Las Vegas casino-hotel will open "Graceland Presents Elvis: The Exhibition – The Show – The Experience" on April 23.
The Westgate Las Vegas (formerly known as The International and then the Las Vegas Hilton) will devote 28,000 sq. ft. to a rotating display of Presley memorabilia and artifacts rarely seen outside of Graceland.
The King performed several hundred sold-out shows at the storied hotel. The 1,600-seat theater where he strut his stuff is being revamped with semi-circular booths to resemble the performance space of yesteryear, and an Elvis Presley impersonator will perform accompanied by back-up singers and an orchestra. An Elvis Presley-sanctioned wedding chapel will also be instituted at the hotel.
According to the Associated Press, Westgate Resorts CEO David Siegel said it was destiny that he bought the property in July 2014, decades after seeing Elvis perform there, accompanied by his ex-wife whose godfather happened to be Elvis' manager, Col. Tom Parker. Joel Weinshanker, managing partner of the company that has owned a majority of Elvis Presley Enterprises since November 2013, saw in Siegel someone willing to reinvest in the property where Elvis resided on the 30th floor for months at a time. The pair worked out a deal to posthumously bring the King back to Vegas.
"Absolutely positively, he would want to be back in Vegas. It's really going to be the authentic Elvis experience," Weinshanker says.
Angie Marchese, director of archives for Graceland, points out that the exhibit will be the largest Presley exhibit outside Graceland. Unique memorabilia will include a 24-foot-tall wooden sign of a guitar-toting Elvis that advertised his 1956 performances at The New Frontier in Las Vegas, a property that has since been demolished, and the $1 million-per-year tablecloth contract signed to make the deal to bring Elvis to Vegas official—complete with coffee cup stains.
Costumes on display will include the two-piece black tunic and single-button black suit Presley wore for his first performance at The International on July 31, 1969.