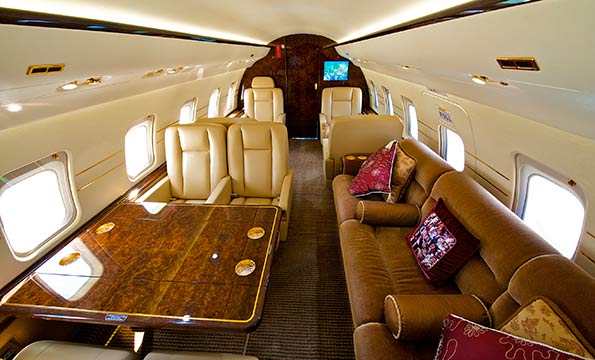 The Four Seasons Hotels and Resorts has set a new standard for luxury travel with the debut of its branded jet journeys. Travelers who opt in fly on the Four Seasons' private jet to a series of destinations around the globe, with Four Seasons professionals providing their trademark legendary service from beginning to end. The company is currently booking 19 to 24-day journeys for 2016. Prices start at $106,000 per person.
In classic Four Seasons style, no detail has been overlooked. In addition to all flights, guests receive ground transportation, a personalized itinerary of planned excursions, all meals and beverages and accommodations at Four Seasons properties around the world. The Four Seasons Private Jet, including staff and crew, can also be privately chartered.
The aircraft itself was completely redesigned to capture the company's signature aesthetic. The exterior is high-gloss black with the recognizable Four Seasons tree logo. The luxurious interior flatbed leather seats were handcrafted by Italian designer Iacobucci, the floor is covered in hand-woven woolen carpeting and passengers use Mongolian cashmere blankets.
"In our hotels, spaces are conceived as settings for great experiences," says Four Seasons Hotels and Resorts' Dana Kalczak, vice president of design. "The same is true for the Four Seasons Private Jet. Along with the core objectives of comfort and functionality—and adherence to strict aircraft safety standards—we wanted to create an exceptionally luxurious ambiance, and champagne and caviar became our inspiration."
The flight crew includes an executive chef, sous chef, concierge and a global guest services manager. Guests do not eat microwaved chicken in plastic dishes. Chef Kerry Sear says, "Our aim is to recreate the hotel experience on the Four Seasons Private Jet, which means creating innovative meals using fresh ingredients, served on the finest tableware and linens, all with impeccable Four Seasons service."
For more information, visit fourseasons.com/jet.