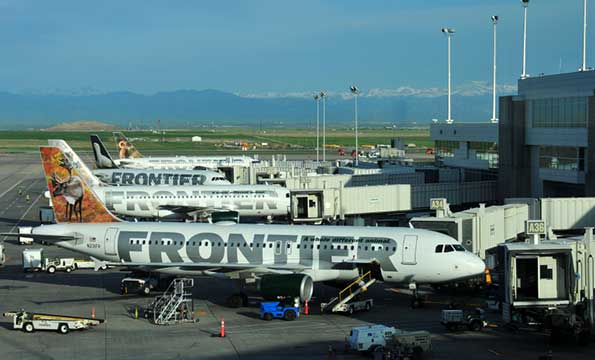 For the second year in a row, Frontier Airlines had the highest consumer complaint rate of the largest U.S. carriers in 2014. United Airlines had the second-highest rate, the U.S. Department of Transportation reported Tuesday on cnn.com.
Meanwhile, Southwest Airlines had the second lowest complaint rate, behind Alaska Airlines.
In 2014, 3.91 complaints per 100,000 passengers were filed against Denver-based Frontier, and 2.71 per 100,000 against Chicago-based United, while Southwest was the subject of 0.53 complaints per 100,000 passengers, the DOT reported. The average among 12 large airlines was 1.38 per 100,000 last year.
Southwest's numbers for 2014 included AirTran Airways, with which it recently merged.
Out of 465 passenger complaints about Frontier in 2014, by far the largest number—168—were for "flight problems," defined by DOT as "cancellations, delays or any other deviations."
Another 88 were for "reservations/ticketing/boarding" issues.
A Frontier spokesman says the airline is "laser focused on lowering complaints—we take them very seriously and are working hard to exceed our customer's expectations."