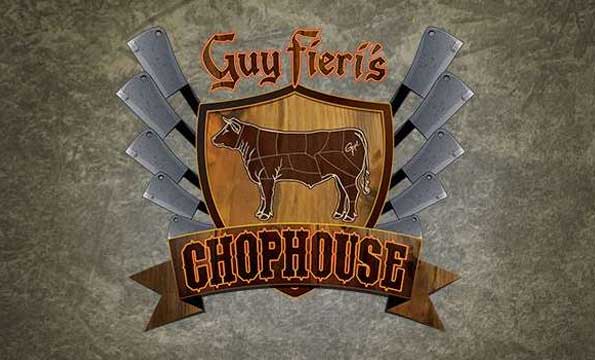 Photo Courtesy of Guy Fieri's Chophouse
Diners who visit Guy Fieri's Chophouse in Atlantic City are advised to bring large appetites. The eatery, which opened at Bally's in July 2014, features gargantuan portions of the celebrity chef's signature dishes.
The menu focuses on steakhouse selections—all prepared in classic Fieri style. Popular choices include the Java Rubbed Ribeye Chop (beef rubbed with a java and ancho chili spice mix, and served with mole butter), the Bacon Mac N' Cheese Burger (which incorporates six different cheeses) and Fried Chicken (served on a jalapeño-cheddar waffle with peppermill gravy, fried leeks and local honey.)
Appealing appetizers with a Jersey twist include Spicy Bloody Mary Jumbo Shrimp Cocktail, Jersey Shore Clams Casino and Kick 'n Calamari South Jersey Style. Interesting side dishes include Maple Bourbon Carrots, Pulled Pork Stuffed Mushrooms and (perhaps in homage to the Jersey Shore) Roast Potatoes brined for 24 hours in sea salt.
If there is room for dessert, don't miss the Cheesecake Challenge (featuring chocolate covered potato chips, pretzels and hot fudge) or the Warm Apple Bread Pudding, prepared with Jersey apple cider anglaise, bacon-brown sugar ice cream and whipped cream.
Guy's certainly your guy when it comes to forward flavors, served up in a casual environment.
For more on Atlantic City and how the historic South Jersey casino resort is shifting its focus to meetings, read "A Royal Flush of Nongaming Options."