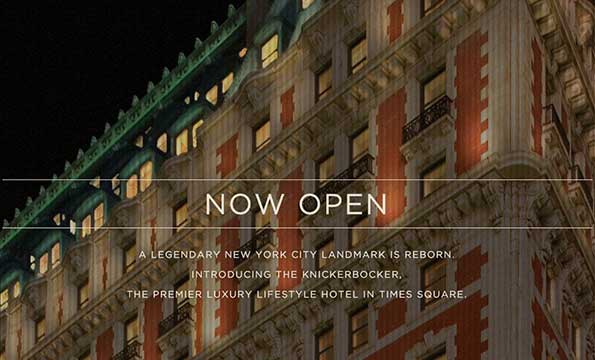 The Knickerbocker in New York City, which once hosted celebrities and dignitaries but offered rooms at affordable prices, will re-open to guests on Thursday.
The hotel, which was unveiled in 1906, will retain its original Beaux-Arts façade and have 330 guest rooms, including 31 suites, as well as more than 10,000 sq. ft. of indoor and outdoor meeting space. The hotel originally had 556 guest rooms and 400 baths, and hosted F. Scott Fitzgerald, Enrique Caruso and other prominent figures.
Room rates initially averaged $3.25 per day, which today would be around $78 after adjusting for inflation. Room rates now will start at $446.
John Jacob Astor IV built the original hotel, and after he died on the Titanic in 1912, his son, Vincent, took over, but closed the property in 1921. The building then changed ownership several times, and was converted into an office building. It was put on the National Register of Historic Places in 1980 and designated as a New York City landmark in 1988.
FelCor Lodging Trust, a Texas-based company that owns more than 70 hotels in the United States, purchased and funded the $240 million redevelopment of The Knickerbocker. The firm originally planned to open the hotel in late 2013.