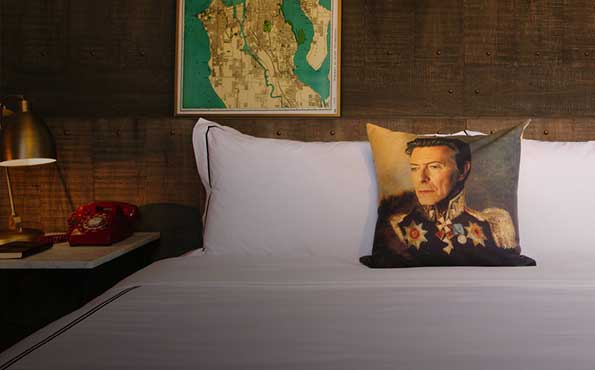 Courtesy of Palladian Hotel
Guests at Seattle's landmark Palladian Hotel can sleep with David Bowie … or Brad Pitt, Leonardo DiCaprio or Tom Selleck … as part of a promotion celebrating its grand opening. The new Kimpton property has created quirky throw pillows featuring the faces of famous personalities, transposed onto the bodies of Russian generals. Guests who like the celebrity pillows are encouraged to take them home. Like the boutique hotel's luxurious animal print hotel robes which are also for sale, the unique pillows can be purchased for $65.
The pillows at the Palladian represent a growing trend among hotels to market items associated with their brands to guests. The Ace Hotel, which serves hipsters in New York, Los Angeles and Palm Springs, features turntables and vinyl records in all rooms. Guests who fall in love with a specific record are welcome to take it home for $20. At B Hotels in Florida, plush stuffed animals such as sea turtles and frogs rest on the beds. Visitors can adopt (i.e. purchase) them, with some of the proceeds directed to nonprofit organizations designed to protect wildlife. At Seattle's lodge-inspired Edgewater Hotel, guests are welcome to bring home one of the bear-shaped footstools found in the rooms. They cost $425, and the hotel sold more than 80 of them last year.