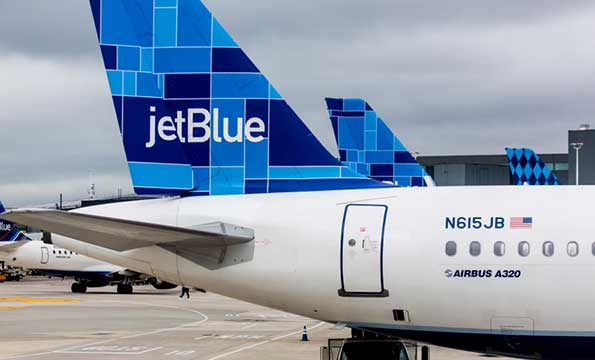 JetBlue president Robin Hayes says the airline is testing three fare structures—in which passengers can choose what features they want or don't want—in the second quarter according to Skift's Dennis Schaal.
The three bundles will include one fare geared for passengers who don't intend to check a bag, which would indicate JetBlue is planning to charge bag fees for the first checked bag for some of its tickets.
Hayes didn't reveal any pricing related to bag fees or the detailed characteristics of the new fares, but says JetBlue expects they would generate $200 million annually by 2017.
The airline, which started business class Mint service on some long flights last year, will likely see a backlash when it starts charging for the first checked bags in coach—what it likes to call its "core" seats.
In addition, Hayes says JetBlue's Even More seats, which offer extra legroom, expedited security, and priority claims at overhead bin space, will be subject to variable pricing.
JetBlue's website states that an Even More seat starts at $10 one-way, depending on the flight, but that is out of date as the price now actually depends on the flight and the seat position.