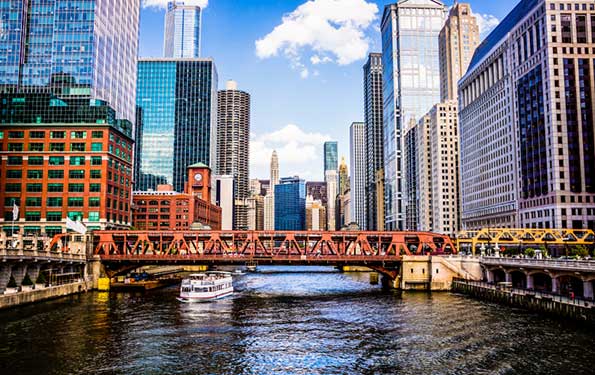 Virgin is shaking things up again, this time staking a claim on hotels. Mid-January this year, founder Richard Branson unveiled the Virgin Hotel brand in the Loop in downtown Chicago, reinventing a former art-deco style bank into a swanky lodging with unparalleled service.
The 27-story building features 250 guest rooms complete with ergonomic design and a mobile app to check-in and control room settings. The hotel has 1,430 sq. ft. of atypical meeting space, including mini-golf lounges, fitness video games and ping-pong meeting tables. "
We are in it to provide something new, fresh and meaningful to the guest," Branson states on the Virgin website. "It's time to extend this thinking to hotels. Hotels will no longer be a transient place where 'I stay'—Virgin Hotels will be a place where guests feel ownership, where they can be themselves and where they can't wait to come back."
Among the offerings are no hidden fees, free unlimited Wi-Fi, free bottled water, no early check-in or late checkout fees, less expensive minibar items and social hours with premium alcohol on the house. The hotel's art-deco aesthetic includes a 1920s cigar bar, brass elevator doors and molded plaster ceilings.
Virgin is among several new hotel brands attempting to cater to millennial travelers with a "lifestyle" theme. Last week Hyatt announced its own brand, Hyatt Centric, to debut this summer. At the same time, Hilton publicized its lifestyle-focused brand, Canopy, to open this year. Tommie is the newest offshoot of Thompson Hotels aimed at a younger generation. Marriott is adding Moxy, a European chain of microhotels, to its lifestyle collection. Starwood Hotels & Resorts also owns its own lifestyle-centered brand, Aloft Hotels.
Virgin plans to introduce new hotels each year in possible locations such as Dallas, Austin, Los Angeles, Miami, San Francisco, Washington D.C., London and Paris. A hotel in Nashville is underway to open next year, and a New York property is slated for 2017.
Virgin Group is a multinational venture capital conglomerate which consists of more than 400 companies worldwide, including Virgin Airlines and Virgin Mobile.