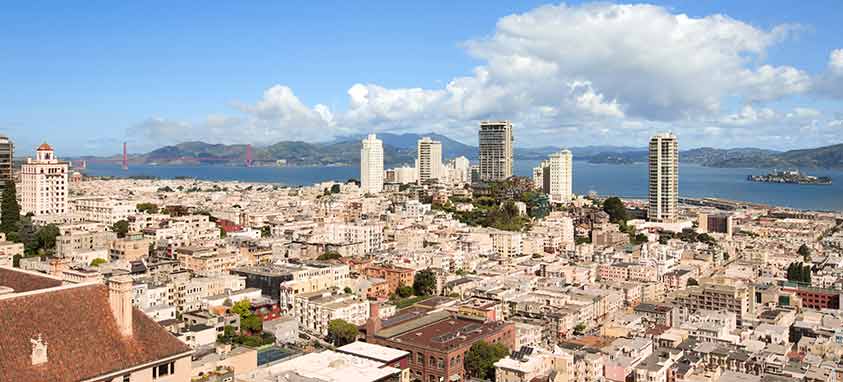 San Francisco's Nob Hill neighborhood is establishing itself as a meetings- and convention-friendly alternative to the city's more famous Moscone Center. Nob Hill's Masonic Center has teamed with five nearby luxury hotels to form the Nob Hill Connection, being dubbed as a one-stop shop for events and meetings.
The Masonic Center sits within walking distance of the Fairmont San Francisco, The Scarlet Huntington, InterContinental Mark Hopkins, Stanford Court and Ritz Carlton San Francisco luxury hotels, and the properties combine to offer more than 1,000 hotel rooms and over 170,000 square feet of meeting and event  space to meeting planners in one of the city's most iconic neighborhoods. The Masonic Center alone has flexible meeting and event spaces that can accommodate groups numbering from 50 to 1,000. Combined, the venues can handle San Francisco events as large as 100,000.
Nob Hill was the spot where California's wealthiest railroad tycoons—with names such as Stanford, Hopkins and Huntington, which now grace the area's luxury hotels—built their palatial mansions in the late 1800s, partly because of the sweeping views of San Francisco offered from the crest of the neighborhood's namesake hill—views of the skyline and the bay that are still sure to leave guests of the five properties in the Nob Hill Connection in awe.
The location of this collective also puts attendees in an upscale area with fewer swarms of tourists than are found around Moscone Center. All venues offer state-of-the-art technology in their meeting spaces, and meeting planners also have fine-dining options at any of the five hotels in the Connection, and San Francisco's famed cable cars are easily accessible to carry smaller groups to a plethora of offsite activities.