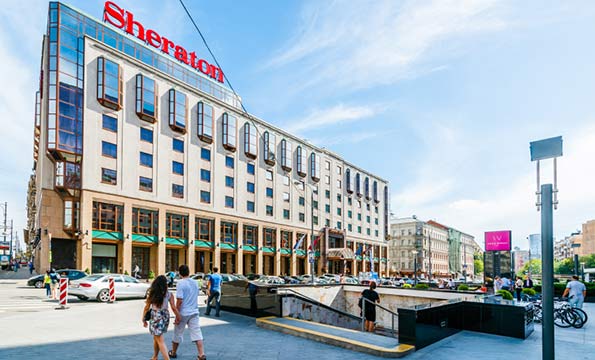 Starwood Hotels & Resorts has partnered with GH Pegasus and Hoteles Real Chihuahua to open four new hotels in Mexico within the next two years. The agreement with GH Pegasus will result in the opening of Aloft Tijuana, Aloft Coatzacoalcos and Aloft Poza Rica by the end of 2017, and the agreement with Hoteles Real Chihuahua will unveil the Sheraton Chihuahua Soberano Hotel by November 2015. These new signings will bolster Starwood's presence in Mexico and strengthen its footprint in Latin America and the Caribbean.
"We are very excited to continue to expand our reach in Latin America with our fast-growing Aloft brand and Sheraton, our largest brand— both of which continue to be sought-after by investors and guests alike," said Jorge Giannattasio, senior vice president and chief of operations for Starwood Latin America and the Caribbean.
Aloft is redefining the mid-market hotel sector by delivering a modern design, active social scene and tech-forward guest experience featuring SPG Keyless, which allows guests to use their smart phones as keys. There are already Alofts in operation in Cancun and Guadalajara. Aloft Asuncion in Paraguay, Aloft Montevideo in Uruguay and Aloft Hermosillo in Mexico are set to open in 2016, followed by the above Alofts in Mexico in 2017.
With the conversion of the completely renovated Sheraton Chihuahua Soberano Hotel, Starwood will increase the number of Sheratons to six in Mexico, and 37 in the region. The property will feature 194 guestrooms and 10 suites, two restaurants, a lounge and fitness center. It will have more than 14,000 sq. ft. of meeting space, the largest in the region.
Starwood currently operates 94 hotels and resorts across Latin America, including eight of the company's nine brands including: The Luxury Collection, St. Regis, Sheraton, Westin, W Hotels, Le Méridien, Four Points by Sheraton and Aloft.
"The addition of these new hotels is a testament to the confidence owners have in Starwood and our brands," said Victor Vazquez , vice president acquisitions & development, Starwood Hotels & Resorts, Latin America. "Our pipeline is increasingly robust and we see many opportunities for all our distinctive brands in Mexico and throughout the region."