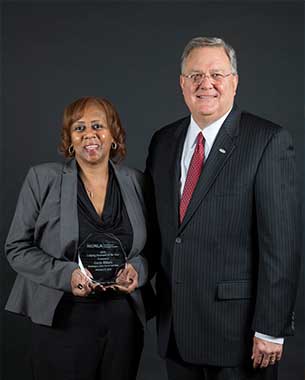 The Washington Duke Inn & Golf Club received two accolades on Monday night, when the North Carolina Restaurant & Lodging Association (NCRLA) honored the best in the state's hospitality industry.
During Taste of North Carolina & the Stars of the Industry Awards event in Raleigh, Randy Kolls, general manager at Washington Duke Inn, was named the NCRLA Lodging Operator of the Year. He is currently overseeing renovations that are expected to be complete by 2016.
Carla Elliot, also from the Washington Duke Inn & Golf Club, was named NCRLA Lodging Employee of the Year. Elliot, who supervises the Inn's 60-person housekeeping staff, is known for promoting high standards of service among her team members and the rest of the hotel staff.
Located on the Duke University campus in Durham, North Carolina, the Washington Duke Inn & Golf features 271 guest rooms and suites. Its Executive Conference Center has 25,000 sq. ft. of space and can accommodate up to 600 attendees. The Inn is a member of the International Association of Conference Centers.