Personal notes from an eye-opening fam trip
Wednesday
4:10 p.m.: Catch flight from Oakland International Airport (OAK)—in California, a quick up and down, not even time to finish a drink.
SMART TIP: Reno-Tahoe International Airport (RNO) receives 120 daily flights nonstop from as close as San Francisco International (SFO) and Seattle-Tacoma International (SEA), and as far as New York International (JFK) and Guadalajara International (GDL) in Mexico. Private South Lake Tahoe Airport offers hangar space, car rentals and concierge services.
5:30 p.m.: Picked up by a four-wheel-drive limousine for a beautiful ride with views of the snow-topped mountains and rushing Truckee River. I learn that a new Carson City bypass opening this summer could cut 10 minutes each way.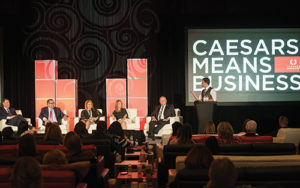 6:30 p.m.: Check into Harrah's Lake Tahoe as Kool & The Gang's "Celebration" plays from the casino. I later learn that festive sound infiltrating the lobby was part of the design to immerse visitors in the fun from the moment they walk through the revolving door.
Thank you, Caesars Entertainment (owner of Harrah's and the adjoining Harveys Lake Tahoe), for Diamond check-in given to event planners and their VIPs. The smooth swish of glass doors and the peaceful enclave beyond is not just for high-roller gamblers any more. That saved a few precious minutes, so I could stow my bag before making my way past the slot machines in the 70,000-square-foot casino to the welcome reception in the Showroom.
7 p.m.: Welcome reception envelops me in sounds and lights. Fueled by salad on a stick, sushi and chocolate martinis, groups posed in neon glasses and wigs in front of an interactive, Mirror Me photo booth, taking pictures and meeting the Caesars event team.
SMART TIP: Signage in the hotel lobby, outdoor marquees and even door keys can incorporate group logos for hotel buyouts.
Thursday
8 a.m.: Buffet breakfast in freshly remodeled, 17,500-square-foot Special Events Center. The entire second floor conference space was taken back to studs and upgraded with new audiovisual and lighting systems. It was finished with neutral colors and patterns flexible enough to work with any design theme. Paul Voss, director of catering and convention services for Harrah's and Harveys, describes the style as "warm contemporary" and says the renovations bring a brightness to the meeting rooms, open spaces and even the restrooms, which were suffering from a bad case of pink-and-gray subway tiles (they are now decked out in travertine and warm cherry wood, reminiscent of an exclusive golf club). A total of 2,015 bulbs were replaced as part of the greening of the space. It also gave the staff more capabilities when it comes to audiovisual effects, setting up the space and accessorizing.
SMART TIP: Ask about how the built-in intelligent lighting system managed by Encore Lighting can add big impact to any presentation for almost no more money.
9:30 a.m.: Communications skills expert Pamela Jett wakes up the room with tips on words to choose (strategic, solution) and words to lose (little idea) to increase confidence. She is followed by stress and productivity author Andy Core, who let us in on the secret to relaxation—understanding what we can control (what we say and do) and what we can't (what others say and do).
SMART TIP: Red, black and white leather sofas with Caesars Means Business throw pillows were much cozier than sitting in plastic chairs.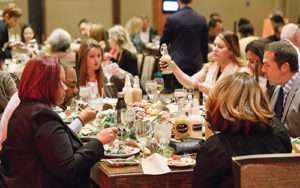 12:30 p.m.: Lunch starts with alpine-themed, table-long charcuterie boards built personally by Voss. The two properties host 300 groups a year. Some 60 percent of those are repeat clients. The personalized menus are part of the service. Michael Massari, senior vice president of meetings, conventions and events business for Caesars Entertainment, calls his company's unique organizational structure—with the empowered sales team living where customers are, rather than based at the properties—a more important differentiator than the size of the guest rooms or sophistication of the AV equipment (although that is important, too). Sales people are empowered to make decisions, so planners have one point of contact and no surprises when they arrive. "We are consultative and can have thoughtful conversations about creative ways of doing things efficiently based on each group's individual goals," Massari says.
2 p.m.: A lively group assembles 500 bags of essentials for Children's Cabinet Charities, a group devoted to keeping kids safe and families together during tough times.
SMART TIP: The catering team has received dietary restriction lists as long as six pages. Sharing those in advance can make meetings more pleasant for everyone.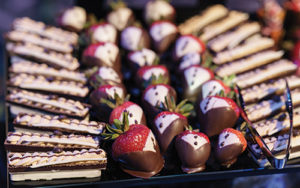 6 p.m.: Drinks and dinner at 19 Kitchen and Bar on the Harveys side. The underground route to the neighboring property moves us past the dings and beeps of the game center, billboards for the Summer Concert series in the outside area (the first one in 2017 features Paul Simon) and the wafting aromas of Cinnebon Bakery station, and through the Harveys lobby with its waterfall obelisk. Walking out of the elevator and into the window-walled bar with its cozy seating showing off the beautiful lake views is like walking into a European retreat. Dinner comes in waves of scallops, lobster bisque, curried sea bass and more cute little chocolate desserts that magically appear while guests watch the sun set over the Sierra Nevada mountains.
9:00 p.m.: After-party at Sammy Hagar's Cabo Wabo Cantina, which celebrated its 10-year anniversary last year with a $150,000 renovation.
Friday
8:30 a.m.: Buffet at Friday Station Steak & Seafood Grill overlooking the lake. The restaurant has a long history the lake and locals still come in for the famous Snoopy Salad with crab, shrimp and avocado.
SMART TIP: Friday Station can be rented for breakfast or lunch for up to 180 people. Across the hall, the Forest Buffet holds 700.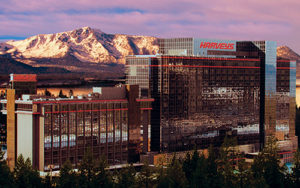 9 a.m.: Tour includes a swing by Reflections Spa with its aroma of lavender and eucalyptus. The remodeled rooms retain their signature two-bathroom layout (reportedly to minimize time getting ready when people dressed to go to casino rather than because Mr. and Mrs. Harrah didn't like to share a restroom). A trip to the 16th- and 17th-floor Summit Suites was led by Rick Padilla and Bertha Morales (two of the 4,000 employees at the two properties empowered to "look people in the eye and solve problems"), who serve as butlers to those renting these well-appointed, apartment-size suites with views of Edgewood Golf Course and the surrounding Sierra Nevada grandeur. From the marble and imported Italian wood floors to the rain shower, billiard tables and sound systems, every detail is considered. The butlers have filled requests for drawing rose petal baths, hosting cocktail parties and, one Thanksgiving, arranging for a full turkey dinner service for a large, extended family.
In 2018, Harveys is earmarked to receive its own $5.5 million face-lift in the conference center and the guest rooms (together the two properties include 1,300 guest rooms). Voss describes the plans as making the space more "Tahoeish" by bringing in the warm woods and nature from outside that was missing when it was last addressed in the 1980s. Part of that upgrade will be a focus on creating a gaming space that will appeal to millennials who think nothing of spending $15 on a drink that they can take a picture of and post on social media, but refuse to put that money into a slot machine. "They want experiences," Voss says.
SMART TIP: Make some time for some worldly pampering—a Turkish steam treatment, Finnish sauna and Roman bath with Swedish massage.
Noon: Ventured outside the properties for a quick stroll to the stunningly cold lake. Stumbled on a country-rock-folk band playing in the square near the Heavenly gondola lifts that carry visitors up the hill for panoramic views during the summer and some of the best skiing in the world in the winter.
SMART TIP: Fall—September in particular—is high season in Tahoe, so plan ahead if you awnt an event for that time of year. Caesars is already booking for 2023.
4 p.m.: Back in the limo (one of 10 Lincoln AWD MKTs owned by Caesars at the Lake) for the ride to the airport with a pack full of ideas.