3 new, futuristic cellular sensations
Coffee refuels us during a long day of meetings, but what about our phones? They get drained, too. Attendees often leave chargers in their hotel rooms or struggle to find an unoccupied power outlet. Expectations have evolved to the point where meeting planners must provide sufficient charging stations with cords included. Phones even lock onto some of them, to discourage sticky fingers. While traditional charging stations remain relevant, emerging technologies offer alternate ways to juice up batteries—and some of them are so innovative that Apple's forthcoming wireless charging mat, AirPower, may have a run for its money.
Pedal-to-Phone Power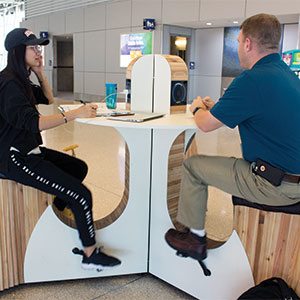 Fitness-conscious employees are opting for treadmill desks to walk as they work. Now, they can use kinetic energy to charge their cellphones as they wait for a flight or attend a conference. This month, Indianapolis International Airport (IND) will expand its popular stationary workout bike hubs to three locations in its terminals. These WeWatt cycle kiosks are the brainchild of a Belgian company and can be found in other domestic airports, including Long Beach Airport (LGB) in California and Flagstaff Pulliam Airport (FLO) in Arizona, as well as international airports. Kiosks and hubs can also be installed at universities, shopping malls, conference centers and outdoors.
An Oakland, California-based company, Rock the Bike, has a similar product for meeting professionals to rent for conferences. The bikes' wheels can be branded and are powerful enough to not only charge cell phones, but also blend smoothies, provide power to a deejay booth and churn ice cream.
Cry Me a 100 Percent Charge
Can you cry on demand? Or, do you need a visual aid—a heartbreaking photo, say—for the waterworks to begin? Or a hysterical joke? Regardless, soon you may be able to put teardrops to work, charging your cellphone.
Questions must be flooding your brain. This technology is based on a fascinating finding recently unearthed by scientists at Bernal Institute, University of Limerick, in Ireland. They demonstrated that energy can be created by applying pressure to a protein—lysozyme crystals—contained in tears. The term used to describe this phenomenon is "direct piezoelectricity." This ground-breaking discovery may one day be applied to generating power to charge a mobile phone. Stay tuned.
Give Pee a Chance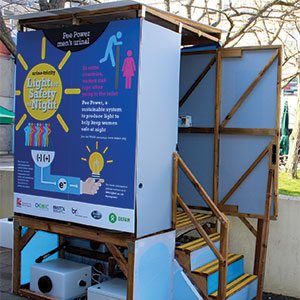 We already know that urine contains a lot of helpful health information doctors use for diagnostics. British scientists have also developed a way to convert pee into energy—to power electronics, such as cellphones. Back in July 2013, Ioannis Ieropoulos, researcher at University of the West of England Bristol, announced that a microbial fuel cell can be used to convert human excretion into electricity. Since his initial discovery, which could only partially charge a phone, the experiment has come a long way. By July 2016, the science behind this method could create enough power to give a phone three hours of talk time after charging for six hours. To do this, it requires the amount of urine produced in a single bathroom trip.
Pee Power urinals returned to the Glastonbury Festival for the third year in June 2017, this time to provide power to display screens. The "Urine-tricity" project is funded in part by the Bill and Melinda Gates Foundation. Stay hydrated, drink up and make the most of your bathroom breaks. Please remember to wash your hands… and phones.