Sunscape Dominican Beach, Punta Cana, Dominican Republic
Expanded portfolio and new features highlight 15th anniversary
AMResorts is celebrating its 15th anniversary this year while opening 11 properties and enhancing its focus on the ever-changing needs of groups.
The company is continuing the momentum it gained in 2015, when it generated an unprecedented 17 new resort management contracts and added several new destinations. In August, AMResorts announced that it had expanded its portfolio to 60 all-inclusive properties after signing contracts with several hotels.
"This has been a year of aggressive growth," says Violeta Sales, CMP, CMM, corporate director of group sales for AMResorts. "The new deals represent a 10 percent portfolio growth for AMResorts, and propels its brand presence past the 20,000-room benchmark—a goal that was originally set for 2018, but achieved two years ahead of time."
AMResorts has been carefully honing in on markets that provide group and leisure travelers with their best return on their investment.
"By focusing on growth in established markets and seizing opportunities to expand into new destinations, AMResorts' resort product footprint is now stronger and broader than ever," Sales says. "Reaching the 60th resort milestone is a testament to the company's ability to optimize resort performance and stay ahead of the curve by anticipating where travelers want to be."
In that vein, Alejandro Zozaya, CEO of Apple Investment Group (the parent company of AMResorts), noted in June that AMResorts has been making inroads with the Cuban government to convert or develop properties from scratch for the meetings and incentives market.
Outstanding Features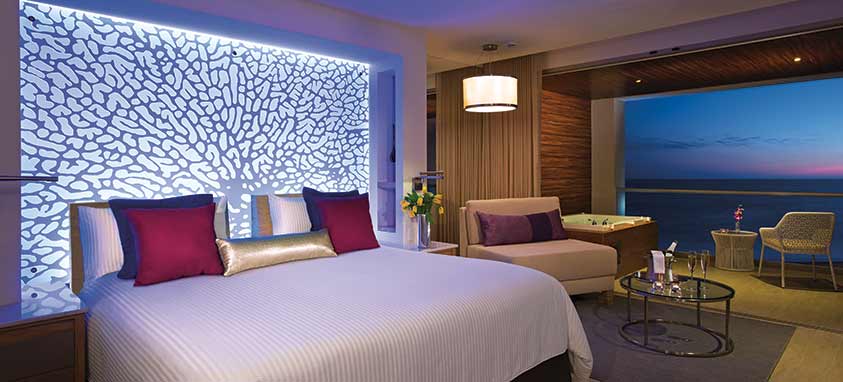 Breathless Riviera Cancun Resort & Spa, Mexico
Traditionally, AMResorts has been popular among groups because of its array of luxurious, attractive properties.
"Across its six unique brands, AMResorts properties are great for groups because they offer so much more than white, sandy beaches in a wide selection of popular and accessible destinations," Sales says. "They offer great get-up-and-go activities that encourage exploration and upgrade the group experience."
Activities include al fresco dining, exotic dinners and parties inside caves. The resorts feature a variety of restaurants, world-famous cuisine and local gourmet options.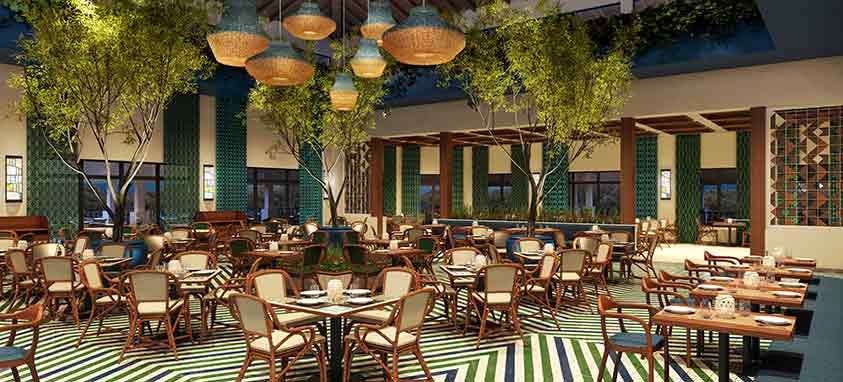 World Cafe Restaurant at Dreams Dominicus La Romana, Dominican Republic
In March, AMResorts rolled out a 24-hour dining program across its brands. As part of the new offering, guests can now enjoy at least one 24-hour restaurant option under the signature Endless Privileges, Unlimited Luxury and Unlimited Fun vacation concepts. The 24-hour restaurants and menus vary by resort and include a la carte and buffet offerings. Each property features local flavors and ingredients to showcase the destination.
AMResorts properties also provide unlimited, complimentary connectivity, and guests now have the option of downloading a free app that allows them to communicate directly with the hotel staff. The app enables visitors to schedule a spa appointment, book an excursion and confer about the hotel directory, among other things.
All of the company's properties cater to groups of various sizes and needs, and offer cutting-edge technology.
6 Unique Brands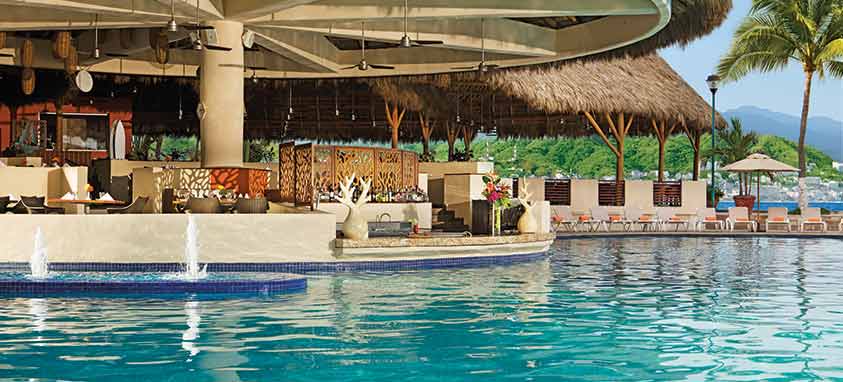 Manatees Swim-Up Bar at Sunscape Puerto Vallarta Resort & Spa, Mexico
AMResorts opened its first property and first brand, Sunscape Resorts & Spas, in 2001. Sunscape resorts are fun-filled and family friendly, with specialty-themed restaurants, bars and lounges, spacious accommodations and beachfront settings that offer an array of water sports.
The adults-only Secrets Resorts & Spas debuted in 2002, featuring elegantly appointed guest rooms, several gourmet restaurants, luxurious amenities and activities throughout the day. Dreams Resorts & Spas, another family-friendly brand, was introduced in 2004. It consists of luxurious beachfront properties with spacious guest rooms—ideal for incentive groups.
By 2008, the company had 14 resorts throughout Mexico and the Caribbean. The fourth brand, Zoetry Wellness & Spa Resorts, was launched in 2008. Zoetry brought a new concept to the AMResorts brand portfolio: an ultra-luxurious experience that combines elements of wellness, serenity and social and environmental responsibility in a boutique setting. These resorts have no check-in and check-out times and feature private in-suite dining as well as gourmet a la carte dining with organic selections.
Realizing that some groups and individuals desired a more active, energetic environment, AMResorts unveiled its entertainment-oriented fifth brand, Now Resorts & Spas, in 2010.
"Active and lively settings provide entertainment for all ages and are the perfect setting for groups, meetings and incentives, a family reunion, a wedding or a social group getaway," Sales says regarding the brand's offerings.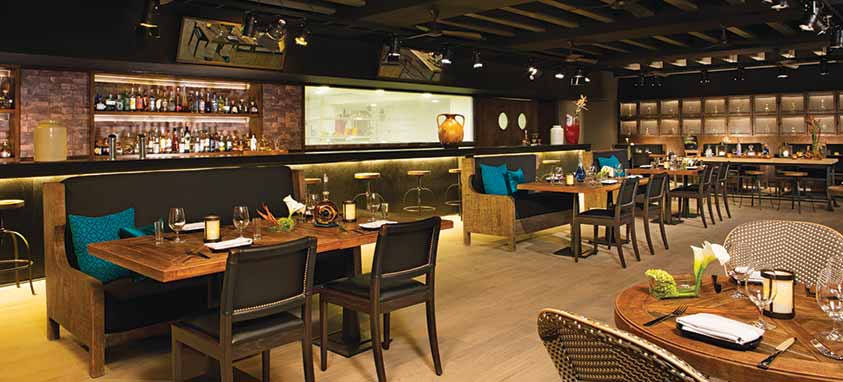 La Biblioteca de Tequila at Breathless Cabo San Lucas Resort & Spa, Mexico
The company further enhanced its portfolio in 2013 with the addition of its second adults-only brand, Breathless Resorts & Spas, which caters to couples, singles and friends seeking a high-energy and social atmosphere focusing on entertainment and events.
That same year, AMResorts secured an equity investment from Bain Capital, a global private investment firm. This led to the creation of Apple Leisure Group, which consists of AMResorts and five other subsidiaries.
The equity partnership enabled AMResorts to expand its portfolio into Central America with Dreams Las Mareas Costa Rica and Secrets Playa Bonita Panama Resort & Spa (slated to be reflagged and reopen as Dreams Playa Bonita Panama Resort & Spa Nov. 1). The company will also unveil a property in Puerto Rico, Dreams Puerto Rico Resort & Spa, in 2018. It then will have properties in Mexico, Dominican Republic, Aruba, Jamaica, Costa Rica and Puerto Rico.
"AMResorts' success can be attributed to how we have differentiated the product to appeal to consumers at every stage of their lives through our six different brands," says Gonzalo del Peon, president of AMResorts. "Continuing to evolve to meet the ever-changing desires of our customers will allow us to stay at the forefront of the industry and top of mind for travelers seeking the ultimate all-inclusive experience."
---
Exciting New Properties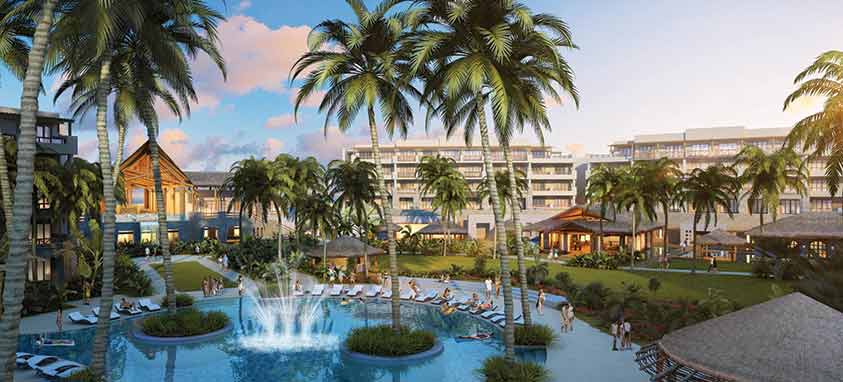 Four attractive meeting properties opened in Mexico during the past year. Secrets Akumal Riviera Maya Resort & Spa, which debuted in November, is located in the heart of the Riviera Maya along the white-sand beaches and calm, clear waters of Akumal. It provides 434 suites, many with breathtaking ocean views, and 8,000 sq. ft. of meeting space.
The oceanfront Breathless Cabo San Lucas Resort & Spa opened in December on the tip of the Baja California peninsula. The property offers 169 ultra-contemporary suites with spectacular ocean and marina views, and includes more than 4,000 sq. ft. of meeting space.
Sunscape Puerto Vallarta Resort & Spa, which also opened in December, is situated on an eco-friendly beach. It provides 320 guest rooms and 6,450 sq. ft. of meeting space, which includes four breakout rooms.
In May, the chic, ultra-modern Breathless Riviera Cancun Resort & Spa opened with 526 suites, divided among three areas. The Xhale Club section is designed for those seeking an elevated level of personal service and luxury, the energy center is for those looking to mix and mingle, and the Xcelerate Party Zone is for those who love to party. The resort has 9,000 sq. ft. of meeting space.
In the Dominican Republic, Now Garden Punta Cana was unveiled in December in a serene garden oasis near Bavaro Beach. The property offers 180 guest rooms—all with a hydro-tub on the terrace or balcony—as well as more than 9,000 sq. ft. of meeting space, including a 6,930-square-foot ballroom that can be divided into four rooms.
AMResorts will be unveiling several additional properties, including the following, in the near future.
Dreams Dominicus La Romana, set on a beach in Bayahibe in the Dominican Republic, will open Oct. 30 and feature peaceful treatment spaces, gardens and hydrotherapy areas. It also will provide 386 guest rooms and a meeting room that can seat up to 250 guests theater-style and accommodate up to 100 guests for banquets.
Secrets Cap Cana Resort & Spa (pictured) will open on the southeastern coast of the Dominican Republic in November. The epitome of luxury, it will feature 457 suites adorned with sophisticated Caribbean furnishings, gourmet dining and more than 9,490 sq. ft. of meeting space.
Situated in the upscale gated community of Playa Mujeres, Dreams Playa Mujeres Golf & Spa Resort will debut in November just outside of Cancun, Mexico. Surrounded by white, sandy beaches, the resort will offer 502 guest rooms, two infinity pools, a water park and more than 15,000 sq. ft. of meeting space.
Ideally situated on the spectacular El Cortecito beach, only 15 minutes from downtown Punta Cana, Sunscape Dominican Beach Punta Cana is slated to open in December. It will feature water sports, live entertainment, spa and a fitness center, as well as 454 guest rooms and an undetermined amount of meeting space.
The 452-room Sunscape Bavaro Beach Punta Cana, located adjacent to the Sunscape property, also will open in December, with a PADI-certified dive center, swimming with dolphins, movies on the beach and other entertainment. Guests will have full access to the Sunscape Dominican Beach property.