Special Disneyland residence offers extraordinary luxury experience
The grand mastermind wasn't physically present, but his spirit was felt throughout the evening during an extraordinary experience for media at the 21 Royal at Disneyland Park in Anaheim, California, earlier this year.
Walt Disney and his wife, Lillian, envisioned offering such a place in which they would entertain family friends, celebrities and dignitaries, but it was never realized during their lifetimes. They would be very pleased that 21 Royal—named after its street address inside the park—offers the fabulous cuisine, charm and hospitality they intended.
The 2,200-square-foot private residence contains two bedrooms, a living room parlor, a dining room, a balcony and a patio. And starting in January, it became available for public bookings of up to 12 guests.
"This is your private dining room for the evening," says executive chef Andrew Sutton. "We'd like our guests to experience what it would be like if they were attending a dinner party hosted by Walt and Lillian Disney."
Our media group met at Disney's Grand Californian Hotel & Spa, where we were escorted to New Orleans Square in the park. When we arrived at 21 Royal, we were welcomed by uniformed butlers, who guided us into an elegant living room. We enjoyed signature cocktails and hors d'oeuvres.
After preliminary greetings, we were free to wander around the premises. The design of 21 Royal was inspired by the 1960s watercolor renderings of Dorothea Richmond, a Disney set designer who later served as an Imagineer. Each room reflects the Empire style of 19th-century New Orleans, a favorite of Walt Disney.
In one room, a miniature Disneyland Railroad train circled past Disneyland landmarks, harmonious with Walt Disney's love of trains. In another room, the chiming bells of the Cinderella story clock rang.
A balcony provides clear views of New Orleans Square, Mark Twain Riverboat, Big Thunder Mountain Railroad and Rivers of America. On select nights, guests can view fireworks and the Fantasmic! show, in which forces of good and evil battle in Mickey Mouse's dream.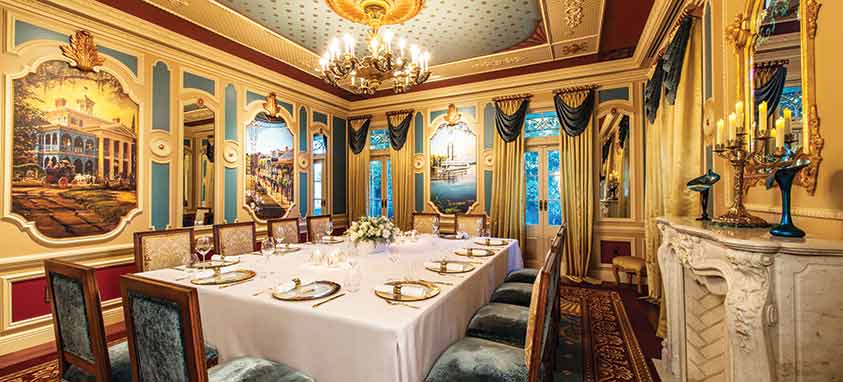 A Dinner to Remember
After venturing about, we gathered in the dining room for a meal provided by Sutton and chef de cuisine Justin Monson. The fresh flowers, gold-plated dinnerware and Reidel crystal suggested that this was going to be quite a sophisticated experience.
Sure enough, the seven-course meal featured exceptionally prepared dishes, combining California seasonal flavors with ingredients from around the world.
My favorite was Changing Boundaries—New Beginnings, consisting of seared rare A-5 Kobe beef, persimmon habanero and red puya chili pineapple ricardos. A close second was Songs of Field and Forest, featuring California king rock dove with durum wheat pasta, shaved imported truffles, field mushrooms and poached quail egg.
Capping off the meal was From the Hearth, comprising warm green-dragon apple buckle, brown sugar ice cream, huckleberry conserve and calamondin.
Sommelier Matt Ellingson expertly paired wines with each course.
As superb as the dishes and wines were, equally extraordinary was the manner in which they were introduced. Sutton, Monson and Ellingson told stories about the courses and wines, frequently drawing on their own deeply personal experiences.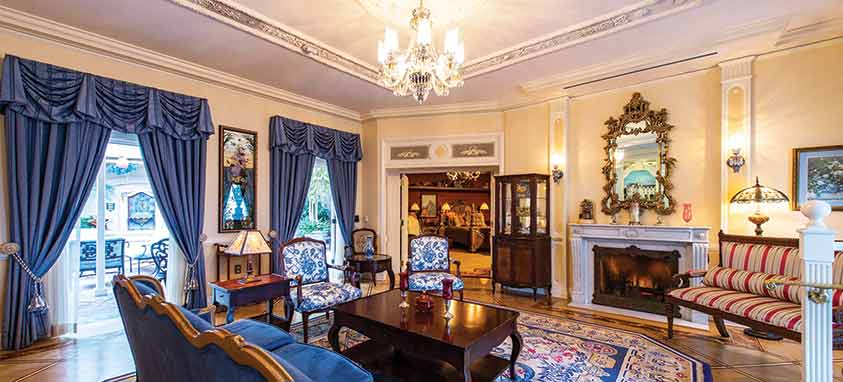 "The stories behind the wines are as interesting as the wines themselves," Ellingson says. "You need to know the context to really know the wine."
Sutton says that virtually all chefs want to be involved with hospitality, but don't often get out from behind closed doors. He loves telling guests stories about the courses.
"The 21 Royal is our living theater, and we want the food to tell a personal story," he says. "When we create a dish, it comes from our imaginations as well as from our extensive training."
Monson likens the chefs' role to those of other Disney craftsmen working in the park.
"When we design a meal for our guests, we want to be chefs and craftsmen," he says. "Walt had many skilled craftsmen who helped him bring his dreams to life, and we like to think of ourselves as the modern-day craftsmen of the parks."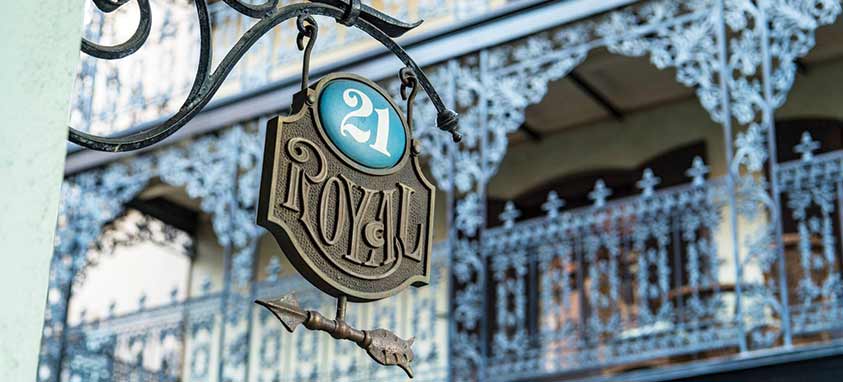 Unique Opportunity for Groups
The 21 Royal experience is ideal for corporate meetings, executive gatherings and incentive groups, as well as milestone celebrations and special social and family gatherings. The residence can be rented starting at 5 p.m., generally Wednesdays through Saturdays, although guests can work with the concierge on book arrangements.
Robert Donahue, director of sales and services at Disneyland Resort, believes that 21 Royal is an important addition.
"At the Disneyland Resort, we're always looking for new ways for our guests to experience the Disney parks they know and love," he says. "With 21 Royal, guests who are looking for something personalized now have an opportunity to enjoy this intimate experience."
Kris Theiler, vice president of Disneyland Park, emphasized that 21 Royal should not be thought of simply as just a luxury dining opportunity.
"Guests might think of this as a dining experience, and that's where they'll be delightfully surprised—because it's so much more," he says. "The 21 Royal offers guests one of those moments in time, a chance to experience a living chapter of the Disney story while enjoying the finest cuisine. This is Disney at its best."