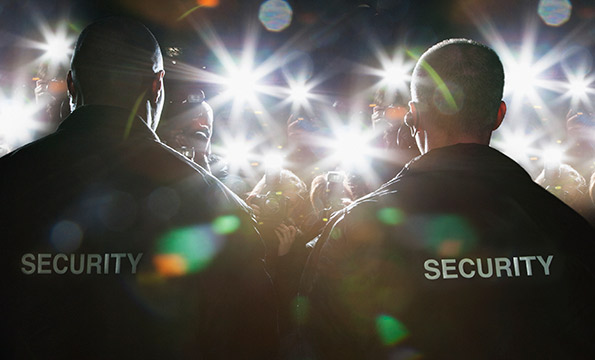 It's likely that most business groups don't feel overly at risk for harm or wrongdoing at an offsite meeting. On the other hand, "there is a variety of reasons why an outsider might try to crash any meeting," says Adrian Vergel, chief operations officer of AFIMAC Global, a firm that conducts risk assessments, develops contingency plans and provides security personnel for events around the world.
"Corporate espionage can happen not just at executive retreats but also at general company meetings, especially larger ones," Vergel says. For example, smartphones and social media make it easy for activist groups (or even one individual) to broadcast protest activity—and an organization's meeting could provide them with a convenient target.
Or if a well-known speaker or entertainer will be part of a conference, overzealous fans can cause security problems, as can media outlets that have mastered the art of confronting unsuspecting people outside, and even inside, the meeting venue. As a result, there are several steps planners should take for keeping information and people secure at events.
Develop a relationship with the property's security director. Inform him or her of the profile of the organization hosting the meeting, the purpose of the event and attendee demographics. Ask about other groups that will be in house at the same time, and if they pose risks for unwanted attention from outsiders. Ask if celebrities, politicians or other public figures will be at the hotel at the same time, to determine if added security measures will be necessary.
Confirm that there's a strict identification protocol when hotel staff are asked about any conference-related details, and when asked for duplicate keys to guest rooms. Joan Eisenstodt, a meeting planner and facilitator based in Washington, D.C., notes that when attendees wear name badges outside the conference wing, it offers a starting point for potential intruders to glean information to fool a hotel employee.
Eisenstodt also makes sure that sensitive meetings get no mention on signage or electronic boards in public spaces of the hotel. Before arriving, she confirms with the hotel security director that surveillance cameras on property are functioning, and that the public address system and backup power supply have been tested so that an emergency during the meeting won't cause opportunities for malfeasance or injury.
If necessary, use a complex ID system combined with multiple checkpoints in the meeting area. AFIMAC's Vergel often establishes an outer perimeter checkpoint, where the lobby or public space meets the entrance to the conference wing. There, security personnel can visually examine attendees' lapel badges or scan them. To foil those who would copy or steal badges, some of Vergel's clients also provide attendees with separate lanyards with unique markings; to gain entry to a meeting or function room, attendees must show their lanyards at the door.
"We used this two-tiered system during the 2014 World Cup in Rio de Janeiro," he says, "because corporate sponsors held events in parts of the city where there were so many people milling around" that one checkpoint might not have guaranteed complete security.
For official offsites, a staffer should verify the badge of each person who boards the shuttle to the function. If several executives from one firm are attending, they should ride in separate vehicles to the venue, and each vehicle should take a different route.
At the offsite venue, meeting staff should make sure that exterior doors are either monitored by security personnel or locked from the inside, with keyholders available by two-way radio. Confirm for yourself that the path to each emergency exit is unobstructed. As attendees arrive and show their IDs to enter, inform them where emergency exits are located.
Help protect attendees when they venture outside meeting and event venues. Vergel contacts a commanding officer at the local police precinct weeks ahead of time to learn the most common crimes and problems in the area. He then includes safety tips and hospital information specific to the destination in the welcome packet attendees receive before the meeting. "We let them know that there are four ATMs within two blocks of the hotel, but two of them are on the street and should not be used at night," Vergel says. "Or we'll tell them that mobile phones get lifted from people's hands more often in this area, so keep the phone out of sight."
Create a communications hub for effective emergency response. Vergel's firm uses a protected website where attendees enroll and provide whatever information they want regarding personal medical information or emergency contacts in case they become incapacitated. Also, "we provide attendees a phone number to a service that will inform the meeting planner if, for instance, an attendee breaks his leg at a restaurant across town," Vergel says.
Communicate early and often with the property's security director.
Make sure there's a strict attendee ID protocol.
If necessary, the ID protocol can be complex, with multiple checkpoints.
Offsite events may require additional security measures.
Give attendees information to protect themselves outside the venue.
Create an attendee emergency response system.