Associated Luxury Hotels International (ALHI) continued to improve its services for meeting professionals last year by adding staff and introducing exciting new features.
"We had double-digit growth again last year and subsequently are growing our sales team to professionally handle the demand for our services and expertise," says Jim Schultenover, ALHI's president.
ALHI, which was created in 1986, is a global sales organization that works with meeting professionals, association managers, incentive specialists and business executives to assist with programs and events. The company has a portfolio of more than 160 luxury properties including brands such as InterContinental, Loews, Omni and Fairmont. ALHI competes with major U.S. brands such as The Ritz-Carlton, Four Seasons, Starwood, Marriott, Hyatt and Hilton, which are not allowed to become members of ALHI.
The company now has 50 sales professionals, operating out of 20 locations in the United States and Canada. They have been implementing new features, including the ALHI Global Luxury Alliance, which consists of members that boost the company's efforts to serve professionals, incentive specialists, association executives, convention planners and business executives who manage meetings and programs in other parts of the world, just as ALHI has done in North America and the Caribbean.
Another new ALHI feature, "Distinctive Discoveries," which was launched in December, consists of unique hotels and resorts that can provide extraordinary bucket-list experiences for groups.
Last year, ALHI also added significant properties to its portfolio in Seattle, Chicago, Orlando and Minneapolis, among other places, and renovated properties throughout the world.
ALHI has grown over the years to meet changing market needs, and now its 160 AAA Four and Five Diamond hotels and resorts worldwide are grouped into 12 specialty segments. Four of the most noteworthy segments for planners are City Solutions; Bermuda, Bahamas & Caribbean Collection; Big Box Solutions Collection; and U-200 Gems Collection.
City Solutions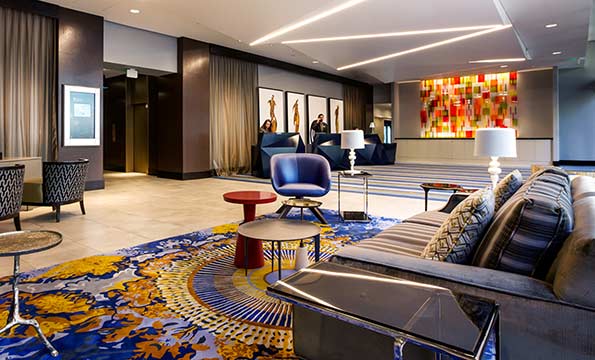 Motif Seattle
"Bright lights and big cities can generate exciting events, and ALHI's City Solutions portfolio includes 56 of the brightest and best properties in many of the most distinctive and vibrant metropolitan areas around the world," Schultenover says. "There is a certain energy that great cities provide—a vibrancy that is at once exciting and inspiring."
After a $25 million transformation of a historic building that housed Seattle Red Lion Hotel, the chic new Motif Seattle emerged in June. The property, which will host Smart Meeting Seattle on April 9, provides spectacular views of the downtown area, Elliott Bay and the Olympic Mountains, and offers 319 guest rooms and more than 20,000 sq. ft. of meeting space.
Two significant properties were purchased by Loews in July and opened the following month. Loews Chicago O'Hare Hotel (556 guest rooms, 53,000 sq. ft.) in Rosemont, formerly known as InterContinental Chicago O'Hare, is just a five-minute shuttle ride from Chicago O'Hare International Airport (ORD). Loews Minneapolis Hotel (251 guest rooms, 12,000 sq. ft.), previously Graves 601 Hotel Wyndham Grand, is located downtown at the center of the business, theater and entertainment districts.
Loews Chicago Hotel, situated in the heart of downtown Chicago, opened in March. It occupies 14 floors of a 52-story tower and features spectacular city skyline and lake views from its 400 guest rooms, as well as 29,000 sq. ft. of meeting space.
Bermuda, Bahamas & Caribbean Collection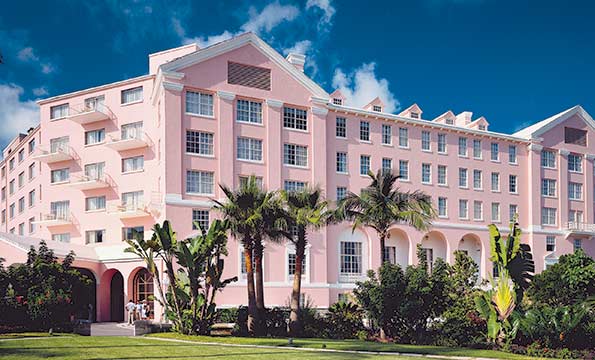 Fairmont Hamilton Princess, Bermuda
This collection is comprised of 26 resorts in 12 countries and territories—the largest collection of AAA Four and Five Diamond meeting and incentive resorts of any company. All of the ALHI resorts are situated in stunning areas and offer outstanding meeting facilities.
Sandals LaSource Grenada Resort & Spa, located on 17 acres of land along Pink Gin Beach in St. George's, celebrated its grand opening last year. The property features 225 guest rooms and 980 sq. ft. of meeting space.
The Fairmont Hamilton Princess in Bermuda is nearing completion of a $100 million renovation. In 2014, the hotel debuted new one-bedroom suites and deluxe rooms; a new infinity pool and hot tub; a casual open-air bar and restaurant with views of Hamilton Harbour; and a new six-berth marina. This year, the hotel is renovating its lobby bar and another restaurant, refreshing its spa and fitness center, and enhancing its hotel grounds.
Also, in a move that is very significant to ALHI, Bermuda Tourism Authority joined ALHI Global Luxury Alliance in October. ALHI and Bermuda Tourism Authority now can showcase many Bermuda luxury properties, such as Rosewood Tucker's Point and The Fairmont Hamilton Princess.
Big Box Solutions Collection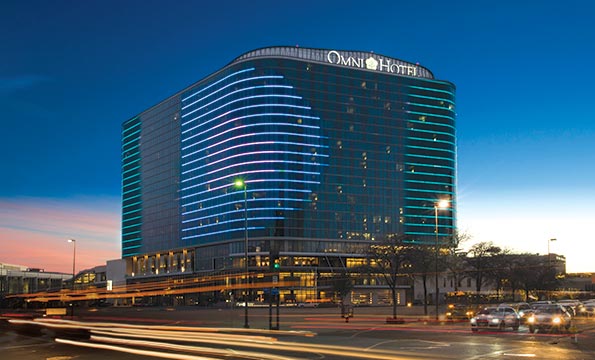 Omni Dallas Hotel
Big Box Solutions Collection consists of 25 properties, all offering more than 500 guest rooms and more than 50,000 sq. ft. of meeting space.
The newest addition to the collection, Loews Sapphire Falls Resort at Universal Orlando Resort, will open in summer 2016 with 1,000 guest rooms and 131,000 sq. ft. of meeting space, including a 41,000-square-foot and 32,000-square-foot ballroom.
A significant pre-existing property, Omni Dallas Hotel, was added to the collection last year. It offers 1,001 guest rooms and 110,000 sq. ft. of meeting space, which includes a 31,733-square-foot ballroom.
Many Big Box Solutions properties were renovated in 2014, including Fairmont Scottsdale Princess (156,000 sq. ft. of meeting space) in Arizona, Loews Hollywood Hotel (628 guest rooms, 77,000 sq. ft. of meeting space, lobby and public spaces) in California and Trump National Doral Miami (643 guest rooms, ballrooms, restaurant and clubhouse).
U-200 Gems Collection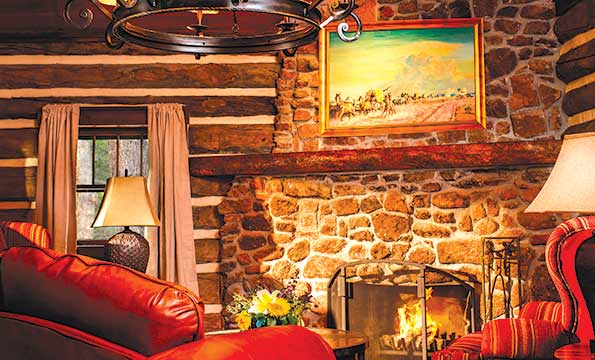 Ranch at Emerald Valley, California
The U-200 Gems Collection consists of 19 hotels and resorts scattered around the world that have less than 200 guest rooms. The properties are noted for the privacy, security and service they provide, and specialize in serving small- to medium-sized gatherings.
The Broadmoor's Ranch at Emerald Valley, set in Pike National Forest in Colorado, opened in August. The property offers one-, two- and three-bedroom cabins with wood-burning fireplaces, accommodates up to 32 guests and features 4,000 sq. ft. of meeting space.
Last year, Salamander Resort & Spa in Middleburg, Virginia (168 guest rooms, 12,000 sq. ft.), added a Tree Top Zip Tour and enhanced the Stallion Barn, a unique 520-square-foot space for small meetings. Also, Pan Pacific Hotel Seattle completed a refreshment of its lobby, 153 guest rooms, lobby bar and 3,354 sq. ft. of meeting space; and The Carolina Inn in Chapel Hill, North Carolina, finished a $24 million renovation of its public areas, 185 guest rooms and 14,547 sq. ft. of meeting space.
Also, ALHI's "Distinctive Discoveries," includes many properties in the U-200 Gems Collection.
"The program exposes planners to options that may not necessarily be top-of-mind, but which could be the ideal 'discovery' and fit for a group, with truly unique possibilities," Schultenover says. Options within the U-200 Gems Collection include outdoor activities at Gateway Canyons Resort & Spa (72 guest rooms, 12,000 sq. ft. of meeting space), which is set in the red rock canyons of western Colorado and offers a wide selection of activities through its Adventure Center; and Royal Palms Resort and Spa in Phoenix (119 guest rooms, 20,453 sq. ft.), featuring magnificent views of Camelback Mountain.
Around the Corner
Schultenover says that ALHI will continue to be proactive in addressing the needs of planners and other meeting professionals.
"We will be noting trends and making updates to our accounts so that they will have a glimpse forward over the next few years that enables them to react wisely and better understand the dynamic of the marketplace," he says. "Our success is due to our sincere passion to serve our accounts and find the right solution that advances their goals and enterprises."