Introducing our Amplitude Prize winners!
Javier Cano
Area General Manager, Los Angeles Marriott International  
Editor's Note: Cano has his eyes on an abundant future as he expands the space at L.A. Live in advance of Summer Olympics coming to town in 2028.
Boards: Chairman, Los Angeles Tourism Marketing District; Executive Committee, Los Angeles Tourism & Convention Board and California Hotel & Lodging Association; Board of Directors, California Travel Association, Los Angeles Chamber of Commerce, Los Angeles Hotel Association, California Hospital Medical Foundation and Central City Association; Member, American Hotel & Lodging Association General Manager Advisory Council
Motivation: I am blessed to do what I love!
Approach to supercharging experiences: The relentless pursuit of improving the customer journey is imperative to the hospitality experience. The travel landscape is continuously evolving. As hoteliers, it is our responsibility to adapt with our customer's expectations. Envision yourself within the experience you are creating, think like a customer and how they perceive value. Don't just be reactionary; instead, anticipate customer's needs and preferences to create a moment of emotional engagement. Build a great team and motivate them to own and personalize the experience. This will bring you customer loyalty.
Moment of enlightenment: The opportunity to showcase all that we can do, what we can accomplish as a team is always a high point. During a recent franchisee conference, not only did we utilize the entire hotel but also coordinated multiple off-property venues for both meetings and catering—there were a lot of moving parts involving a lot of teamwork. The ability to come together as a team and successfully showcase our downtown destination as a unique and unparalleled setting for premiere events is a feeling like no other.
Next advance pursing: The current travel landscape has made us all become incredibly resourceful about how we look at the way we do business. The industry has been amazing in the creative and safe ways in which we take care of our guests, and we continue to seek out methods to improve the meeting experience—specifically, through technology. Looking into the future, I am excited for our JW Marriott Los Angeles L.A. LIVE hotel to double in size with an expansion that will add another 850 guest rooms and over 100,000 sq. ft. in meeting space. The opportunity to enhance our meeting capabilities with creative new spaces is truly thrilling, and I look forward to showing our location's potential to customers.
Brad Dean, CCE
CEO, Discover Puerto Rico
Editor's Note: Dean has exemplified resiliency as he, his organization and community have worked together to move ahead after each setback.
Boards: U.S. Travel Board of Directors; U.S. Travel and Tourism Advisory Board; Destinations International; MPI Foundation Global Board of Trustees
Motivation: Each day offers unlimited opportunity to positively impact other people.
Approach to supercharging experiences: First, it's important for suppliers to realize it's not about us. Meetings and events are impactful because they enable connections, strengthen relationships and nurture progress. It's a privilege to host a meeting, and we should always approach our work with that attitude.
Second, determine what our customers desire and aim to over-deliver. Serving others is a tremendous responsibility, so we must aspire to excel in service, not simply meet the minimum requirements.
Third, strive for mass personalization. It's necessary to seek economies of scale, but service is not a commodity. Applying a standard, one-size-fits-all approach rarely leads to excellence. Instead, recognize that each planner is unique and every gathering is special, so build your systems of work around that premise. Fourth, cherish this moment and make it memorable. Each encounter presents countless opportunities to help others, to make them laugh, to inspire them or simply appreciate them. What can we do to make this moment together a life-long memory?
Next, anticipate what could go wrong and empower your team to do whatever is necessary to win the trust and admiration of your customers. And finally, constantly seek out opportunities to improve what we do. There's always room for improvement; find it and claim it.
Moment of enlightenment: 2020 began with earthquakes and then the pandemic, but we refused to sit idly by. As a team, we resolved early on to keep our brand top-of-mind and rise to the occasion as we prepared to lead a record recovery. We did our best, but there's only so much you can accomplish through virtual trade shows and Zoom sales calls. Like everyone else, we were eager to get back in front of our clients.
When the governor lifted local travel restrictions, our team responded admirably. They immediately unleashed an unprecedented flurry of sales and promotional initiatives. I never once had to ask them to do anything; they simply seized the moment to capture every opportunity we could find.
Recently, I glanced at our calendar and realized that within a 10-day period, we entertained more than 3,000 foodies at a major food and wine festival; sponsored a large convention of global travel enthusiasts; hosted a high-profile industry gathering of top meeting planners; produced a highly successful sales event; launched a diversity-themed advertising campaign; and finalized details on the biggest TV broadcast in our island's history. My teammates were stretched thin and exhausted, but they refused to quit. They exemplify what happens when purpose meets passion, and they inspire me daily!
Next advance pursuing: Puerto Rico's visitor base is largely dependent on leisure travelers from major cities in the eastern U.S., but we can achieve so much more. It's time for Puerto Rico to fulfill its true potential as a must-visit island paradise. We aim to elevate our Island's status as a premier leisure and meeting destination on the national and global stage, while becoming a model of diversity and inclusivity. With its rich, vibrant culture, amazing gastronomy and vast array of unique experiences, Puerto Rico deserves worldwide acclaim. Elevating the destination nationally and globally is the next big breakthrough for our Island.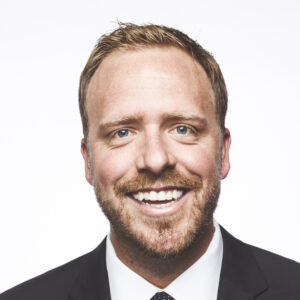 Kevin Edmunds, CIS, CITP, masters in global leadership
Vice President of Sales, AIC Hotel Group
Editor's Note: Edmunds demonstrates that he truly cares in his industry work and how he treats everyone day-to-day.
Boards: SITE (Society for Incentive Travel Excellence), TAABF (Above & Beyond Foundation), Smart Meetings Editorial Advisory Board
Motivation: Humble realization of true genuine relationships built in this industry.
Approach to supercharging experiences: My parents always taught me never to forget where you came from and to always invest in people, and I wholeheartedly receive that from the AIC Hotel Group, a family-founded company that truly focuses on family first. We know that when our family and home are taken care of, we will receive loyalty in return. We treat our partners the same way. I don't want to go about business—and frankly my life, for that matter, in a transactional way. Yes, of course we always want that signed contract, but we don't worry about Deal No. 1, we concentrate on closing deals two, three. Four, five and six.
The biggest testament I can receive is a client coming back time after time because their experience was top notch. But back to family. I wouldn't be where I am today and have the motivation I do, if I didn't receive the support I get from my wife and kids at home. That hospitality experience that we talk about starts with our relationships and family-first mentality.
Moment of enlightenment: Through my board work with TAABF, we provide grants to back-of-the-house individuals who make our meetings and events successful every day. My first presentation to a deserving individual brought me to tears, and I knew TAABF would be part of my life for a long time.
SITE is another home for me, as I currently serve as president-elect, which has been a massive personal goal since entering the meetings and events industry. Incentive travel is something special, and nothing beats face-to-face ROI. By combining The Above and Beyond Foundation, SITE and AIC, we get to create motivational experiences for people and get to travel the world at the same time. Maybe I just talked myself into living that nirvana every day.
Next advance pursuing: The Naturalized Nomads. OK, I said it; I put it in the universe, and now I need to move it forward. A fabulous group of friends from all over the world (United States, Portugal, Italy, Iceland, Poland, Ireland, Turkey, Spain) has put together raw, real and genuine conversations of direct and indirect industry topics. Think of the show The View with diverse backgrounds and dynamic point of views. We are always in for an interesting discussion.
Al Hutchinson
President and CEO, Visit Baltimore
Boards: National Chair-Elect, Destinations International; U.S. Travel Association; Religious Conference Management Association; American Bus Association; Tourism Diversity Matters; Local Baltimore Convention & Tourism Board; The Center Club; Charles Street Development Corporate Downtown Partnership of Baltimore; Sports & Entertainment Corporation of Maryland; Morgan State University School of Business Dean's Advisory Board; Visit Baltimore Education & Training Foundation
Motivation: Be great every day!
Approach to supercharging experiences: I believe in the power of positivity and that faith can move seemingly impossible mountains. We are at a huge intersection right now, both with the pandemic and the social justice movement. There is no playbook for living through this moment in time, but Covid-19's subsequent forced pause has brought about an unexpected silver lining—time to be more thoughtful and ask ourselves, "How can we do better?"
When it comes to travel in the U.S., the reality is that there are still destinations where many individuals feel unwelcome while visiting. One of the key pillars of hospitality is creating a welcoming environment, but it's not true hospitality unless it recognizes everyone. A supercharged hospitality experience makes all people feel welcomed, regardless of race, gender, identity, nationality, ethnicity or disability.
Moment of enlightenment: After nearly a year-and-a-half-long hiatus due to Covid-19, Visit Baltimore hosted its first post-pandemic convention in July, Destination International's Annual Conference. A convention of this size typically takes at least a year to plan, but we pulled it together over the course of a few short months. And since Baltimore Convention Center had been serving as a field hospital, coronavirus testing site and mass vaccination center, there was a lot that needed to be done. 
To say there were moments of uncertainty during the planning is putting it mildly. However, our team continued to focus on "being great every day" and never lost our faith. We stayed the course, and as Covid-19 cases continued to drop, the state lifted the last of its pandemic restrictions a few weeks before the conference start date. 
The conference ended up drawing 865 travel professionals to Charm City, and another 300 attendees online. It not only provided an opportunity to showcase Baltimore to our peers, it reunited the industry and allowed our team to turn the impossible into the possible. One of my proudest career moments to date.
Next advance pursuing: In February, the Central Intercollegiate Athletic Association (CIAA) Men's and Women's Basketball Tournament will draw more than 100,000 visitors to Baltimore, building on the renaissance of Historically Black Colleges (HBCUs) in the lexicon of college athletics. CIAA's arrival in Baltimore will not only reinvigorate our industry and economy, its tradition of celebrating academic contributions, culture and the sports legacy of HBCUs will allow our city's youth to engage with this community and perhaps set their sights on attending one of these storied institutions. I'm excited to host this iconic event, celebrate our city's proud African-American heritage and build our visitation for many years to come.
Shelby Seavers
Senior Manager, B2B Marketing, Hilton
Editor's Note: Seavers and Hilton helped meeting professionals get back to meeting by developing a suite of planning resources branded as the Hilton EventReady Playbook.
Motivation: Meaningful relationships and gratefulness.
Approach to supercharging experiences: In the words of Conrad Hilton, "It has and continues to be our responsibility to fill the earth with the light and warmth of hospitality."
Moment of enlightenment: Definitely a peak moment in my career has been to be a part of team to develop and launch Hilton EventReady in a time when planners were facing constant change. We launched this program to give planners resources, comfort to bring attendees together and content to evolve and meet the current needs.
Next advance pursuing: I will approach whatever comes next with optimism and flexibility.