An 18-foot tall revolving centerpiece made a statement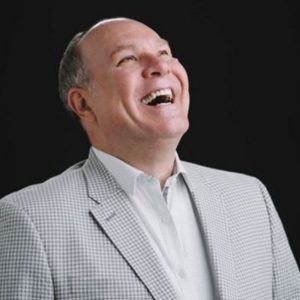 For insights into how to honor a special life, Smart Meetings talked to Kevin Cohee, CEO of Sacramento-based Do an Event agency. He was the consultant for Randy Peters Catering and Event Planning, which masterminded a signature biannual event at Tsakopoulos Library Galleria in Sacramento, California, for Kniesel's Collision, a family-owned company whose founder knew it might be his last event.
Business goal: The client wanted to celebrate the 50th anniversary of a family-owned business during a post-holiday staff party that happens every two years. They also wanted to recognize and honor the founder, the father of the three sons now in charge of the auto-collision repair business.
Challenge: Previous parties had featured breathtaking themes and decorations (think: all white, including a white-carpet treatment leading to the venue). So, this one had to go big on the wow factor while showing respect for the patriarch.
Related: 10 Unique Centerpiece Ideas for Your Next Event
Solution: Because this was the company's golden anniversary, the metallic color was used to tie everything together. Instead of giving away prizes as usual during a short program, a legacy film documented the company's history, featuring touching interviews of family members and friends memorializing him and the company's humble beginnings.
Focal point: An 18-foot, revolving centerpiece with 36-inch-tall, gold-glittered "5" and "0" numbers built by Party Concierge. It was designed using chunky glitter and beads to create a reflection from the pin lights aimed at them while they rotated. The result was a disco effect that set the tone in the room. Marble tables surrounded the centerpiece, protecting it while providing seating and networking space. The three bars utilized 4-foot, Instaworthy picture frames with custom logo signage branding the event. Three interactive food stations featured such a variety of food that guests had to space out their noshing to sample it all.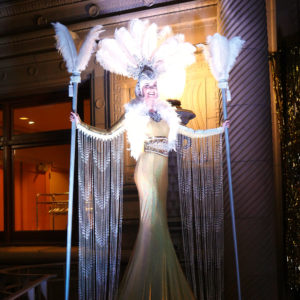 Interactive elements: Entertainment included a lit, Glamazon greeter. A champagne dress later turned into a parfait dress while a stilt-walker capitalized on the 40-foot ceiling heights. Later still, the same performer returned as a juggler and on a unicycle, passing out gifts. Providing limited entertainers with numerous costume changes required a large green room.
Meanwhile, a live Latin jazz "respite" room with relaxing lounge furniture and cocktail service allowed attendees to choose their adventure.
Success measurements: The massive number of photos and selfies shared on social media was proof that the event was memorable. Now, 2020 has to top that experience.
Lessons learned: The event had multiple stumbling blocks throughout the evening that included a street fight at the entrance, locked parking garage gates, and a vagrant who found himself inside the event and lit his cigarette from one of the votive candles. The most exciting was a vodka pasta station flambeing under a smoke alarm that had not been unarmed for the evening. A team of firefighters found its way in and through the event to shut off the sirens. Guest and hosts alike turned the incident into a selfie moment!
The lesson is to get everything in writing. The venue had not communicated with the parking garage management about the contract nor unarmed the affected smoke detectors at the three food stations—even though the issue had been discussed during site meetings.