What's hot, and what's not? How can planners wow their groups on a budget? We pulled some of America's top chefs aside and got them to spill.
Top F&B Trends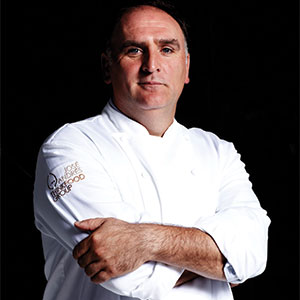 "A more exciting, interactive experience than your traditional group meal" is the trend del dia, says Jose Andres, the internationally acclaimed Spanish chef often credited for bringing the tapas dining concept to America. "We are in the business of telling stories and making memories through our food, no matter the occasion." At his Jaleo in Las Vegas, for example, groups interact with one of his chefs during a paella class and then sit down to enjoy that same paella, tapas and Spanish wine pairings.
Hugh Acheson, a Top Chef judge and James Beard Award semifinalist for America's most outstanding chef this year, says the top trend is "the rise of true authenticity, the side of hospitality that can never be faked." Acheson's Five & Ten restaurant showcases contemporary Southern dishes such as Bang Island Mussel Cassoulet in a charming house in Athens, Georgia. "It is a transparent world, and restaurants, bars and hotels can no longer succeed with sleight of hand and a shell game. You gotta be good."
Acheson adds that cultural-specific food, such as kimchi and congee, and dosas and roti, are trending. "Big flavors are in, as we long for spice and umami more than ever," he says. "I also think the customer knows more about coffee, wine, beer and booze than ever before, and we have to impress them by providing interesting offerings."
Wolfgang Puck pioneered a food revolution In Las Vegas by bringing his Spago restaurant to Caesars Palace in 1992. Before that, he had pushed Los Angeles past formulaic Italian and stuffy French haute cuisine. These days, his culinary empire extends to 10 major U.S. cities with Wolfgang Puck Catering. Eric Klein, vice president for culinary in Puck's catering company, sees street foods, house-made condiments and pickles, and "non-American breakfast" as top trends. "Global flavors and nontraditional breakfast dishes kick off a meeting with sustained energy and a little excitement," he says. "One of our chefs is using the scraps from making carrot juice. He's created a sriracha-style carrot chili sauce that's delicious and eliminates food waste."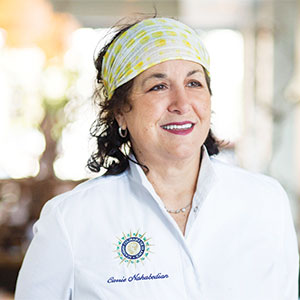 Plant-forward menus are also top-of-mind, says Klein. His team has used meat alternatives such as Impossible Burger, made of wheat, potatoes, coconut oil and other plant ingredients, for a version of beef Wellington. That being said, he served mini-burgers made of Miyazaki Wagyu, a very expensive Japanese beef that he calls "an exceptional flavor experience," at this year's Oscars.
Other current standouts he cites include small plates such as fried egg on vegetable hash as grab-and-go offerings, "really good" breakfast pastries in small sizes as an indulgence and a toast bar stocked with toppings and seasonings.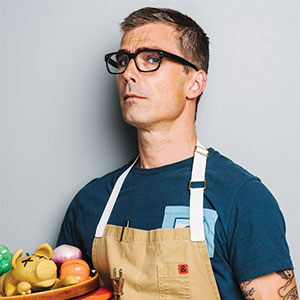 Satisfying dietary restrictions isn't going away. "We like a challenge," says Klein, "but a menu we created for a small home party last week pushed our creativity." Read: a Mexican-style meal with no corn, chili, wheat or soy. Solution: Dishes such as mini rice tacos with roasted carrot and lime; kabocha tamales with black trumpet mushroom, hazelnut mole and English peas; and almond rice pudding with cardamom and chocolate.
Another highly lauded chef—she's cooked at parties for Elton John and Billy Crystal, and at Taste of the NFL, held the night before the Super Bowl in the host city—is Carrie Nahabedian. Her Chicago restaurants, Naha and Michelin-starred Brindille, also earned her a semifinalist nod this year from James Beard Foundation for most outstanding chef. "Wood fires will continue to be hot," she says with no pun intended.
Next Big Thing
"Look for the new movement to be Greek and more influences of Central Asia and Iran," Nahabedian says. Klein agrees international flavors will only get bigger, but he thinks Vietnamese and Thai influences will dominate. He also cites transparency in sourcing, specifically "where and how our food is farmed."
Acheson believes health will top indulgence. He predicts more food that "matches our athletic and speedy lifestyles."
"You will see the 21-to-31 age group become 'advisors' to planners so they can keep them up on what is hot and relevant," Nahabedian says.
On the Way Out
"Poke was very big last year," Klein says. "While it's still popular, we are seeing new trends emerge." Acheson thinks "bacon on everything" is over, as are those burgers stacked so high you need a bib to tackle them.
"Hopefully ramen is out," Nahabedian says. "But I fear it's here to stay."
F&B on a Budget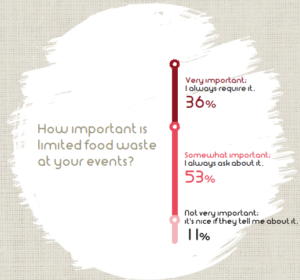 "People like a party that is full of 'wow,' very vivid and creative," Nahabedian says. "It doesn't have to cost a lot of money, but shouldn't be the usual table linens, floral arrangements and such. Think exciting bar setups and drinks, interaction with guests and very inviting seating arrangements."
Klein thinks the way to go is staging food and beverage as entertainment. "Let your F&B spend take some pressure off your entertainment budget," as he puts it. "We love to collaborate with our clients to innovate action stations that engage our guests and become part of the conversation. Instagrammable food made to order at a meeting or large event is unexpected and delivers high-energy excitement."
Ultimately, budget isn't everything. "No need to book Beyonce; just put your heart and soul into it," Acheson advises. "Realize that strings of lights, picnic tables, buckets of rose and a family-style meal can be very memorable. I cooked for my own wedding years back on a budget of $3,000, and people say they still talk about it."
We Asked… You Dished
Chefs can inspire us, and attendees ground us in what works, but how do planners most reliably keep abreast of food and beverage trends and best practices? You know the answer: They share with each other. And so it was that nearly 200 planners and other meeting and hospitality professionals responded to a Smart Meetings' online survey on F&B. Here are findings and highlights.
Q: What are creative ways you have accommodated dietary restrictions?
"Creating family-style dinners where people can serve what they can eat, making sure that there are enough meat-free and glutton-free options." –Rachel Dobbs, manager of global accounts for HelmsBriscoe
"Having the F&B vendor do creative, positive descriptions of the food that clearly highlight ingredients [such as] rustic artisan bread with toasted walnuts and whole wheat flour. This clearly identifies the nuts and gluten, without there being a big, red, negative 'allergen warning.'" –event manager, biotech company
'Using a gluten-free, vegan cupcake or treat as dessert. It works for everyone and is less hassle." –Tina Mercardo, director of meetings and events for NAFA Fleet Management Association
"I always ask catering staff passing hors d'oeuvres to have a label on their tray of what the item is and which of the top eight allergens it contains. If they push back (almost all do), I will provide attachable tray clips to them for use. It's too easy for someone passing food to supply the wrong information." –Lindsay Krause, senior meeting and events manager for Special D Events
"I am vegan—we are now 6 percent of the U.S. population— and a Certified Vegan Educator. I 'veganize' all meals by adding oatmeal and unsalted, sugar-free nut butters to breakfast; and by including chick peas, beans and unsalted nuts to make-your-own salad bars, and asking that vegetables be steamed or sauteed in oil rather than cooked in animal butter."–Marie Rennich Alexander, president of Made-to-Order Meetings, Inc.
"Many of our top leaders are on keto [high-fat, low-carb] diets. I now send the chefs I am working with recipes for our VIPs' favorite dressings, sauces and desserts when menu planning." –Suzanne Anderson, events team manager for It Works!
Q: How have you have used food as a locally focused, interactive experience?
"If you are in a downtown, do a Gritty in the City theme with food trucks, sidewalk-chalk artists, temp tattoos, urban music, etc. Let them experience the city, food and people!" –Dianne Davis, event producer for TulNet
"A printed card explaining the dish, its history and meaning in the local culture—and recipe, if possible." –Sandrine Forgeron, global account manager for BCD Meetings & Events
"We have offered tours of local farms, and after picking and selecting produce, we have brought it back to the hotel for the chef for use with dinner." –Ann-Michele Ewert, president of Vero Consulting
"Partner with local breweries. They'll want to get their name out there and may offer very reasonable—or even complimentary—tastings." –Cara Wallner, group travel and event planner for Kohl's
"Bring in local vendors such as a coffee bar, gelato carts, a chocolate fountain, build-your-own ice cream sundae bar, glow-in-the-dark cotton candy or donut wall." –Tanya Shore, co-owner and event planner for Simcha Sisters
"Took a group to a local farmers market. Divided them into small teams and told them to choose two vegetables, one fruit, one protein and one starch from the market. They had to plan their own three-course meal to be prepared in separate stations back at the venue, utilizing the local items and within a specific budget and time limit." –Rosanna Harrison, senior complex manager for Highgate Hotels
"Break at the on-site beekeeper's facility with different flavors of honey offered; break outside near the chef's garden featuring items grown onsite." –meeting planner for a pharmaceutical company
"Having food as the centerpiece or decor on the tables, coupled with a chef discussion focusing on local, seasonal cuisine. Embrace the culture!" –meeting planner for a beverage producer
Q: What is your secret for memorable F&B without breaking the bank?
"Choose the best, more expensive food for Day 1 of the conference; move to the least expensive food on Day 3. Many attendees leave early, so this way the greatest number see our best foot forward."–Lauren Nance, senior meetings and events manager for Deep Foundations Institute
"Buying our own wine, and not relying on caterers to purchase that for us. I have found some great, inexpensive wines that our patrons seem to really like. Costco is my wine friend." –events coordinator for a university
"Instead of coffee/tea at breaks, we have provided Starbucks cards to all attendees, where a Starbucks is close by. You can give each attendee a $10 card—branded and beautiful with your logo—and still be farther ahead than coffee at $90 per gallon!" –Ann-Michele Ewert, president of Vero Consulting
"Get small local businesses to donate snacks. They like getting their name out to a larger audience." –Robin Feldman, director of membership and events for Prizmah: Center for Jewish Day Schools
"F&B guarantees are always due three days ahead of the group arrival; try to convince the hotel or supplier to [let you] update the number once they arrive." –meeting planner for an event company
"The 21-to-26 percent service charge on top of menu pricing [at a contracted venue] puts local restaurants at a huge advantage for an off-site event." –meeting planner for an association
"Avoid over-ordering by ordering for 80 percent of attendees." –Elaine Long, executive director for Idaho Academy of Nutrition & Dietetics