Gala co-chairs: Katie Goodwin, Tammy Abramovitz and Angela Coleman
For insight into how to plan a fundraising event that donated as much money as possible to the charity—rather than spending it on the event—Smart Meetings talked to Angela Coleman, manager of events and meetings in the Denver office of KPMG LLP, a global audit, tax and advisory firm. A gala her company sponsored raised a record $300,000 for a nonprofit that helps families move from homelessness to independent, stable housing.
BUSINESS GOAL: KPMG's annual Growth Capital in the Rockies conference, which is cohosted with Cooley LLP, brings together good ideas in the form of 25 promising companies and potential investors. The presentations showcase 200 innovators and roll out over two days, and planners are charged with making each year more memorable than the last.
The goal is always to create environments that foster an open exchange of ideas. This year, the event was paired with a gala for 300 people that raised money for Warren Village, a local nonprofit.
CHALLENGE: This year's stretch goal was to reduce costs for the gala without sacrificing quality, in order to donate more of the money raised to the charity.
SOLUTION: Coleman decided to leverage what the company was already spending on the conference by reusing as much of the staging as possible. She also negotiated a discounted rate with vendors for everything from audiovisual to F&B to keep them on-site during the gala. She even bought the furniture—including daybeds and kitchen tables—from the rental company so they could be donated to families starting out in their new residences after the event.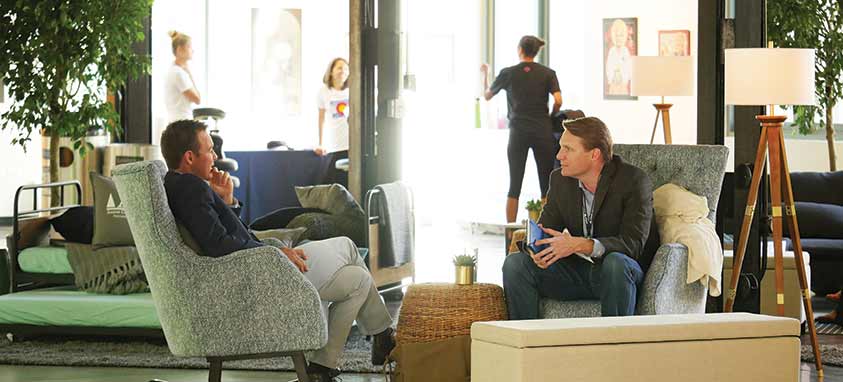 Of course, that solution created challenges of its own. Coleman had fewer than five hours to completely reset the three-story building for the evening event—and was busy with the conference for much of the day. "I am laser-focused when I am at a conference, and as it was I had to wear two hats at every meeting with suppliers to think about the needs of both events," she recalls. To make sure both conference and gala received the attention required, the nonprofit hired Alisa Zapiler, founder of Creative Events and Occasions, as project manager for gala. Zapiler directed vendors to start bringing in evening decor elements a day early. As soon as the conference ended, the team rushed in to transform the space.
FOCAL POINT: Because the nonprofit helps families launch their new lives, the theme was "taking flight." United Airlines, the major sponsor, donated $250,000 per year for four years, so the flying metaphor was especially apropos.
Coleman engaged stilt walkers with wings, stenciled wings on pillows, served whiskey and soup shooter flights and set up a selfie station that turned attendees into angels. "This created lasting memories, so people would feel engaged with the nonprofit," Coleman says.
SUCCESS MEASUREMENTS: The $300,000 raised was a record for Warren Village—and another $20,000 in furniture was donated. To expand the reach of the event, the team created a recap video to share internally.
LESSONS LEARNED: Corporations have the funds to put on incredible events, so why not reuse as much as possible—even if it is only flowers and decor—Coleman says. She cautioned that it takes more time and headspace to plan an event with this level of logistics, but says it is worth it. "It also only works if you have a trusting relationship with the vendors, and you can work together," she says.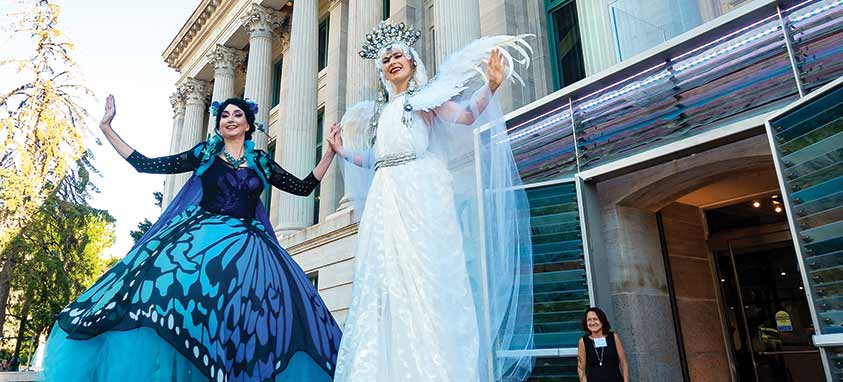 Coleman's takeaway was that planners need to strive beyond doing what has always been done, and think about what no one else has done before. "Sometimes we second guess ourselves and stop," she says. Her big aha moment was taking an idea she didn't yet know how to execute and presenting it to her vendors—Catering by Design, Eclectic Hive, CeavCo, The Wine Dispensary and The Imprint Group—to get their support. Together, they made it a reality.