Carlson's Diana Nelson has achieved success by embracing changes
Position: Board chair at Carlson
Born and raised: Minneapolis
Family: Husband, John Atwater; five children
Education: Harvard University, bachelor's degree in art history; Kellogg School of Management at Northwestern University, MBA in marketing
Volunteerism: Active supporter of many nonprofit organizations at Harvard and national educational organizations
Leisure interests: Hiking, skiing, art
Selling the entire property portfolio of Carlson, one of the 10 largest hotel companies in the world, was no small matter. But for Carlson Board Chair Diana Nelson, it was the type of bold decision that has defined the company's success as well as her own impressive career.
"It was an emotional decision—I love the business," Nelson says. "But some of the things that had sustained us in the past became vulnerable due to such things as the consolidation of hotel companies. If we hadn't been open to change, we would have found ourselves in a very vulnerable position."
The buyer, HNA Tourism Group Co., Ltd. of China, is a division of HNA Group Co., Ltd., a Fortune Global 500 company that does business in many sectors, including hospitality, aviation, tourism, finance and online services. In December, it acquired all of Carlson's more than 1,400 hotels in 115 countries and its 51.3 percent stake in Brussels-based Rezidor Hotel Group.
The brands involved are Quorvus Collection, Radisson, Radisson Blu, Radisson Red, Park Plaza, Park Inn by Radisson, Country Inns & Suites by Carlson and Club Carlson global hotel rewards program.
Nelson, 54, is confident that HNA Tourism Group fully understands the company's value and heritage, and is best able to position it for success.
"I really feel good about the decision," she says. "I believe that the future of the business will be better funded by this global player, with an expanded capacity for growth and investment."
Company in Transition
Moving forward, the foundation of the new portfolio of businesses at Carlson—a Minnetonka, Minnesota-based leader in the travel industry—is its global business and travel management company, Carlson Wagonlit Travel (CWT), which manages business travel, meetings and events for companies, governments and nongovernmental organizations in more than 70 countries.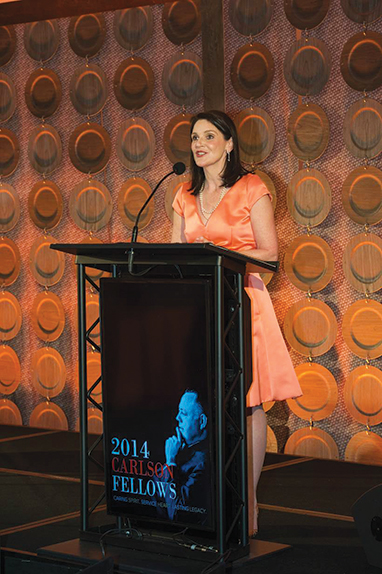 "We are a strategic business partner, and that's very important to us," Nelson says. "We emphasize strategic meetings management (SMM), which involves talking about clients' goals and objectives by focusing on 'the why.'"
So, SMM involves concentrating on the strategy, not the tactics; determining what clients want to achieve first, building a road map to get there, and identifying and engaging stakeholders.
CWT has a high client retention rate and received the EcoVadis Gold rating in 2017, putting it in the top 1 percent of all companies worldwide for responsible business practices.
Emphases on client retention and ethical business practices date back to the roots of the company. Diana Nelson's grandfather, Curt Carlson, founded Gold Bond Stamp Company in his hometown of Minneapolis in 1938. Gold Bond Stamps—a consumer loyalty program based on trading stamps—were first used during the Great Depression to provide consumer incentive at grocery stores.
The company later expanded into the hospitality, travel and corporate incentive industries, and was renamed Carlson Companies, Inc. in 1973. By the 1980s, Curt Carlson had acquired more than 50 businesses. In 1994, the company's Carlson Travel Group merged with Paris-based Wagonlit Travel to form CWT.
Curt Carlson named his daughter, Marilyn Carlson Nelson—Diana's mother—as his successor in 1998. She still serves on the Carlson board, along with Diana, who joined the board in 2003 and became chair in 2013.
Forging a Career
Diana Nelson was exposed to the family business as she grew up in a family compound in Long Lake, Minnesota, 16 miles west of Minneapolis.
"My grandfather often talked with me, my siblings and my cousins about the business," Nelson says. "He strongly encouraged us to develop the sense that we would be champions for the company.
"He definitely had a vision that the company would extend through generations."
Nelson didn't immediately enter the family business, though. After receiving a B.A. in art history from Harvard University in 1984 and an MBA from Kellogg School of Management at Northwestern University in 1989, she served in advertising and marketing positions in New York City for Oglivy & Mather Advertising and American Express Travel Related Services.
"I wanted to have work experience outside of the family business," she says. "At that time, I felt that it was best not to mix career and family. Pulling back from Carlson to get a broader view has been very helpful in my role as chair."
Nelson says that under her leadership, the "new" Carlson will place a stronger emphasis on managing meetings and events. She pointed to two significant trends in the meetings and events industry.
"On the darker side, safety and security is on everyone's mind—it's a reality we're all facing," she says. That is why she developed a partnership with International SOS, a medical and travel security services company, to better protect business travelers.
"Also, at meetings, people are spending more time with technology, and that can be somewhat isolating. Many companies have been focusing on integrating technology with face-to-face meetings, and we've found some exciting ways to do that."
A new initiative launched this year, CWT 3.0, is key to the company's plans. It is built on the pillars of intelligent innovations (including technology), travel experiences focused on the consumer and an optimized travel program. One major part of the initiative is to make better use of data to make real-time decisions. For instance, after landing at a destination, an attendee could receive a message saying that co-workers are staying at a particular hotel, and have an option to stay there.
It's an exciting time for Nelson and four other family members who also serve on the Carlson board.
"We've had an opportunity to have a transition in leadership, and I feel enthused about the next phase," she says. "Each generation of the family has been involved in Carlson's leadership, and each one has made changes and made it their own. It's a family business—we're in a relay race rather than having a king, a patriarch or a matriarch.
"I take enormous pride that we have worked together as a family with trusted advisers and business leaders to embrace changes and be bold about making them."
Harvard Lineage
Nelson is part of another very significant family lineage—with Harvard. Her father, Glen D. Nelson, graduated from the university and went on to become a surgeon, and two of her five children attended the school.
Her father hosted picnics for incoming Harvard students from Minnesota for more than 30 years. Diana has contributed in many ways to the university over the years. She led the Dean's Task Force on the Undergraduate Experience and started the Women and Leadership Task Force. Nelson also was the first woman and youngest person to chair the Harvard College Fund. She currently serves on the Harvard University Board of Overseers and on the executive committee.
"Both at Carlson and at Harvard, I've felt a sense of power in being part of a long-lasting platform to contribute and have a vital positive impact," she says.
Nelson felt highly motivated to start the Women and Leadership Task Force.
"I've been interested in women's leadership for a long time," she says. "There are several complex stages in women's careers that involve significant challenges, such as balancing family and work. As my career has progressed, I've been spending more time trying to help women."
Nelson is also a staunch advocate for education reform. She has worked to expand Teach for America and the KIPP (Knowledge is Power Program) charter school network.
"There are very few things that can change the trajectory of people's lives," she says. "I think that the most fundamental creator of opportunities is a solid education. It puts people on a path for independence and job creation.
"Education is also intimately linked to the competiveness of our country, so I've wanted to help make sure more people have access to education and began thinking of ways to reform it."
One of her main efforts has been to help bridge the achievement gap between white students and several minority groups.
At Home in San Francisco
Nelson also serves on the advisory board of Prime Group, a leading real estate equity, debt, investment and operating platform. Her husband, John Atwater, is the co-CEO and co-chair of the company. They live in San Francisco, an ideal spot for Nelson to take hikes, which is one of her favorite activities. Nelson also has a passion for skiing and traveling.
She enjoys collecting contemporary art and is the vice-chair of the board of trustees at San Francisco Museum of Modern Art.
Nelson raised a few eyebrows when she decided to major in art, but never pursued it as a career.
"People often questioned what I wanted to do after I graduated," she says, laughing. "But Harvard had a very strong art department with a lot of excellent professors. I was able to develop an appreciation for creative products and visual things.
"Meetings and events have an element of theater and involve collaboration with creative people. So, my experiences at Harvard have been beneficial to my career."