Flagler Museum
The local convention and visitors bureau is called Discover The Palm Beaches, which is totally apropos since there's so much to discover. It's tough to put all 38 Palm Beach County cities and towns in one neat, little box. Let's just say there are plenty of meeting options in this county, which is bigger than both Rhode Island and Delaware.
Five-star Palm Beach and its neighbor, West Palm Beach, are at the center of everything luxurious and meeting-friendly. Convention interest grew exponentially when the 400-room Hilton West Palm Beach opened in January next to Palm Beach County Convention Center.
"It's truly been a game-changer for The Palm Beaches as we build our reputation as a midsize convention destination," says Jorge Pesquera, president and CEO for Discover The Palm Beaches. "The new Hilton West Palm Beach has opened up an entirely new universe of opportunities to host larger events in our community."
The Hilton ranks as the only hotel in South Florida that is structurally connected to a convention center. The downtown convention district now features nearly 1,200 hotels rooms, plus Raymond F. Kravis Performing Arts Center and CityPlace, the popular open-air shopping, dining and entertainment complex. Clematis Street has emerged as an attendee-pleaser, with restaurants, bars and live music creating noteworthy buzz.
Stellar resorts have been a drawing card here since before the turn of the century. The Breakers opened in Palm Beach in 1896 and has been complemented by a magnificent collection of boutique, luxury properties up and down the county's Atlantic Ocean coastline. The Brazilian Court in Palm Beach is 30 years older than The Breakers and adds to the town's panache with 80 glamorous suites and 3,850 sq. ft. of event space. Four Seasons Resort Palm Beach has 210 elegant guest rooms and suites, with 22,012 sq. ft. of event space, including a 6,000-square-foot ballroom.
Eau Palm Beach Resort & Spa is located in the South Palm Beach town of Manalapan. It offers 309 guest rooms and suites. Completely renovated in 2013, the resort has more than 30,000 sq. ft. of meeting space, including a 9,680-square-foot ballroom.
Must See
Flagler Museum is an opulent reminder of Palm Beach's stature as a refuge for the rich and famous. Formerly the estate of oil and railroad entrepreneur Henry Flagler, the mansion is a National Historic Landmark that displays turn-of-the-century wealth at every turn. It's been said that Flagler's influence in transportation infrastructure, tourism and agricultural are the foundation of Florida's economy. Private event space includes the 4,800-square-foot Grand Hall, which features dome ceiling paintings, gold-leaf finishes and marble. Flagler Kenan Pavilion embodies a railway palace, with natural light spilling in from its glass-panelled roof, and offers views of Lake Worth.
Meeting Hot Spots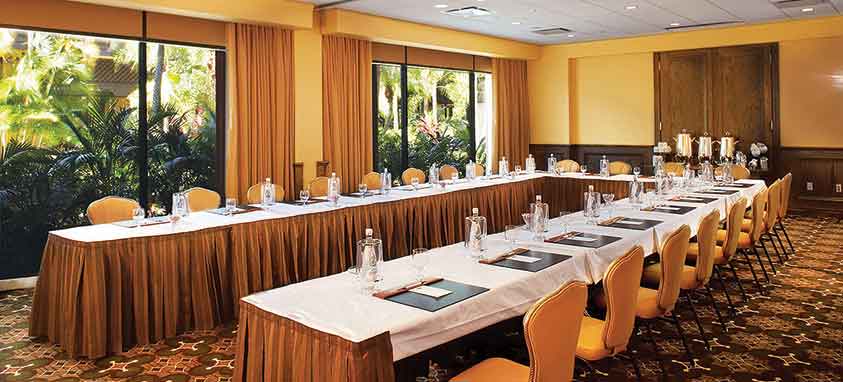 PGA National Resort & Spa in Palm Beach Gardens is a golf haven and meeting center. There are five golf courses, including The Champion, which was redesigned by Jack Nicklaus, and The Palmer and The Fazio. The 397-room resort has 39,000 sq. ft. of meeting space, including a covered pavilion and 9,990-square-foot ballroom.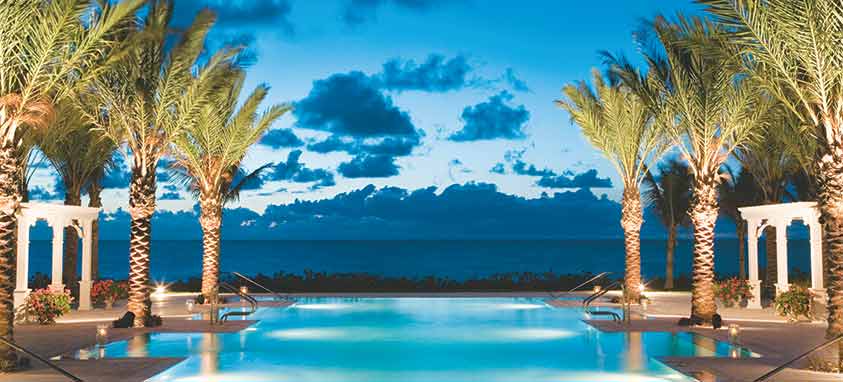 The Breakers dates to 1896 when founder Henry Flagler, a turn-of-the-century industrialist, helped jump-start Palm Beach's luxurious oceanfront ambience. The AAA Five Diamond resort has 538 guest rooms and the new Flagler Club, a 25-room boutique hotel. There's 80,000 sq. ft. of indoor and outdoor event space. The Breakers Ocean Course is the state's oldest 18-hole golf course.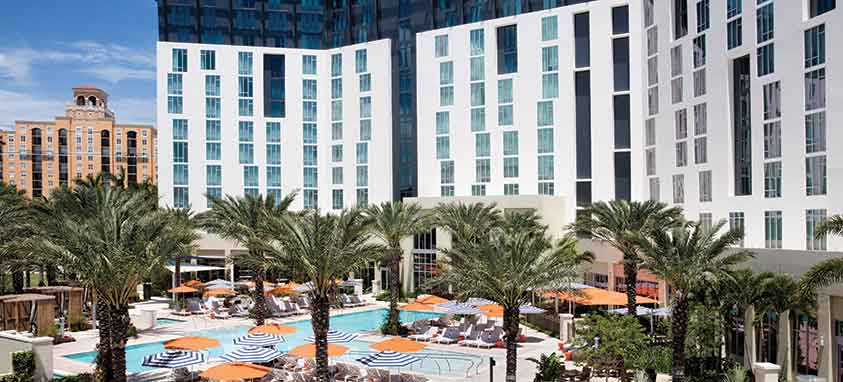 Palm Beach County Convention Center and its new neighbor, Hilton West Palm Beach (pictured), form a key meeting complex. The convention center features 100,000 sq. ft. of exhibition space, a 22,000-square-foot ballroom and 21,000 sq. ft. of breakout space. Attached to the convention center, the Hilton opened in January with 400 guest rooms and 24,000 sq. ft. of event space.