Oakland, California
They are the types of cities everyone is talking and writing about.
San Francisco Business Times called Oakland, California, "the development story of the year" months before the Golden State Warriors reached the NBA playoff finals for the second-straight year and continued to galvanize the Bay Area's third largest city.
Travel + Leisure named Charleston, South Carolina, the No. 1 city in the United States and Canada for the third year in a row in 2015. Earlier this year, Portland, Oregon, was hailed as "the USA's coolest city right now," according to International Traveller.
Lexington, Kentucky, is fondly regarded as the horse capital of the world and home to University of Kentucky, the latter being a big reason the state's second-largest city is often listed as one of the smartest U.S. cities. In April, Long Beach, California, was named the 10th most walkable city in the United States by residential real estate company Redfin. Oakland was No. 9.
Minneapolis has ranked No. 1 for parks for four straight years, according to The Trust for Public Land's ParkScore Index.
The meetings and events industry is keen on seeking new destinations to stimulate attendance, networking and creative juices. Smart Meetings has identified 10 emerging U.S. meeting cities, and five reasons planners should keep each of these destinations on their radars.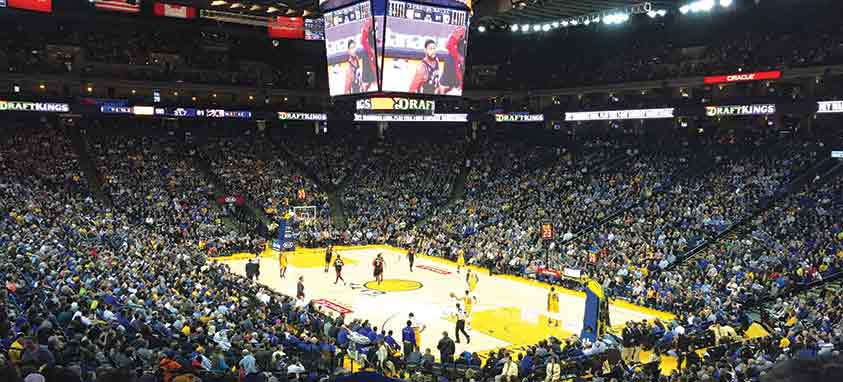 Oracle Arena
Oakland, California
Home to the NBA Golden State Warriors, MLB Oakland Athletics and NFL Oakland Raiders, this city across the bay from San Francisco is major league in every way, including its status as a meetings destination. Affordable, with excellent airlift and mass transportation, Oakland has many notable offerings that have helped establish it as a diverse alternative for groups convening in the San Francisco Bay Area.
"My vision is to leverage the city's recognition as one of the most diverse cities in America and a top travel destination to continue the positive trend in generating room nights and visitors in Oakland," says Mark Everton, new president and CEO of Visit Oakland.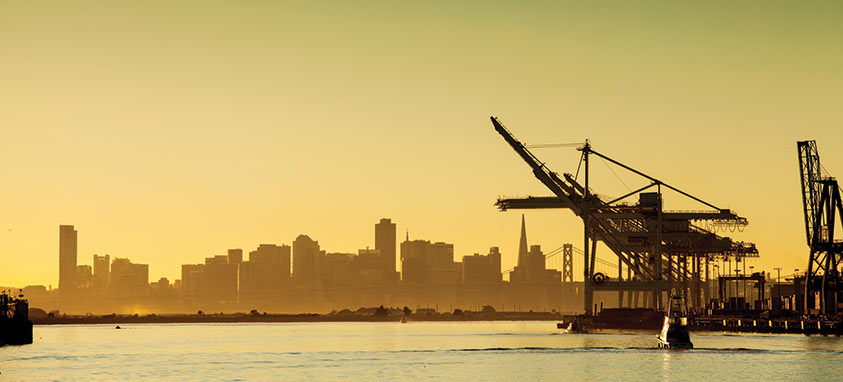 Port of Oakland
Diversity: Twenty-six percent of Oakland's population is comprised of African Americans, followed by Hispanics/Latinos at 25 percent and Asians at 17 percent. This October marks the 50th anniversary of the founding of the Black Panther Party, which was born in Oakland as a revolutionary organization that challenged police brutality and instituted community programs such as free breakfast for children and health care clinics. Oakland also is home to one of the top five Chinatowns in the nation.
Major-Event History: Oakland Coliseum, now called O.co Coliseum, opened in 1966 and ranks as the only remaining multipurpose stadium that is shared by professional football and baseball teams. Next door is Oracle Arena, also known as "Roaracle" because of the Warriors' very loud fans. Besides the NFL playoffs, World Series, MLB All-Star game and NBA finals, the coliseum and arena have hosted such events as the 1988 Amnesty International Human Rights Now! Benefit, which featured Sting, Bruce Springsteen and Joan Baez. The Grateful Dead played 66 concerts at the arena, more than any other venue.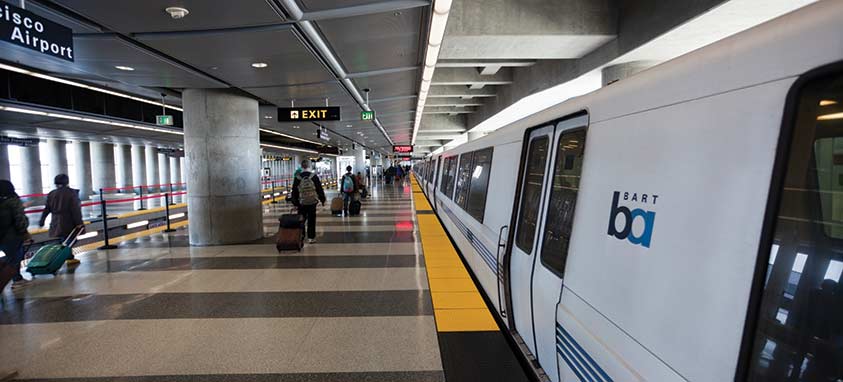 Getting Around: Bay Area Rapid Transit (BART) trains whisk riders from downtown Oakland to San Francisco in 12 minutes. BART makes exploring much of the Bay Area incredibly convenient when meeting in Oakland, giving attendees lots of options beyond the city limits. There's even a BART stop at the coliseum/arena complex.
Oakland International Airport (OAK) boasts much better weather than San Francisco International Airport (SFO), thus it has very reliable on-time performance. Oakland airport, which is centrally located to most cities in the region, has direct flights to 53 destinations, including service by Norwegian Airlines to Gatwick, outside London, as well as Oslo and Stockholm. In town, attendees can take advantage of more than 100 bike-share stations or hop a ride on the free Broadway Shuttle, which connects downtown with popular Jack London Square.
Jack London Square (photo by Michael Jeong)
Urban Wine Trail: Located less than an hour from Napa and Sonoma counties, Oakland has its own wine bounty ripe for tastings, with 10 urban wineries that are housed in renovated warehouses. Seven are clustered downtown, including three in the Jack London neighborhood and a fourth on the way. Oakland's walkability and public transportation make it easy for groups to whet their whistles without ever having to drive or leave the city.
Meeting matters: Oakland Convention Center is a downtown jewel that offers 64,000 sq. ft. of exhibition, event and meeting space. It's walking distance to Jack London Square, Chinatown and Oakland Museum of California. The 481-room Oakland Marriott City Center is attached to the convention center and offers an additional 26,000 sq. ft. of meeting space. Historic Claremont Club & Spa, A Fairmont Hotel is on the Oakland-Berkeley border and provides luxury accommodations, including 276 guest rooms and 20,000 sq. ft. of meeting and event space.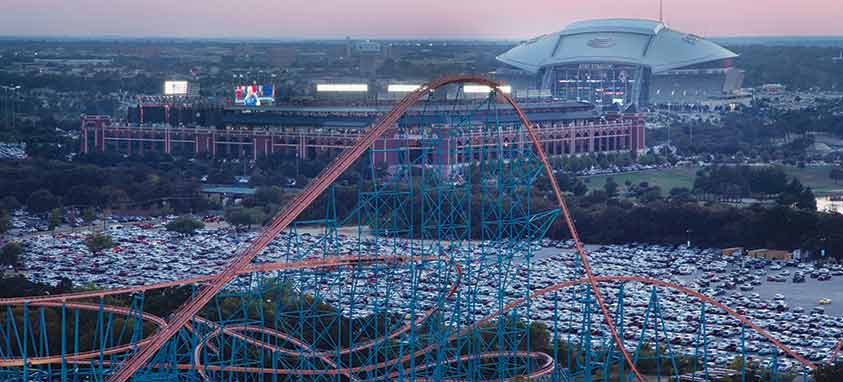 Arlington Entertainment District
Arlington, Texas
Think of Arlington as the middle of it all when it comes to the state of Texas. Located between Dallas and Fort Worth, Arlington has the seventh-largest population in the state (50th in the nation) and is home to MLB Texas Rangers and NFL Dallas Cowboys.
"Arlington has an undeniable 'it' factor when it comes to hosting groups of all sizes," says Jon Hixon, vice president of sales for Arlington Convention & Visitors Bureau. "Being home to two major sports teams and the original Six Flags draws people here, but Arlington's friendly and enriching community side loves to be discovered. With four districts and lots of hometown flavor, the tools that the ACVB has to enhance your meeting will save your organization time and money in one of the most accessible and affordable destinations in the country."
Sports Center: The next time you're out drinking with your friends, ask around to see who knows where the Dallas Cowboys play. It ain't Dallas. AT&T Stadium in Arlington is home to America's team. It can host more than 100,000 if you count standing room only. There are more than 22 flexible spaces for meetings and events, with room for everything from board meetings and exhibitions to galas. Boasting a retractable roof, the stadium's field level can accommodate up to 7,000 for receptions and 490 booths for exhibitions. Since opening in 2009, AT&T Stadium has hosted the Super Bowl, the NCAA Men's Basketball Final Four and NCAA Division I football playoff.
The Texas Rangers play baseball at Globe Life Park. Besides events on the playing field, the retro park can host 1,000 in its Jack Daniel's Club and 1,000 in the Legends of the Game Museum. The two-level Captain Morgan Club has a capacity of 300. In a one-of-a-kind experience for a major-league stadium, up to 12 visitors can take a Segway tour of the park.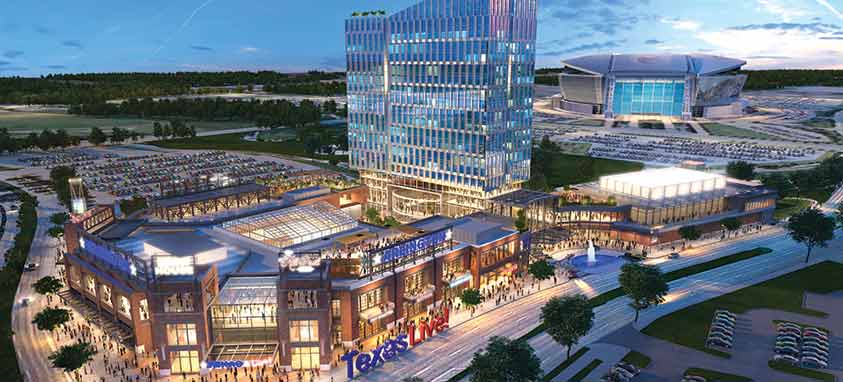 Texas Live! rendering
Texas Live!: The city of Arlington and Texas Rangers are developing a $200 million mixed-use project, which is scheduled to be complete in late 2017. The entertainment complex will feature a 300-room upscale hotel, 35,000 sq. ft. of convention space, restaurants and retail shops. Texas Live! will be located across the street from Globe Life Park.
Top O'Hill Terrace
Drink Up: Top O'Hill Terrace was a Prohibition-era speakeasy that hosted such characters as Bonnie and Clyde, Mae West, Clark Gable and John Wayne. Perched atop a 1,000-foot hill, it was once one of the hippest places in the country, despite frequent raids by police. It's now the site of Arlington Baptist College, but tours of its gardens and underground tunnels used to escape raids are available by appointment. Division Brewery is located downtown and serves up light ales, IPAs, malty amber beers, dark porters and stouts. It can host up to 100. Legal Draft Beer Company opens this month with a group-friendly taproom. Taste of Europe features Russian food.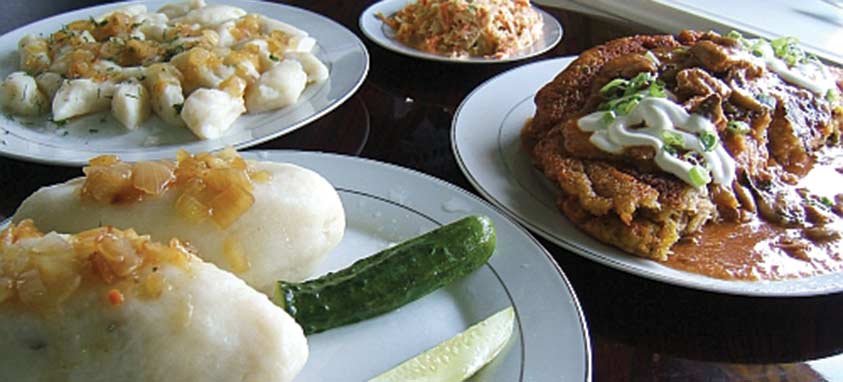 Taste of Europe restaurant/grocery
Bring the Family: Arlington is home to Six Flags Over Texas and Six Flags Hurricane Harbor water park. Six Flags opened in 1961 and now stretches to 212 acres. It helped revolutionize theme parks, creating the first log flume and first parachute drop, and introduced Broadway-style musicals.
Meeting Matters: Arlington Convention Center complements Arlington Entertainment District, which also includes Global Life Park, AT&T Stadium and the Six Flags parks. There is 48,600 sq. ft. of exhibition space, with room for up to 5,000 seated guests and banquet space for 2,800. The Grand Hall offers 30,000 sq. ft. and ranks as one of the largest ballrooms in the metro area. Smaller meeting rooms can host up to 400. Sheraton Arlington Hotel is positioned for visitors to enjoy all entertainment options, with 311 guest rooms and suites, and a 6,000-square-foot ballroom.
Capital Wheel
National Harbor, Maryland
A new mini-city has emerged in the Washington, DC/Baltimore area, and it's definitely on pace to stand out as a meeting center for the region. Located 10 miles from Ronald Reagan Washington National Airport (DCA) and 37 miles from Baltimore Washington International Airport (BWI), National Harbor has all the amenities a planner needs, including a convention and visitors bureau.
Visit National Harbor debuted in May, with full support from several key players in the destination's portfolio: MGM National Harbor, Gaylord National Resort & Convention Center and Tanger Outlets. The new CVB also will work closely with Prince George's Conference & Visitors Bureau and Maryland Tourism.
"With so many amenities and so much to offer, it only made sense that National Harbor would form its own convention and visitors association," says Bruce Gudenberg, executive director of Visit National Harbor. "National Harbor certainly fits all of the qualifications of a major tourism destination, and the growing volume of annual visitors backs this up."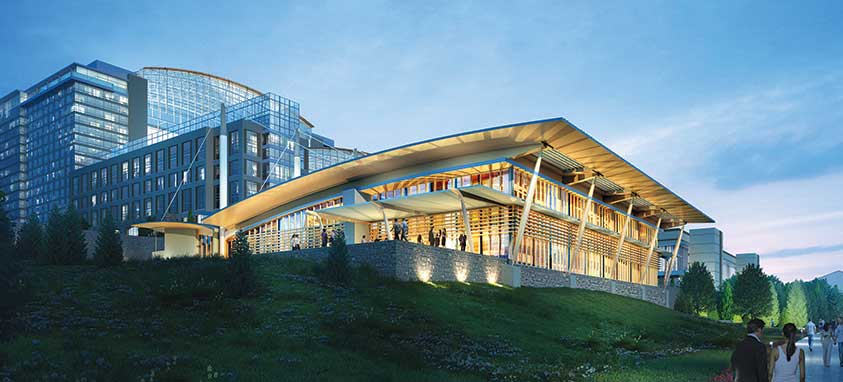 Gaylord National Resort & Convention Center Riverview Ballroom rendering
The Big Boys: It's hard to overlook National Harbor as a meeting destination by virtue of its tried-and-true hospitality companies that are very familiar with meetings and events. The 2,000-room Gaylord National Resort & Convention Center is the largest combined hotel and convention center on the Eastern Seaboard. The $1.3 billion MGM National Harbor is scheduled to open by the end of 2016. The property will feature 308 guest rooms and suites, along with a casino and world-class spa and salon.
"Our world-class Gaylord National Resort & Convention Center—coupled with a multitude of dining and shopping options, and now the added benefit of the MGM casino, make National Harbor unlike any destination on the East Coast," says Patrick Chaffin, senior vice president of asset management for Ryman Hospitality Properties, Inc., which owns the Gaylord property.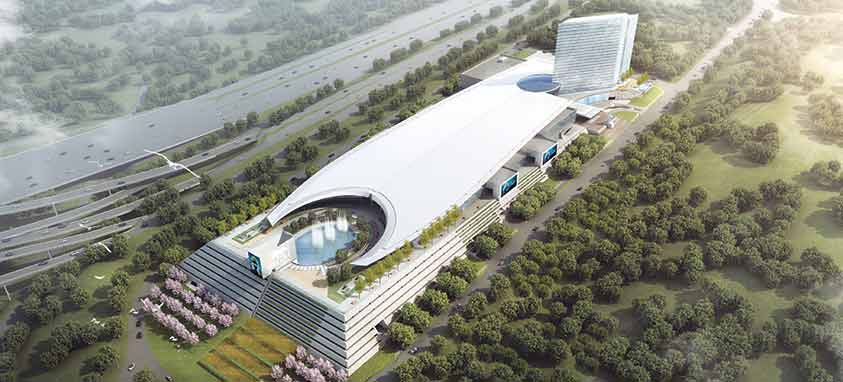 MGM National Harbor rendering
Foodie favorites: MGM National Harbor is banking on two popular eateries with strong regional followings to entice diners to the resort. Pappas Crabcakes comes compliments of Pappas Seafood Co., a Baltimore establishment that has been featured on Food Network and in O Magazine. Shake Shack has roots in New York City, where it began as a hot dog cart in Madison Square Park.
"It is clear that guests who visit their restaurants have a loyalty to the product and an appreciation for each company's commitment to great customer service—two qualities we hold in high regard," says Bill Boasberg, general manager of MGM National Harbor.
Boat slips
Waterfront Fun: National Harbor is set along a 1.5-mile stretch of the Potomac River in Prince George's County. The marina is a big draw, with private event space, personal watercraft rentals, cruises and even water-taxi service. There are two 700-foot piers with a combined total of 62 boat slips.
Wheel of Fortune: Capital Wheel rises 180 feet above the Potomac River, offering amazing views of the White House, Arlington Cemetery and National Mall. The wheel features 42 enclosed gondolas that each seat eight people (maximum 336). With climate-controlled compartments, the wheel operates year-round.
Meeting Matters: Gaylord is the center of the meeting world here, with 537,430 sq. ft. of event space, including a 178,787-square-foot exhibition area that has 23,361 sq. ft. of prefunction space. Potomac Ballroom has more than 50,000 sq. ft. and can host up to 5,520. Maryland and Cherry Blossom ballrooms offer 31,127 sq. ft. and 11,582 sq. ft., respectively. Construction of the freestanding, 23,000-square-foot Riverview Ballroom began in March and is scheduled to be complete in 2017. MGM will offer 27,000 sq. ft. of event space, including a 16,000-square-foot ballroom in addition to a 3,000-seat theater.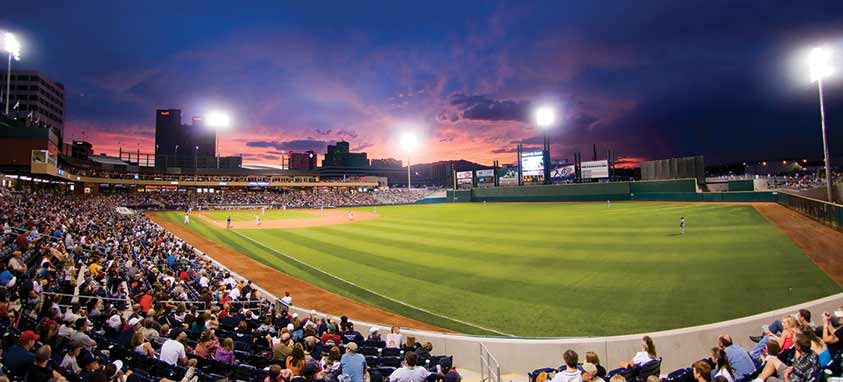 Greater Nevada Field
Reno, Nevada
Affordability and the great outdoors have helped put Reno on the meetings and incentives map. Just east of the California border, Reno has been dubbed "The Biggest Little City in the World." Known for its casinos and its close proximity to Sierra Nevada ski resorts, it offers top-rated accommodations and 24/7 entertainment often associated with a large metropolis.
"With Lake Tahoe and the Truckee River at our doorstep, the convenience and beauty of offsite, outdoor adventure is only rivaled by the abundance of special events and entertainment that can also be found within the heart of the city," says Jennifer Cunningham, interim managing director for Reno Tahoe USA. "Room rates throughout the destination continue to be some of the most competitive in the country, making Reno-Tahoe a great choice for any group budget."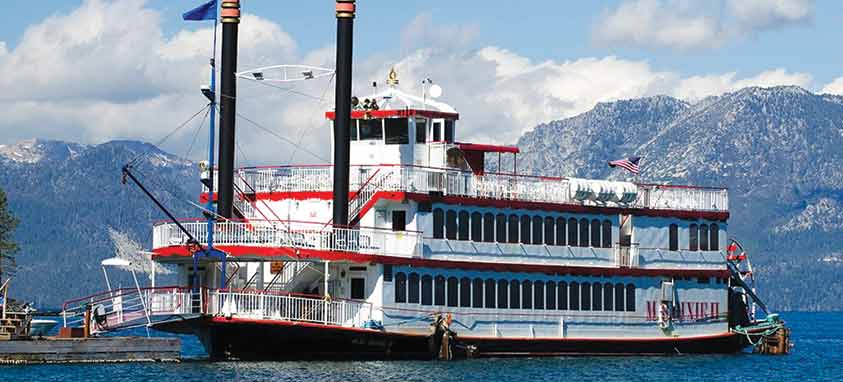 MS Dixie II
Awesome Offsites: As a four-season destination, the Reno-Tahoe area is overflowing with energizing endeavors and team-building opportunities, including skiing, snowboarding, golfing, hiking, biking, camping, rafting and climbing. For a real thrill, go whitewater rafting in the heart of downtown Reno or head to Whitney Peak Hotel, which features the world's tallest exterior climbing wall (16 stories tall), as well as a 7,000-square-foot bouldering park. North Lake Tahoe is a 40-minute drive from Reno and has shoreline in Washoe County, which is why Reno-Sparks Convention and Visitors Authority promotes itself as Reno Tahoe USA. Lake Tahoe is the largest alpine lake in North America, providing its own unique event venues such as the 312-passenger Tahoe Queen and 500-passenger MS Dixie II southern-style paddlewheelers.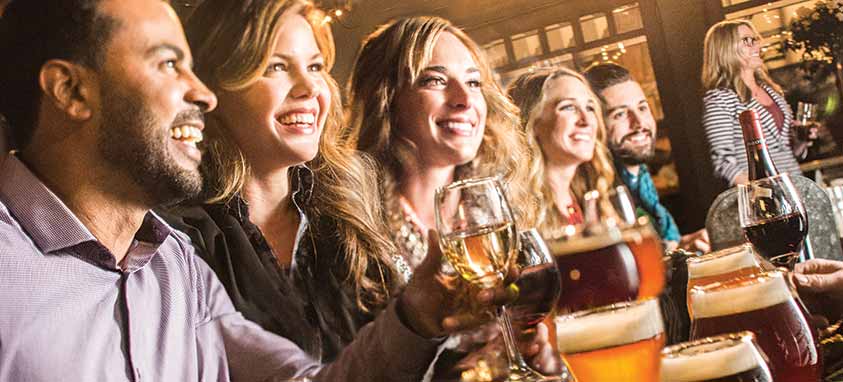 Brasserie Saint James
Spirits Run High: Reno-Tahoe boasts more than two dozen craft breweries, offering a wide variety of tastes and strengths. At the 2016 Best of Craft Beer Awards, IMBIB Custom Brews won three medals and Brasserie Saint James claimed two. Brasserie was named Midsize Brewpub of the Year at the 2014 Great American Beer Festival. Depot Craft Brewery and Distillery was Nevada's first brewery/distillery and has been honored for its spirits. It's housed in a 1910 brick building that once served as headquarters for the Nevada-California-Oregon Railway. There's upstairs space for up to 60 and it can hold as many as 150 for a buyout.
Field of Dreams: Greater Nevada Field (formerly Reno Aces Stadium) is home to the Triple-A baseball Reno Aces. It's one of the most popular parks at the Triple-A level, with more tickets sold per capita than any other host city. On nongame days, events can be held on the field and concourse for up to 1,000 and 1,500, respectively. Private dining areas accommodate up to 175 on game days. Nearby Center Bar and Heineken Stage are great for pre- and post-game receptions for up to 1,000. Women's professional soccer is coming to Reno next year, when Reno FC 1868 of the United Soccer League will call Greater Nevada Field home.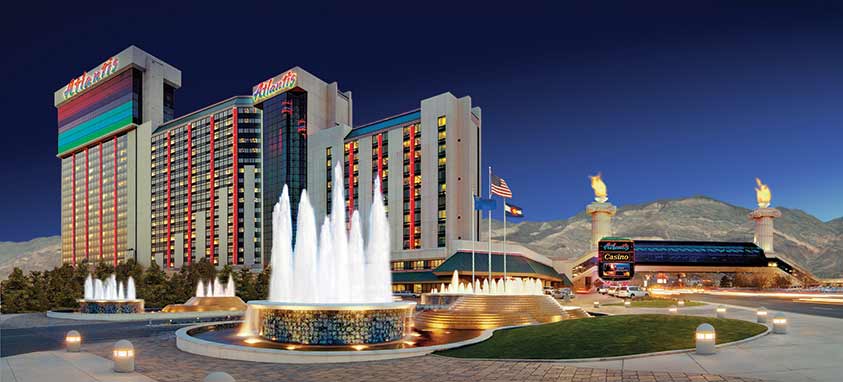 Atlantis Casino Resort Spa
Luxury Stars: Atlantis Casino Resort Spa and Spa Atlantis are both Forbes Four Star rated. The resort has 824 guest rooms and 50,000 sq. ft. of meeting space, and is connected to the convention center. The 30,000-square-foot spa, which opened in 2009, offers one-of-a-kind treatments and multiple relaxation rooms in addition to standard saunas.
Reno-Sparks Convention Center
Meeting Matters: Reno offers a variety of event space, including Reno-Sparks Convention Center, which has five contiguous exhibit halls that total 381,000 sq. ft. of space and a 30,000-square-foot ballroom. The 7,000-seat Reno Events Center features 56,000 sq. ft. of exhibition space. National Automobile Museum is located downtown, showcasing more than 200 vintage cars and offering event space for up to 1,200. The 1,623-room Peppermill Resort Spa Casino features 106,000 sq. ft. of meeting space, including a 62,000-square-foot ballroom.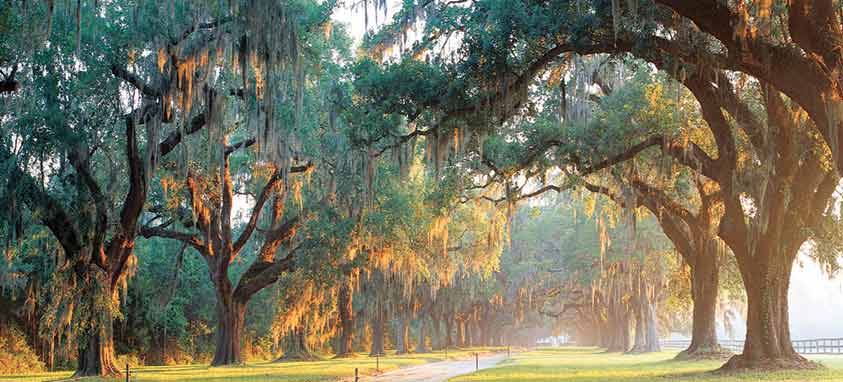 Boone Hall
Charleston, South Carolina
Charleston has always had a mind and heart of its own. Most history buffs and visitors are well aware of the region's Gullah community, which descended from enslaved Africans. (Gullahs were prominently featured in The Patriot.)
A lesser-known notoriety is that Charleston was a mecca for Jews immigrating from London and The Netherlands, due in large part to the 1669 Carolina Colony charter that granted "liberty of conscience" to all settlers. By the 1800s, South Carolina had the largest Jewish population of any U.S. state.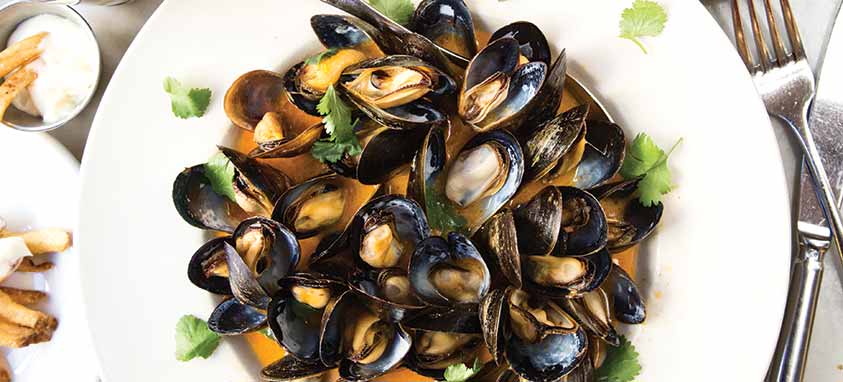 39 Rue De Jean restaurant
"Charleston's reputation as one of the world's premier visitor destinations makes it equally appealing for meetings," says Perrin Lawson, deputy director of Charleston Area Convention & Visitors Bureau. "Many of the assets that make Charleston such a desirable leisure destination also apply to meetings and conventions, including world-class accommodations, excellent restaurants, unique local culture, beautiful beaches and easy accessibility. Few destinations offer this unique combination of a historic downtown adjacent to world-class resort beaches."
Nathaniel Russell House
Tourism with a Capital T: Charleston tours and attractions provide noteworthy experiences that will help immerse attendees in the traditions of this Southern city. Be sure to make time for your group to visit Charleston City Market, which dates to 1804 and is regarded as one of the oldest public markets in the United States. Four historic buildings together house nearly 300 local vendors, including more than 50 artisans who weave the region's prized indigenous baskets. Guided tours include historic strolls, a boat ride out to Fort Sumter and a visit to a tea plantation.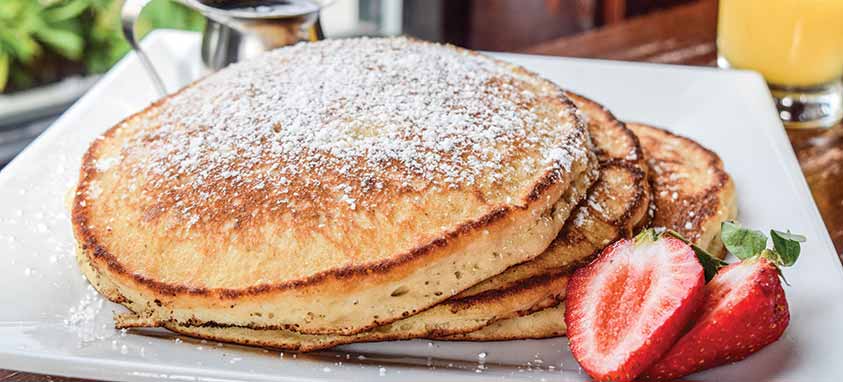 Virginia's On King restaurant
Getting Around: Charleston has made it easy for visitors to explore the city, with its well-designed downtown that features perpendicular streets, a free cable car, rickshaws and horse-drawn carriage rides. (Imagine using a carriage ride to transfer VIPs to your goodbye dinner.) Most meeting-goers will fly into Charleston International Airport (CHS). Southwest Airlines provides direct service from Denver, Baltimore, Chicago, Dallas, Houston and Nashville. Delta, American, United and JetBlue airlines also service Charleston.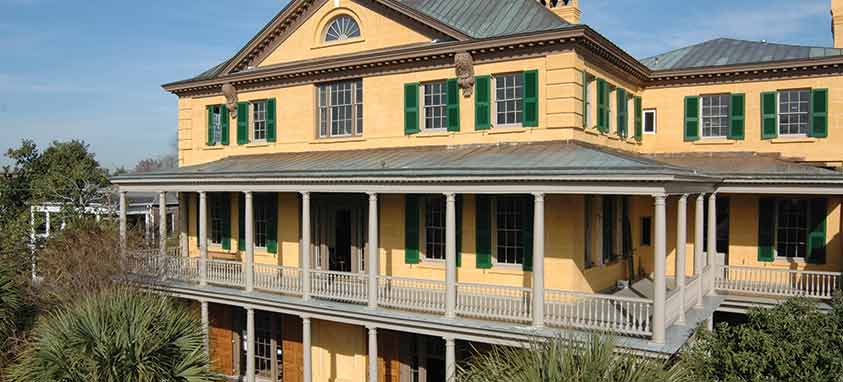 Aiken Rhett House
Unique Venues: History is on Charleston's side when it comes to venues that transport visitors back in time. Magnolia Plantation and Gardens is a 17th-century estate that features one of the oldest gardens in the United States and includes the largest groves of azaleas and camellias in the nation. There are several event areas, such as a carriage house with space for up to 250. Drayton Hall features Georgian Palladian architecture and Edmondston-Alston House has sweeping views of Charleston's historic harbor.
Luxury Accommodations: As Charleston's star continues to rise for leisure and business travel, its resorts and hotels are doing their part to impact the region's popularity. Wild Dunes Resort on Isle of Palms completed renovations to its 93-room AAA Four Diamond Boardwalk Inn in May. The resort also features condos, townhomes, a newly renovated golf course, new restaurant and adventure activities. The 50-room Grand Bohemian Hotel Charleston opened in 2015, with 2,400 sq. ft. of meeting space, an art gallery, cafe and rooftop terrace.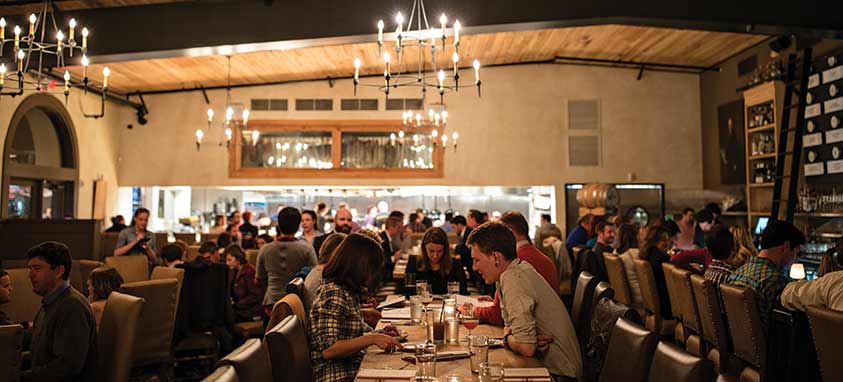 Edmund's Oast restaurant
Meeting Matters: The primary meeting venues are part of Charleston Area Convention Center Campus, which is located in North Charleston. The complex features a convention center with 150,000 sq. ft. of meeting and exhibition space, a 2,300-seat performing arts center and the 13,000-seat North Charleston Coliseum. Gaillard Center is a 1,800-seat hall that was renovated last year and now boasts a 16,000-square-foot ballroom and 8,587-square-foot terrace. Located downtown, the center is ideal for galas, award presentations and product launches.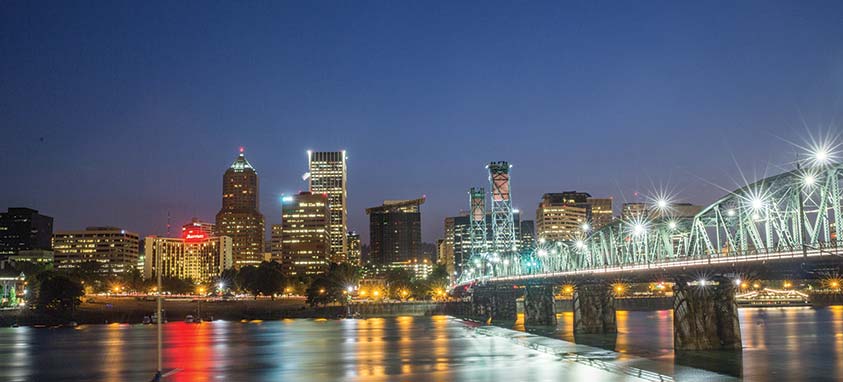 Portland, Oregon
Already a favorite among millennials, Portland has a lot going for it when it comes to meetings, starting with the LEED Platinum certified Oregon Convention Center. For meeting-goers, the sustainability practices in place at the convention center set the tone for comprehensive green experiences, including transportation, food and refurbished historic buildings.
"As more and more people discover how special our city is, Portland is adding some great new facilities for meetings and conventions," says Desiree Everett, director of convention sales for Travel Portland. "Planners and delegates alike have an easy time getting around Portland with our world-class transit, but what I think they really love is taking advantage of our tax-free shopping.
"Of course, who can forget about Portland's national reputation as the top foodie destination? All this is offered up with the friendly hospitality and big-city amenities only available in a place like Portland."
New Builds: Travel Portland reports that there are 15 new hotel projects currently underway, along with a number of new meeting venues being built. Revolution Hall is a refurbished 100-year-old high school with an 830-seat venue. Century Bar opened last month in a former print shop thanks to collaborations by founders of four popular local watering holes; there's space for 200. The Evergreen is a historic gem above popular Loyal Legion beer bar; it has room for up to 550 for receptions and 200 for dinners.
Pine Street Market eatery
Taste of Portland: Every trip to Portland requires a visit to a few of the city's 600-plus food carts. Portland doesn't just have food trucks; Oregon's largest city has repurposed vacant street corners, turning once-abandoned lots into vibrant dining smorgasbords in a variety of neighborhoods. Forktown Food Tours helps coordinate visits to the pods and other landmarks. A new food experience opened in May following the conversion of historic Carriage and Baggage Building into Pine Street Market, with nine food vendors that share a 10,000-square-foot communal dining space.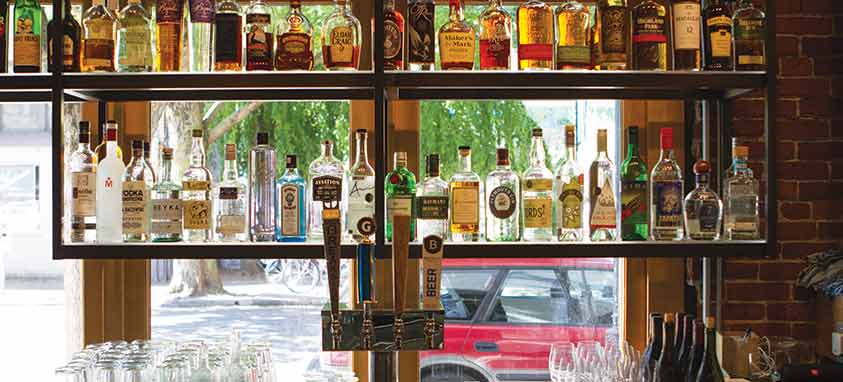 Pine Street Market bar
Maker Mentality: Portland's F&B scenes are no doubt influenced by the fact that it's a magnet for makers. Consider that there are 65 craft breweries and a dozen urban wineries, many of which provide gritty, urban venues for special events or just hanging out and sipping. Eastside Distilling completed a 41,000-square-foot expansion, creating the largest distillery in the Pacific Northwest. It makes rum, bourbon and vodka. Distillery Row in the Central Eastside Industrial District, a short walk from the convention center, also features House Spirits Distillery, which has space for classes and events.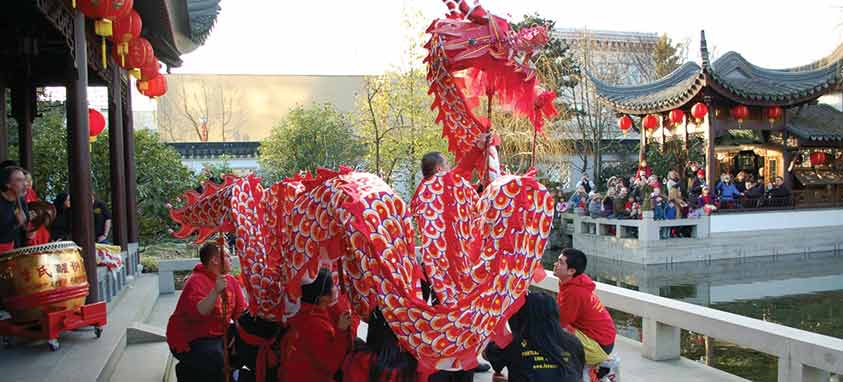 Lan Su dragon
Getting Around: Portland's status as a cycling city is reinforced by 315 miles of bike paths. In partnership with athletic gear powerhouse Nike, Biketown opens this month, with smart bikes equipped with communications and locking technology to make it easy to find, reserve, park and ride around town. The city's MAX light rail system is very meeting friendly since there's a stop at the convention center. A new line opened in September, connecting the South Waterfront district to the Central Eastside thanks to the new Tilikum Crossing bridge. The 1,700-foot span is the only bridge in the United States that prohibits private vehicles, giving way to light rail, buses, bikes and pedestrians. Portland International Airport (PDX) features national and international connections, including such destinations as Chicago, Cleveland, Phoenix, Atlanta and Frankfurt, Calgary and Toronto.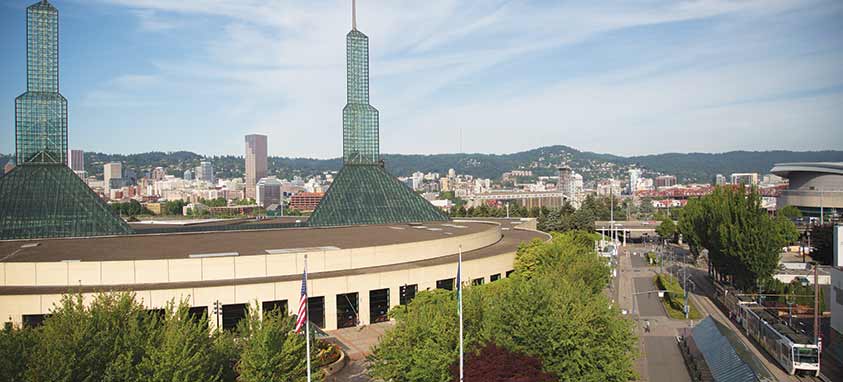 Oregon Convention Center
Meeting Matters: Oregon Convention Center is a role model for sustainability. The waste-diversion program helps planners minimize garbage by recycling, composting and donating. The long-term goal is to achieve 80 percent waste diversion. Last year, the convention center got more than 6,500 new rooftop solar panels, making it the second-largest solar installation nationally, producing 25 percent of the facility's electricity. The largest convention center in the Pacific Northwest, it offers 255,000 sq. ft. of contiguous exhibit space, two ballrooms and 50 meeting rooms. There's a 30,000-square-foot plaza available for events located across from the convention center.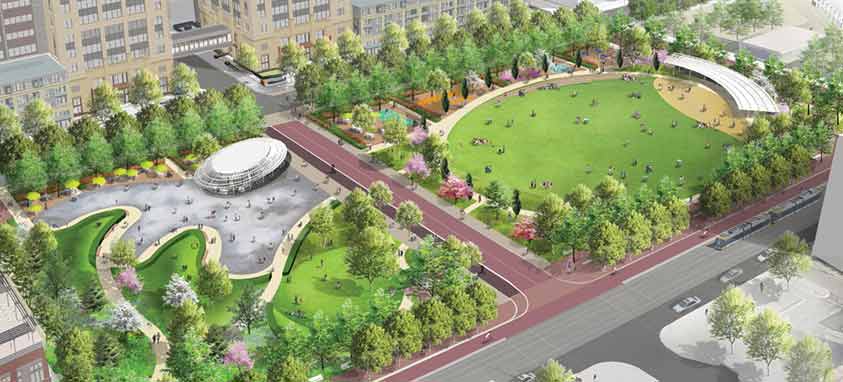 Commons Park rendering
Minneapolis
There is definitely a correlation between major-league cities and their abilities to produce amazing meetings and events. Minneapolis, which has NFL, MLB, NBA and NHL teams, personifies this relationship and expects to garner an even higher profile this month when U.S. Bank Stadium opens.
"Minneapolis is truly a city in transformation," says Melvin Tennant, president and CEO of Meet Minneapolis. "Major new venues and civic infrastructure projects are making Minneapolis greener and more inviting than ever. Even if convention attendees have been here in the past, I know they'll love all the new features and amenities. Add that to our booming restaurant scene, top-notch Minneapolis Convention Center and world-class shopping with no sales tax on clothing, all of which makes Minneapolis a destination meeting attendees say they want to return to again and again."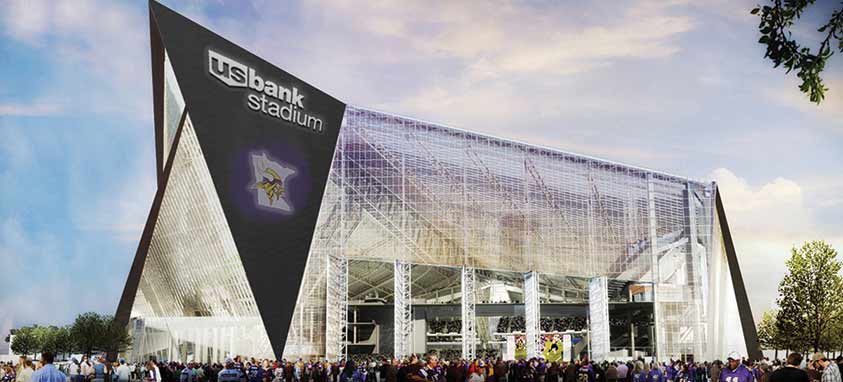 U.S. Bank Stadium
Vikings Country: The new home of the NFL Minnesota Vikings will open this month. U.S. Bank Stadium features a design that is fully enclosed by the country's largest Ethylene tetrafluoroethylene (ETFE) roof, allowing for sunlight to shine in and giving fans terrific views of the city skyline. The stadium will include five of the world's largest pivoting doors, which will open out to downtown. The stadium has already lured several significant events, including the 2018 Super Bowl and 2019 NCAA Men's Basketball Final Four.
The stadium and downtown will be connected by the new Commons Park in East Town, which is being designed to be a major gathering spot thanks to millions of dollars of new residential, restaurant, hotel and office development.
"All great cities have great parks—they play a vital role in attracting residents, businesses and visitors, contributing to economic prosperity, public health and a community's wellbeing," says David Wilson, chair of the greening and public realm committee of the Minneapolis Downtown Council. "I'm excited to see Minneapolis investing in this great new public space, designed for celebration, recreation and green space in the heart of our downtown."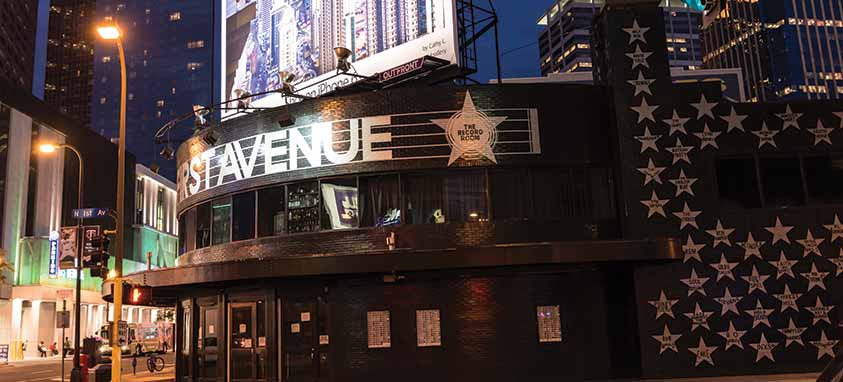 First Avenue music venue
Got Art?: Minneapolis' art scene is vibrant and inviting. For example, the 360-room Radisson Blu Minneapolis Downtown showcases the city's emerging artists on a digital wall in its lobby. The hotel encourages guests to take a walking tour of nearby installations, including a five-story-tall mural that honors Minnesota-born musician Bob Dylan. Minneapolis-born icon Prince is among the musicians with stars outside of First Avenue music venue (First Avenue is featured in the movie Purple Rain). Other murals pay homage to Minnesota's seasons, the city's bike-friendly attitude and its thriving brewing industry.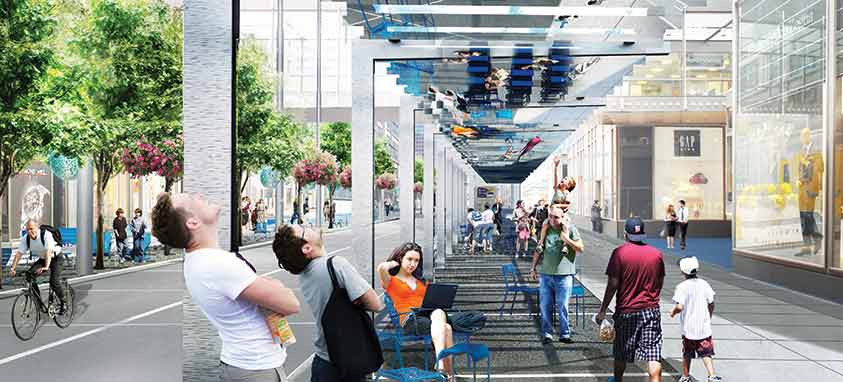 Nicollet Mall Light Walk
Shop Talk: Nicollet Mall is undergoing a complete reconstruction that is scheduled to wrap up in 2017. The downtown light-rail transit station and pedestrian mall features retail, restaurants and lots of city life. It is being re-envisioned to include more trees, enhanced sidewalk spaces and more places for people to enjoy the city.
Signature Experiences: In 2013, Go Minneapolis Signature Experience program was created by Meet Minneapolis and other area destination marketing organizations. The collection of experiential tourism offerings has grown to 31 unique tours, performances and demonstrations that offer groups exclusive and interactive activities, ranging from outdoor adventure to culinary arts and culture.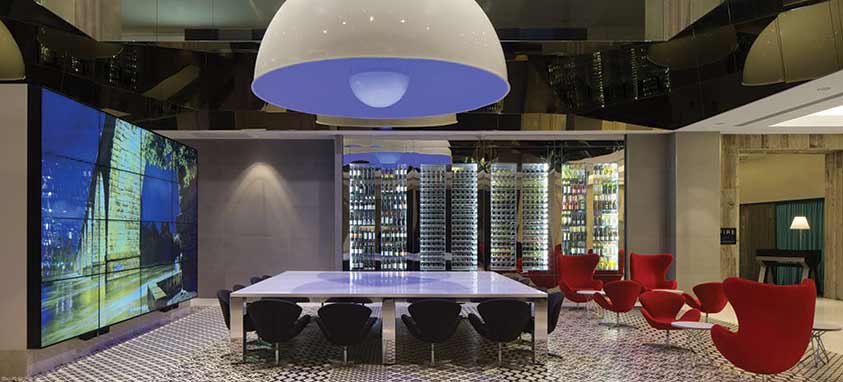 Radisson Blu Minneapolis Downtown
Meeting Matters: Minneapolis Convention Center (MCC) is one of the top 20 largest convention centers in the United States, with 1.6 million sq. ft. of space, including 475,000 sq. ft. of exhibit space, and room for up to 20,000. MCC takes center stage when it hosts the Destination Marketing Association International Annual Convention Aug. 1−4.
Downtown meeting hotels include the 821-room Hilton Minneapolis, 583-room Minneapolis Marriott City Center and 645-room Hyatt Regency Minneapolis. Hilton offers 77,000 sq. ft. of meeting space, including the largest ballroom in the state (25,000 sq. ft.). The Marriott has 42,909 sq. ft. of event space, with the ability to host up to 2,400. The Hyatt features 105,000 sq. ft. of event space and an enviable location on Nicollet Mall.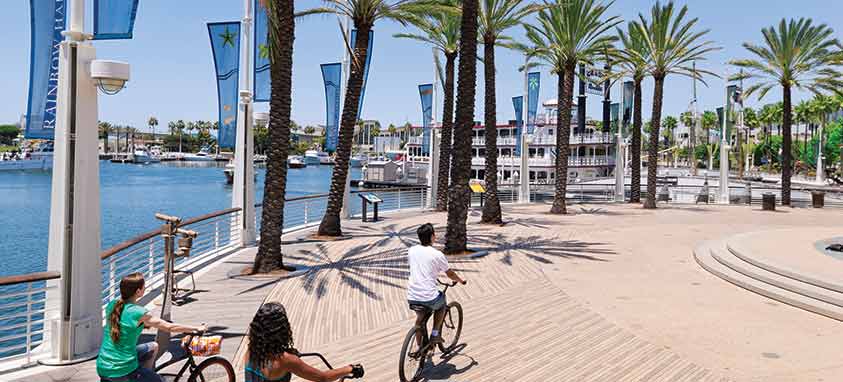 Beach bike path (Photos by Long Beach CVB)

Long Beach, California
Hail to the Queen! The retired ocean liner Queen Mary is permanently moored in Long Beach. Besides serving as a tourist attraction, the ship features a museum, restaurant and 346-room hotel. Launched in 1934, it's listed on the National Register of Historic Places and is part of Historic Hotels of America.
Oceanfront meeting options abound here, including Long Beach Convention & Entertainment Center.
"Long Beach is one of very few cities that can boast an urban downtown waterfront with a convention center offering panoramic Pacific Ocean vistas," says Steve Goodling, president and CEO of Long Beach Convention & Visitors Bureau. "Long Beach has all the amenities and excitement of a big city with the relaxed atmosphere of a seaside resort. The city combines big-city vogue with the friendly attitude of a small beach town."
Terrace Plaza
Cost-Saving Measures: Over the past 18 months, Long Beach Convention & Entertainment Center has invested in turnkey venues, which allow meeting planners to cut costs thanks to built-in professional lighting and sound systems, and extensive furniture and decorative choices. For example, a $10 million dollar renovation and installation has created a loft ballroom at Long Beach Arena. It features one of the largest flying steel truss systems, which is suspended above the 45,000-square-foot arena floor; the grid system can be adjusted to ensure an ideal ceiling height for events of up to 5,000.
"The Long Beach Convention & Entertainment Center's $40 million renovation and current ongoing improvements are aimed at creating event spaces that maximize the ability of meeting planners to customize their events while providing turnkey solutions that dramatically reduce event costs," Goodling says.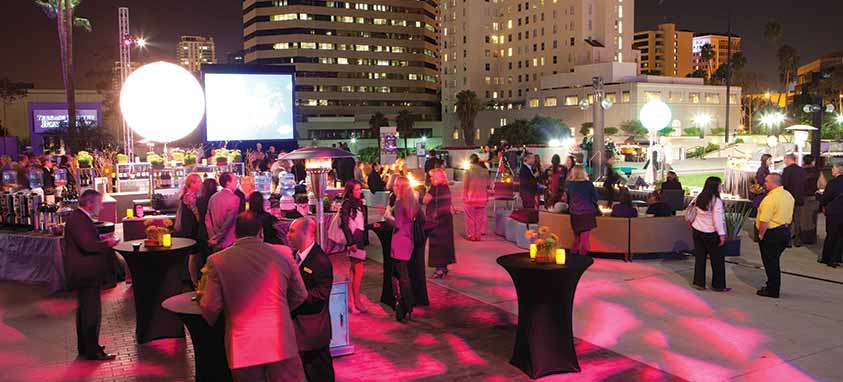 Gallant Galas: The completely renovated Terrace Plaza has become a hot ticket for outdoor events by turning receptions, buffets and sit-down dinners into elegant affairs. The sparkling three-story glass wall of the 3,000-seat Terrace Theater is a dazzling backdrop to the plaza's fountain, beautifully landscaped palm trees and flower gardens, and panoramic views of the downtown skyline. During the Toyota Grand Prix of Long Beach in April, the plaza was turned into a concert venue for 4,000. The newly renamed Beverly O'Neill Theater seats 825 and is well-suited for professional performing arts performances, meetings, lectures, business forums and special events.
Getting Around: Long Beach Airport (LGB) is the West Coast hub for JetBlue and also is serviced by Southwest, American and Delta airlines. Los Angeles International Airport (LAX) and John Wayne Airport, Orange County (SNA) are less than 30 minutes from downtown. Meeting-goers will have fun getting around town via water taxi and making good use of the city's 100 miles of bike infrastructure, including a 5-mile beach bike path.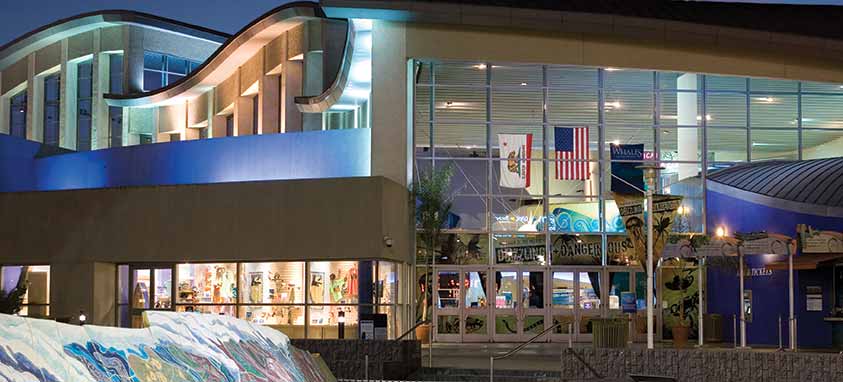 Commitment to Sustainability: Long Beach Aquarium of the Pacific, which has more than 12,500 sea animals and interactive exhibits, is the first museum in the United States to earn the status of a Climate Action Leader by certifying its greenhouse gas emissions inventory with the California Climate Action Registry. Museum of Latin American Art is among the first California museums to use solar energy. The Long Beach Water Department's Landscape Grant Program provided support for the museum's landscaping, including its 15,000-square-foot sculpture garden.
Meeting Matters: Long Beach Convention Center is another green venue, sporting 5,800 solar panels atop its 400,000 sq. ft. of meeting and event space. Recycling and energy-reducing initiatives include the use of disposable plates and silverware made out of biodegradable products. Leftover food is donated to local groups in need. Catering options include a sustainable seafood program. Decor incorporates items that can be reused, recycled or renewed, such as live plants, river stones and other natural elements.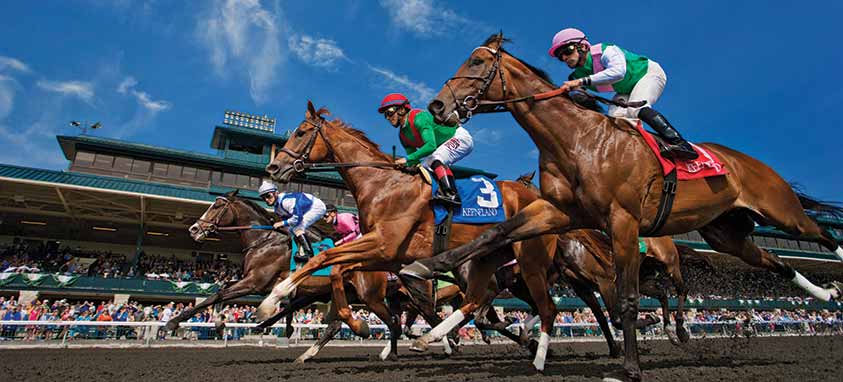 Keeneland Race Course
Lexington, Kentucky
Three themes emerge when talking about Lexington's high regard as a tourism and meeting destination: horses, history and easy access.
Lexington is located within a day's drive of two-thirds of the U.S. population. Also, the ease of arriving at Blue Grass Airport (LEX) and reaching the convention center area and its 10 hotels within 10 to 15 minutes adds to Lexington's popularity.
"You can hold a meeting almost anywhere, but we consistently hear that attendees and meeting planners want to create great memories and provide fun networking opportunities, which are equally important to the educational content," says Marci Krueger-Sidebottom, vice president of sales and services for Visit Lex. "When we bring planners in for a site visit, they know we have meeting space and hotels, but they want to see what else there is to experience. They leave saying, 'We had no idea this all was available in Lexington, Kentucky. Thank you for introducing us to your charming cosmopolitan city that exemplifies genuine hospitality.'"
Horse Heaven: Lexington features multiple horse parks and race courses. Attractions include the 1,200-acre Kentucky Horse Park, which hosts the nation's only four-star equestrian gathering. Lexington's iconic Keeneland Race Course is a National Historic Landmark and thoroughbred race course, offering racing in the spring and fall. Last October, Keeneland hosted the 2015 Breeders' Cup World Championships, drawing more than 90,000 people over two days. Red Mile Harness Track is the second-oldest horse racing track in the United States.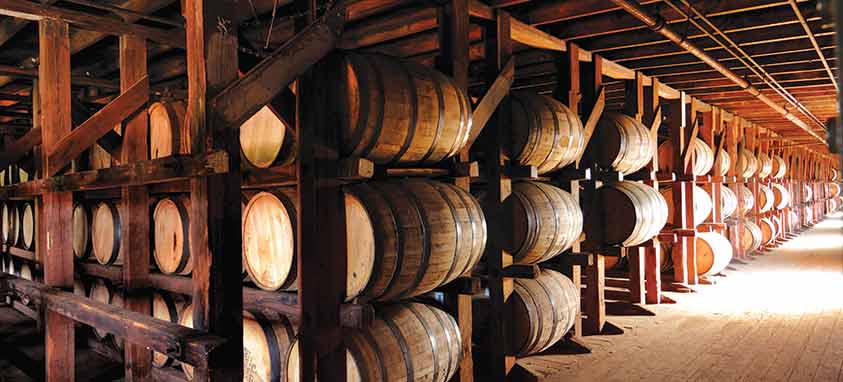 Bourbon warehouse
Grab a Drink: Lexington is self-proclaimed as the Best Place in America to Grab a Drink. Located in the heart of bourbon country, Lexington is a hub for micro distilleries, wineries, coffee shops and craft breweries, as well as trendy bourbon bars. Nine world-renowned bourbon distilleries operate within 35 miles of downtown. Barrel House Distilling Co. is located on the site of the historic James Pepper Distillery. Lexington's Distillery District is home to an eclectic array of bars, restaurants, coffee shops, food trucks and distilleries. Lexington has its own Brewgrass Trail, with eight craft beer breweries in the city and surrounding counties.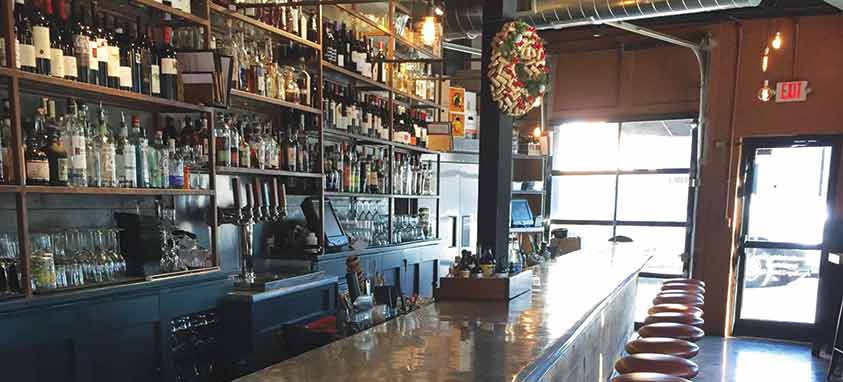 Middle Fork Kitchen Bar
Fork to Table: Lexington's thriving culinary scene is spearheaded by the close collaboration between local farmers and chefs who are committed to inventive menus from the freshest local ingredients. There are close to 180 locally owned restaurants, including Middle Fork Kitchen Bar, recently named one of the top 100 Hottest Restaurants in America by Open Table. Located in the previous home of the James E. Pepper bourbon distillery, the restaurant's menu features small plates, vegetable-based dishes, homemade spatzle, pork, beef, lamb, chicken and duck entrees. The 21c Museum Hotel Lexington is also home to one of the city's trendiest new restaurants, the modern and elegant Lockbox.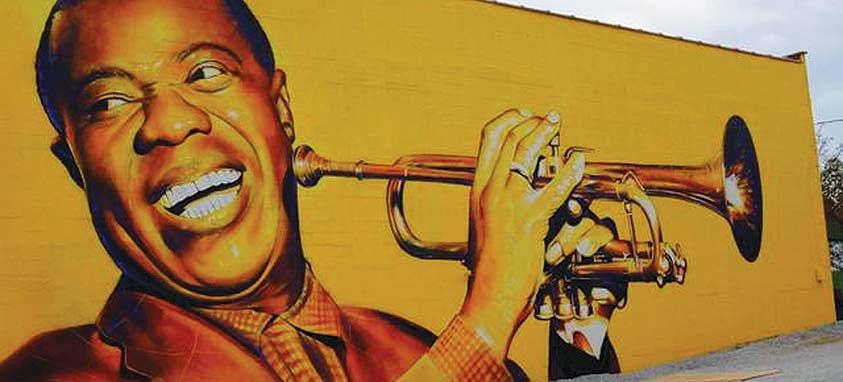 Louie Armstrong mural at Lighthouse Ministries Building
Lex and the Arts: The first American performance of Beethoven's First Symphony in C major was performed in Lexington at the former Postlethwait's Tavern. The oldest annual bluegrass festival in the region occurred at Kentucky Horse Park last month. A growing number of eccentric street murals add color to Lexington, including a larger-than-life masterpiece depicting Louis Armstrong on the side of the Lighthouse Ministries Building.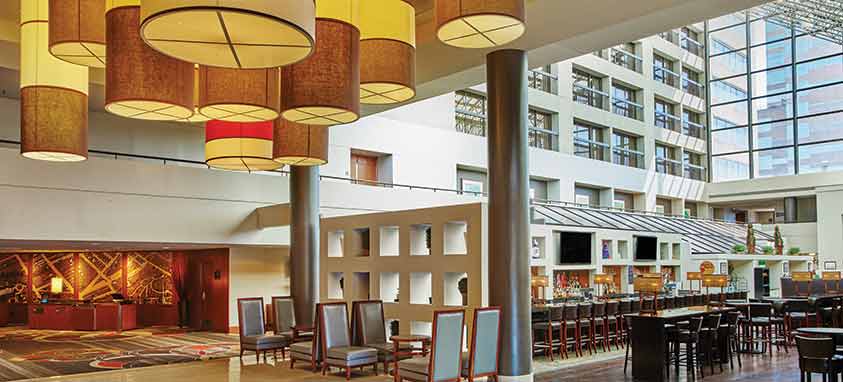 Hyatt Regency Lexington
Meeting Matters: The downtown convention center neighborhood is vibrant and trendy. Lexington Convention Center offers 66,000 sq. ft. of exhibition space and 40,000 sq. ft. of meeting space, including a 17,000-square-foot ballroom. Famous Rupp Arena, which dates to 1976, seats 23,500 for all types of entertainment, including concerts and sporting events. Hyatt Regency Lexington is connected to the convention center and arena. It has 366 guest rooms and more than 19,000 sq. ft. of renovated event space. Hilton Lexington/Downtown adds 366 guest rooms and 20,000 sq. ft. of event space.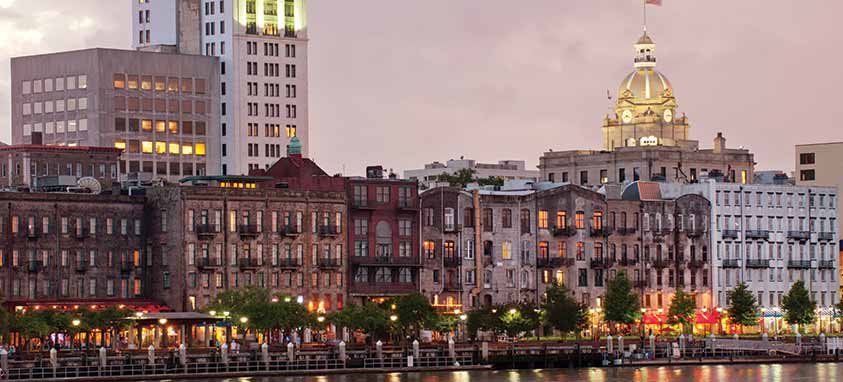 Savannah, Georgia
There are quite a few reasons attendance is high when conventions and conferences take place in Savannah, including assistance provided by the local convention and visitor bureau. Visit Savannah turned 40 this year and its fingerprints can be seen everywhere.
"It is hard to imagine that anyone sitting in the inaugural meeting of Visit Savannah 40 years ago could have known the profound impact this organization would have on the cities of Savannah and Tybee Island," says Greg Kelly, chairman of Visit Savannah and executive director of Savannah/Hilton Head International Airport (SAV).
Tourism numbers climbed to record highs in 2015, with more than 13.1 million visitors and $2.5 billion in direct spending. Rooted in history, with an eye toward the future, Savannah has worked hard to be vital to leisure and business travel.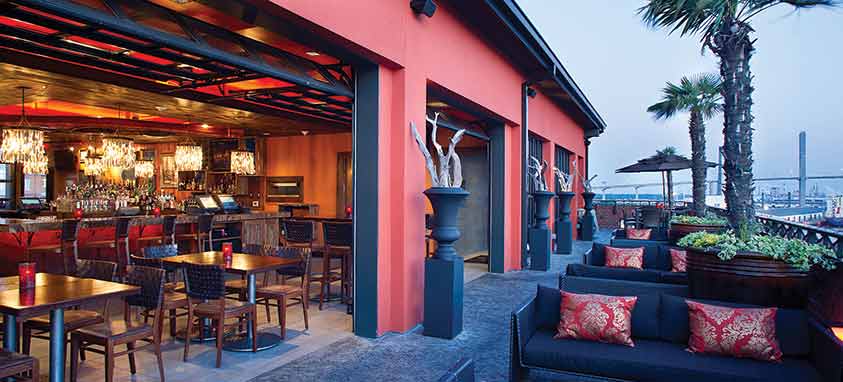 Bohemian Hotel Savannah Riverfront
Step Back in Time: One of the biggest draws is Savannah's historic urban area, regarded as the largest U.S. National Historic Landmark District in the country. Measuring 2.5 sq. mi., the historic district is dotted with 22 verdant, park-like squares and more than 45 cultural attractions, including well-preserved 18th- and 19th-century architecture. The grid design by James Oglethorpe in the 1700s has been propagated throughout time to maintain Savannah's historic character.
Old Meets New: The largest redevelopment project in Georgia is scheduled to break ground next month when an original 100-year-old riverfront power plant begins conversion into Savannah Plant Riverside. The Kessler Collection's $250 million project will create a 4.5-acre hospitality and entertainment district, which is scheduled to open in 2018. The power plant will be turned into a luxury hotel, and a second hotel with a different theme will be added. The complex will also feature a natural history museum focused on fossil fuels inspired by the site's port and power plant history, retail space, three rooftop bars, a spa, multiple pools, a concert lawn and the largest Grand Bohemian Art Gallery within the Kessler Collection.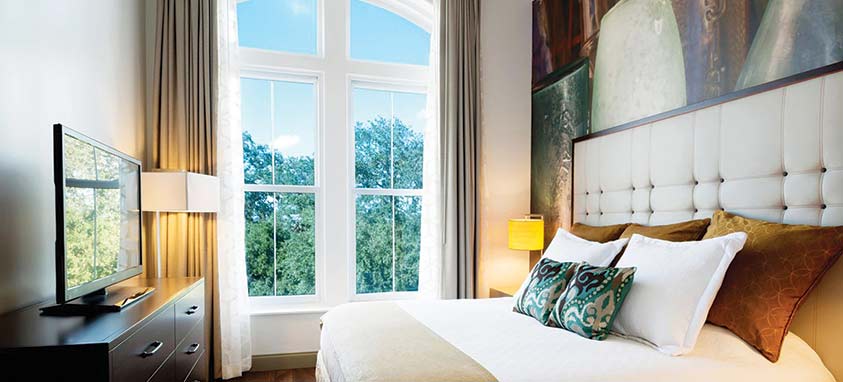 Hotel Indigo Savannah Historic District
Heart of History: The new Hotel Indigo Savannah Historic District offers 252 guest rooms and suites and 6,000 sq. ft. of meetings space. The new 160-room Homewood Suites by Hilton Savannah Historic District/Riverfront has event space for up to 100. The six-year-old Bohemian Hotel Savannah Riverfront, which offers 74 luxurious guest rooms, is the perfect hotel to stay in for those seeking to be in the heart of the hustle and bustle. The 125-room boutique Mansion on Forsyth Park provides Victorian charm, with more than 13,000 sq. ft. of event space.
The Hotel at 412 Williamson broke ground last month, with an anticipated completion date of July 2017. Giving visitors another option for boutique lodging in the historic district, The Hotel will offer 173 guest rooms and 4,000 sq. ft. of event space. The new build is part of Starwood's Tribute portfolio, and it will reflect the city's renaissance with nod to Savannah's historic past.
Getting Around: Savannah's Chatham Area Transit (CAT) Bike Share program offers rentals to help visitors get around the city. A popular running/biking trail is the McQueens Island Trail, which runs along the Savannah River on Tybee Island just 15 minutes from downtown Savannah. Help attendees enjoy the Savannah River with a cruise on an old-fashioned riverboat.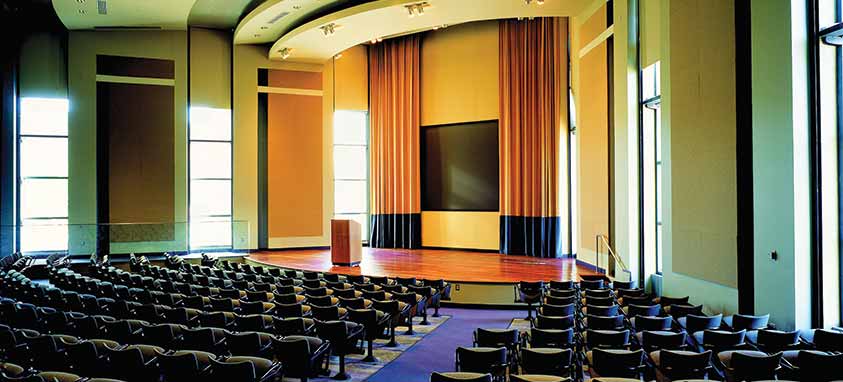 Savannah International Trade & Convention Center
Meeting Matters: Savannah International Trade & Convention Center is a stunning waterfront complex that features 100,000 sq. ft. of exhibit space and 50,000 sq. ft. of meeting space, including 13 meeting rooms, four executive board rooms, a 25,000-square-foot ballroom and 367-seat auditorium.
"Meetings are successful when attendance is strong, which is what happens when gatherings are held in Savannah," says Jeff Hewitt, senior vice president of sales and services for Visit Savannah. "The city's authentic Southern hospitality and natural beauty deliver an experience that attendees will be able to check off of their bucket lists."