The classic group dining experience isn't going anywhere
buffets
We fretted and fumed. We mourned. How could this happen, and what will we do now? The most cost-effective, efficient—and popular—means of feeding large numbers of attendees was suddenly rendered…icky. Dangerous even. Too many hands on the ladles. Too much exhalation on the chafing dishes and steam pans.
I speak of that workhorse of group dining, the mainstay of venue catering. Yes, the buffet. The buffet is dead, proclaimed the culinary commentators. Another pitiable victim of Covid-19.
Not so fast.
Bachannal is Back!
The Terminator-like resilience of this F&B favorite was dramatically demonstrated in late May. That's when Bachannal Buffet reopened at Caesars Palace on the Las Vegas Strip. Previously elaborate beyond compare, a renewed Bachannal boasted multimillion-dollar enhancements, more than 30 new dishes and, for the first time, it accepted reservations. Tokyo designer Tetsuo Aoyagi, who in 2012 conceived the $17 million venue's opulent space reminiscent of ice caves and mountains, also masterminded the redo.
The buffet concept itself is credited to 17th-century France, when it became the thing for gentleman suitors to show up uninvited, causing the panicked kitchens of fair ladies to lay out a spread of whatever was at hand. The Swedes have also long celebrated their smorgasbords, of course, and introduced them to this country at the 1939 New York World's Fair.
Two years thereafter, in 1941, The Strip's very first casino, El Rancho Vegas, started offering a midnight spread of "every possible variety of hot and cold entrees to appease the howling coyote in your innards.…" All for the price of $1. A decade later, most Strip casinos offered their own all-you-can-eat "chuck wagon buffets." Later still, as Vegas became a foodie destination, buffets vied to be the most extensive, multiethnic and over the top.
Bachannal sets the pace for today's Vegas buffet in more ways than one. Before Covid-19, it was rumored to enjoy the highest revenue of any Caesars restaurant. It reopened at 80 percent capacity and three feet of social distancing (per Clark County regulations), with many dishes individually prepared and plated by staff from behind the counters.
The 'Safe' Buffet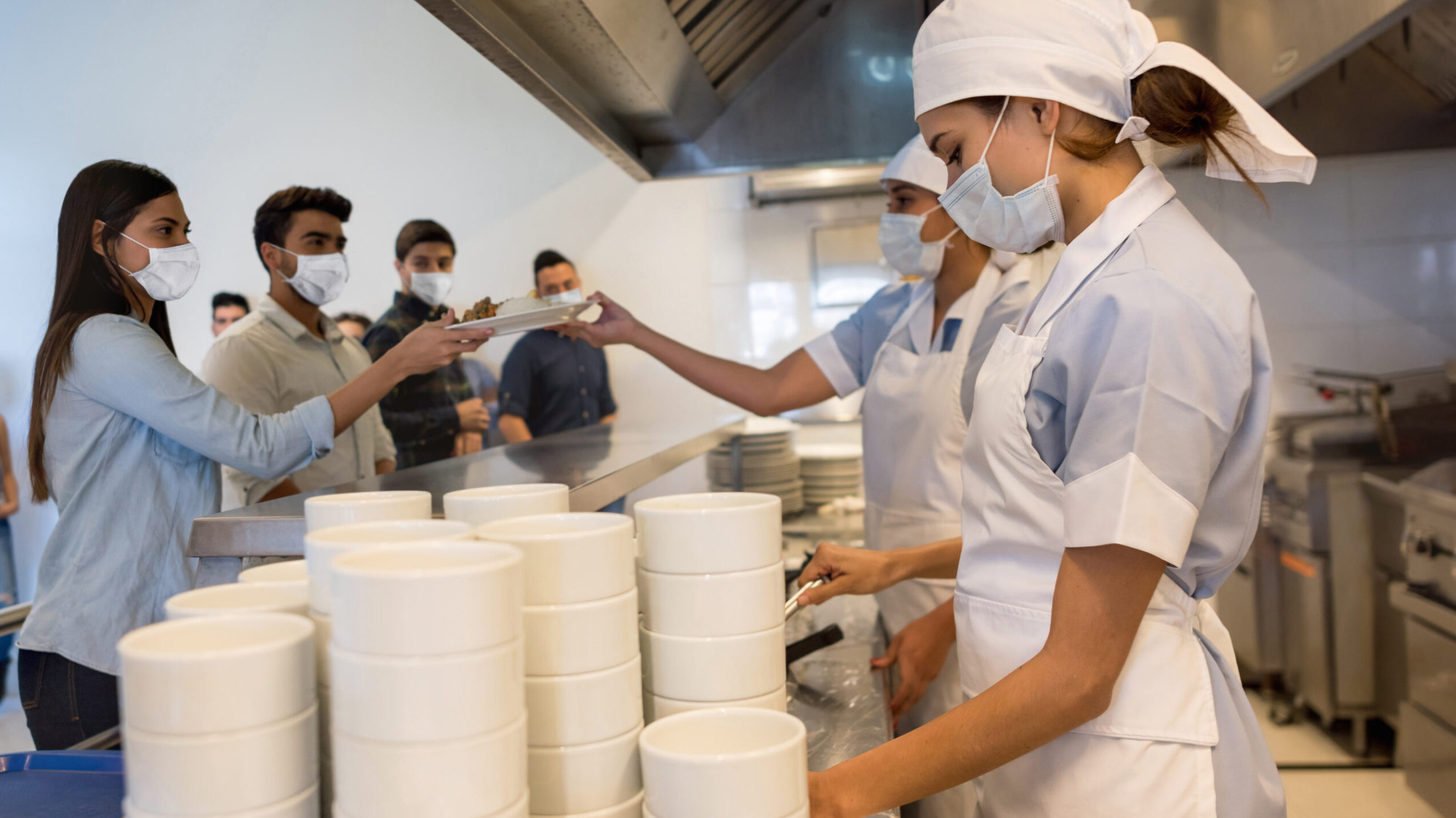 As of mid-June, CDC continued to advise restaurants to "avoid offering any self-serve food or drink options, such as buffets, salad bars, and drink stations. This limits the use of shared serving utensils, handles, buttons, or touchscreens and helps customers to stay seated and at least six feet apart from people who do not live in their household."
Nonetheless, most health experts say the real concern with buffets is not the spoon sharing, it's the crowding. "While common utensils theoretically could lead to transmission of Covid from hand to spoon to hand, we actually don't have any good examples in clusters of Covid illnesses that surfaces really matter as much as people all standing close to each other does," said Benjamin Chapman, professor and food safety specialist in the Department of Agricultural and Human Sciences at North Carolina State University, in a recent interview with NBC's Today Show. "Managing social distancing and line-ups is really the hardest part. Or in situations where staff will serve patrons from a buffet, the staff and patron interaction is the riskiest part."
For planners, that means devising strategies to avoid the lines, at least for the time being. Like staggering the start times for different segments of attendees, or breaking up the line into separate activations stations—the starters, the mains, the desserts and so on. To err on the side of safety (always a good idea), many caterers are also recommending that buffets be staffed instead of self-serve. In other words, attendees indicate their choices, and these are plated by gloved and masked servers and handed under a plexiglass shield or other hygienic barrier.
A "safe" buffet can be more labor intensive, and thus more costly for the organizer. Yet plated table service is labor intensive, too. In the end, a well-planned buffet is an experience. And how else but in a buffet line can attendees enjoy Mac-and-cheese with their Szechuan pork? And skip (and thus avoid wasting) that nasty-looking mystery meat?