Diamond Celebration, Disneyland Resort, Anaheim, California
60th anniversary celebration and new access program highlight busy period
Disney Destinations has seen plenty of excitement during the past year, including the 60th anniversary celebration of Disneyland Resort in Anaheim, California, and the implementation of a program at Walt Disney World Resort that significantly enhances guests' experiences.
The Diamond Celebration in Anaheim, which began in May, features several new entertainment elements, including a parade, a "Disneyland Forever" fireworks extravaganza and show about Walt Disney's dream for Disneyland.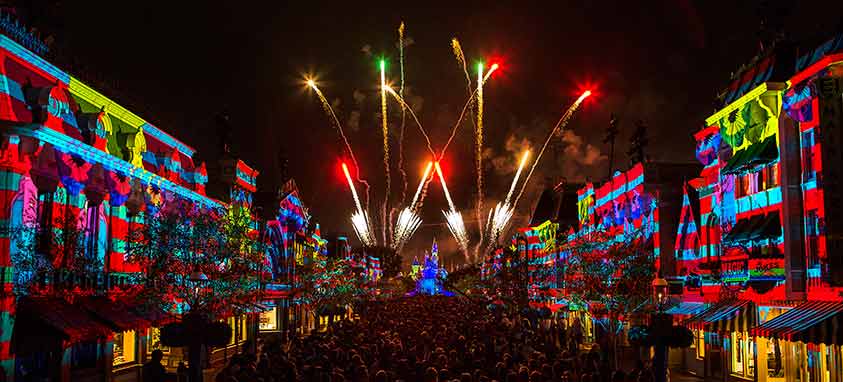 "Disneyland Forever" fireworks. Disneyland Resort, Anaheim, California
MyMagic+, which was unveiled last year at Walt Disney World in Orlando, continues to help lure groups. It allows guests to use an app to make reservations for activities before they leave home. They're also able to use a wristband to facilitate all aspects once they reach the destination, including unlocking their hotel room, entering theme parks and purchasing food and merchandise.
The wristbands come in many different colors, and planners often choose a color for their group that complements the meeting or event theme.
These and other additions have helped Disney continue to prosper around the globe.
"Business has been strong and we're optimistic that it's an ongoing trend," says Anne Hamilton, vice president of global business travel for the Walt Disney Company. "At Disney, we keep a long-term focus and we're always exploring new opportunities to enhance the guest experience across our destinations."
Some of the new properties, attractions and programs—including the following—are particularly exciting to meeting groups.
Walt Disney World Resort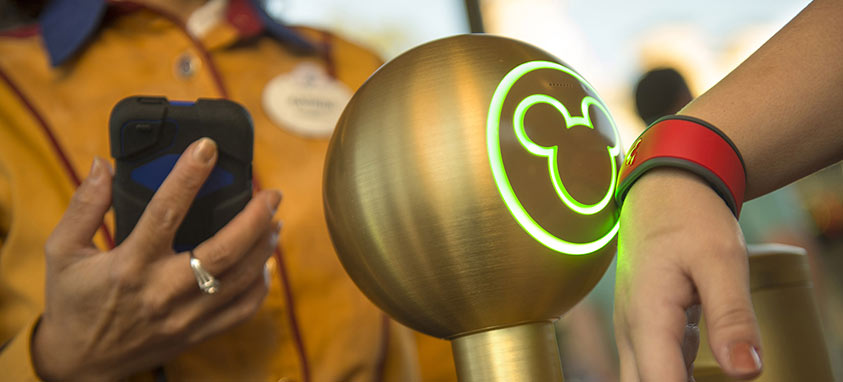 MyMagic+ wristband, Walk Disney World Resort, Orlando
Besides the unveiling of MyMagic+, Walt Disney World Resort is in the midst of transforming Downtown Disney into Disney Springs. Opening in phases through 2016, Disney Springs will eventually double the number of shops and restaurants to more than 150, and will add entertainment and nightlife options.
Disney Springs will consist of four neighborhoods—The Landing, Town Center, Marketplace and West Side. The Boathouse, a new restaurant in The Landing, offers upscale waterfront dining and two private dining rooms for hosting special events, receptions and corporate presentations.
"For planners, Disney Springs will offer exciting new private event options, and attendees will discover a broad range of experiences to enjoy after a full day of meetings or as part of an incentive program," Hamilton says.
Walt Disney World Resort also is planning the largest expansion in the history of Disney's Animal Kingdom. It will include an attraction inspired by the film Avatar, as well as new nighttime entertainment on Discovery Island and a nighttime version of the Kilimanjaro Safaris attraction.
Disneyland Resort
The new attractions at Disneyland Resort are providing exciting adventures for newcomers and a much different experience for returning visitors.
"Paint the Night" floods Main Street, U.S.A. with colors from more than 1.5 million LED lights that flash and glow while bringing classic Disney stories to life. "Disneyland Forever" at Disneyland Park boasts the largest installation of projection mapping technology in a Disney park, plus thrilling special effects.
"Celebrate! The Wonderful World of Walt Disney" at Disney California Adventure Park features a video hosted by actor Neil Patrick Harris. Private viewing locations make the show suitable for dessert parties and receptions of up to 9,000 people. Private buyouts also can be arranged and can be customized with an organization's logo and messages.
Aulani, a Disney Resort & Spa
This resort, located in Ko Olina on Oahu's west shoreline, opened in August 2011 and subsequently added the 16,000-square-foot Halawai Lawn for events. Aulani also renovated its Waikolohe Valley water recreation area by adding another swimming pool, a cafe and more deck space.
When designing Aulani, Disney's Imagineers put great effort into faithfully honoring Hawaii's rich history and cultural diversity. This can be seen in everything from the artwork to the Hawaiian cultural classes that are offered.
The property has 351 traditional hotel rooms, 481 villas and 98,000 sq. ft. of meeting space. It also contains Laniwai, a Disney Spa, which has a hydrotherapy garden and 18,000 sq. ft. dedicated to treatment rooms, a salon and relaxation areas.
"Groups can host customized events beachside, with the stunning natural backdrop of the Pacific Ocean," Hamilton says. "Unique to Aulani, attendees can enjoy the cocktails directly on the beach while listening to live entertainment from Hawaii's only floating stage, located in the lagoon."
Hong Kong Disneyland Resort
A new attraction scheduled to open in 2016 is based on the fictional superhero Iron Man (Tony Stark), and will enable attendees to join him in a battle across Hong Kong against alien invaders. Attendees will be able to meet and take photos of Iron Man.
The resort currently boasts two hotels: Hong Kong Disneyland Hotel, with 400 guest rooms, and Disney's Hollywood Hotel, with 600 guest rooms. The resort also has a 16,000-square-foot convention center. Ground has been broken on a third hotel, Disney Explorers Lodge, which is scheduled to open in early 2017 with 750 guest rooms.
"What makes Disney Explorers Lodge unique from other Hong Kong Disneyland Resort hotels is its theme," Hamilton says. "The hotel is designed to be a respite for adventurers, surrounding them with the wonders of nature and diverse cultures. This theme runs through the overall design, including four gardens based on the unique cultures of Asia, South America, Africa and Polynesia. Guests will be encouraged to embark on their adventures at the resort and embrace the lodge motto, ad explorandum et somniandum [to explore and dream]."
Shanghai Disney Resort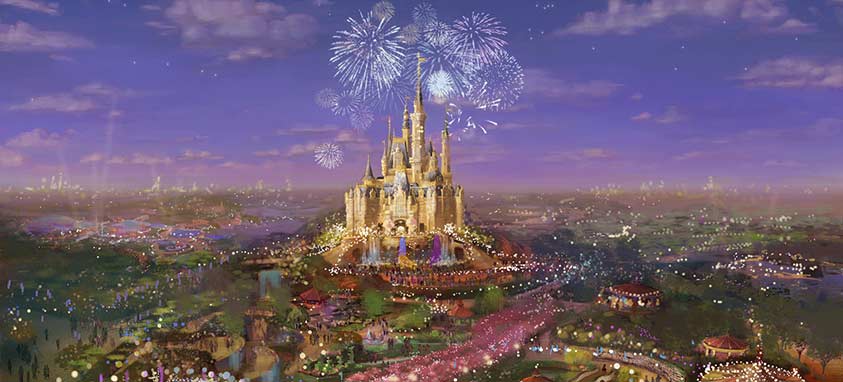 Shanghai Disney Resort rendering
This resort, scheduled to open in spring 2016, will be located on a 963-acre site in Pudong, Shanghai. It will contain Shanghai Disneyland, the first Disney park in mainland China.
"Shanghai Disneyland, a Magic Kingdom-style park, will blend classic Disney storytelling with all-new attractions and experiences tailored specifically for the people of China," Hamilton says. "The park will feature several themed lands, complete with exciting, iconic Disney attractions and experiences.
"At the heart of the park will be an interactive Disney castle that is truly an attraction unto itself with entertainment, dining and performance experiences that will be unique to Shanghai Disneyland."
Shanghai Disney Resort will also include two hotels, recreational facilities, a lake and a large retail, dining and entertainment venue. The 800-room Toy Story Hotel will immerse guests in an atmosphere inspired by the toys from the Disney-Pixar series of Toy Story animated films. Shanghai Disneyland Hotel, with 420 guest rooms, will provide views of the theme park, entertainment district and lake. The amount of meeting space in the hotels has not been determined.
Tweaking the Dining Options
Besides the specific additions to resorts, Disney has been making company-wide changes to better accommodate meeting and event attendees, such as offering additional foods and beverages to satisfy the rising demand for special dietary requests.
"We want all of our meeting and event attendees to feel like a priority, not an afterthought," Hamilton says. "So, we spend a great deal of time exploring and developing fresh ways to surprise and delight attendees with diet restrictions—from experimenting with various vegetable and seasoning combinations to gluten-free pastries and breads.
"Safety is our first priority for dietary allergies, but we also want guests to enjoy and savor an incredible dining experience."