Downtown Lip Smacking Tour
Progressive experiences allow attendees to connect over shared plates
After a long board meeting, nothing brings people together like breaking artisan French bread at an upscale brasserie. In the last four years, thousands of visitors to Las Vegas have been escorted to reserved tables at top restaurants on and off The Strip for VIP experiences that take all the work out of fine dining by serving groups preset meals and tidbits of information about venues.
Donald Contursi, founder of Lip Smacking Foodie Tours, is now expanding the guided cuisine experiences to California's Silicon Valley. Yes, four restaurants on San Jose's upscale Santana Row will now host groups for dining tourism.
What It Is
Expert guides escort groups of up to 250 people on an excursion that stops at three to four different popular restaurants where tables and plates of food are waiting—often along with a chef visit to explain the preparation and history of the signature dishes lining the tables.
In Las Vegas, options include an Afternoon Culinary Adventure, Lip Smacking Boozy Brunch, Savors of The Strip and the Ultimate Steakhouse Tour—this one includes foie gras lollipops at Bazaar Meat, seared A5 Kobe eye of rib at Jamon Iberico de Bellota and mesquite-fired crustacean tower at Scotch 80 Prime.
Downtown Lip Smacking Tour takes visitors off The Strip to explore the emerging culinary scene of Fremont Street. Two other tours add an adventurous twist. Savory Bites and Neon Lights includes a helicopter ride over The Strip. Bright Lights and Lip Smacking Bites adds an open-air Pink Jeep tour of local landmarks.
The new San Jose tour stops at LB Steak, Left Bank Brasserie, Ozumo and EMC Seafood & Raw Bar. Along the way, visitors will learn about the city's role in the invention of the vacuum tube in 1906.
Why Groups Love It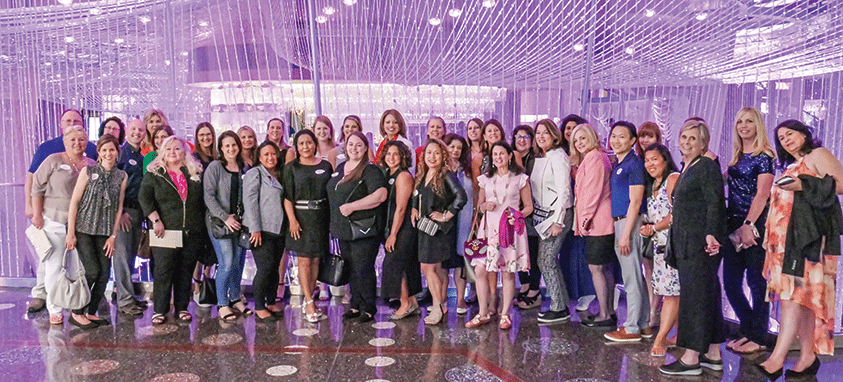 No time is wasted ordering individually and there's no waiting. At the end of the tasting, there is no splitting the check. Any dietary restrictions and preferences are noted in advance and everything is ready when the group arrives. Participants can sit next to someone different at each stop and the food makes for a great conversation starter.
It is a networking dream. The nuggets of information delivered about the art and architecture between stops make locals and visitors alike feel like insiders. Plus, guides know all the best Instagram selfie spots, so attendees can share their experiences widely.
Smart Tip
Be sure to include the beverage package so that each guest can enjoy the perfect pairing when they arrive at the table. For an even more personalized experience, private tours can be arranged around your group's schedule.
Editor's Note: Since the article went to press, Lip Smacking Foodie Tours has added group experiences in Santa Monica and Seattle.