Intimate venues power executive retreats
As the events and hospitality industry continues to emerge from the restrictive measures spurred by the Covid pandemic, providing attendees with a safe meeting space will help put their minds at ease, allowing them to focus on the occasion. But don't forget the finer things. Executive attendees expect to be wowed and providing an exceptional experience will create an opportunity for the best possible outcome for attendees and planners alike.
Attendees are ready to go. A 2021 survey of over 400 salespeople conducted by the Incentive Research Foundation, found that 80% of those surveyed said that group incentive travel is  "very" or "extremely" motivating.  In 2022, that percentage rose to 91%, with participants reporting a new attribute they find to be very attractive: "being given ample time to relax." There's no better time than now to roll out the red carpet for your VIPs and allow them to gather in the lap of luxury.
Location, Location, Location
After you've carved out the objectives of your executive retreat, choosing the right venue will help bring those goals to fruition. Selecting a location based on its reputation and overall aesthetic might seem like the best course of action, but that can be a mistake depending on the sensibilities of your attendees.
Once the audience has been identified, it's important that a venue with the appropriate features be selected to allow all objectives to be met while creating a vibrant atmosphere that will keep executive attendees motivated and engaged.
"The appeal is getting somewhere they haven't been before and getting them out of the city and where they feel they're really removed," Katie Boher, CMP, chief experience officer and founder of Onwardly, says. Venues that are "off the beaten path or in undiscovered cities is a really exciting thing," she continues.
"We're looking at a lot of locations where you can diversify the experience," she says, noting that outdoor and nontraditional spaces are attractive for creating new experiences "so we're looking for properties to work with us to create something they don't normally do."
Kiawah Island Golf Resort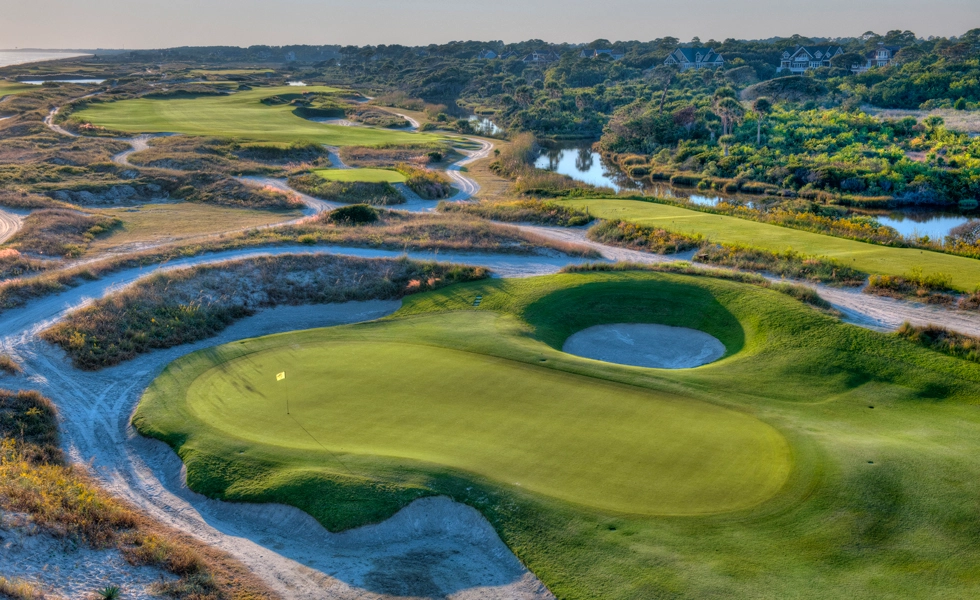 One example of an exclusive venue that elevates any discussion sits ensconced in the natural beauty of the Atlantic coast, 21 miles from the historic setting of Charleston, South Carolina. Kiawah Island Golf Resort features multiple options for conference settings and a wide selection of teambuilding activities to craft a memorable event and spark inspiration.
Planners have the flexibility of selecting from various meeting spaces to cater to the size of the group as well as their objectives. Kiawah Resort is home to 90,000 sq. ft. of indoor and outdoor event space, including multiple clubhouses, The Sanctuary Hotel or the 23,000-square-foot West Beach Conference Center—all surrounded by moss-covered oaks and pristine beaches—truly in the vein of southern hospitality.
Since 1976, Kiawah Island Golf Course has strived to provide guests with unparalleled services and experiences and has since renovated all five of Kiawah's golf courses, while expanding the resort's accommodations by building a collection of new resort buildings on the site.
"Finding the local pieces that really personalize a city is the way I like to design experiences," Boher says. Her litmus test for sourcing the wow spot? "What are the hidden gems you'd never find if you went there by yourself? We ask this question a lot."
So, when a break from the meeting room is in order, planners can choose from multiple activities that provide attendees ample space for teambuilding and an opportunity to think outside of the box.
Kiawah Resort offers guests a heightened sense of luxury with an immersive golfing experience, utilizing an extension of The Ocean Course, which served as the venue for the 1991 Ryder Cup, 2012 and 2021 PGA Championships.
The Roy Barth Tennis Center at Kiawah garners accolades year after year for offering top instruction at an unmatched facility that will not only impress with its stunning surroundings but bump a player's skill to the next level. Multiple instructional programs are available from one of Kiawah's tennis pros. Pickle ball is also available at the resort.
But if event attendees prefer less competitive activities, there's no shortage of relaxing options to chose from. Bicycle rentals allow guests to explore the island and catch a glimpse of the abundant wildlife. Additionally, daily events are also hosted at Kiawah and include yoga, dolphin watching, arts-and-crafts, fishing in various bodies of water, nature walks and more.
"If an executive event isn't taking people off the property to do some sort of activity or some sort of group experience, you're really missing an opportunity because so much bonding happens there," Boher says.
Nature with a Touch of Luxury
While meetings will likely require flow time for attendees to hash out their objectives, activities offered at an event should help guide attendees to think outside of the box. Another important consideration for attendees traveling to a venue off the beaten path is making sure everything is "very turnkey and very easy," Boher says, explaining that planners can easily make an "inconvenient location convenient" for attendees.
Alila Ventana Big Sur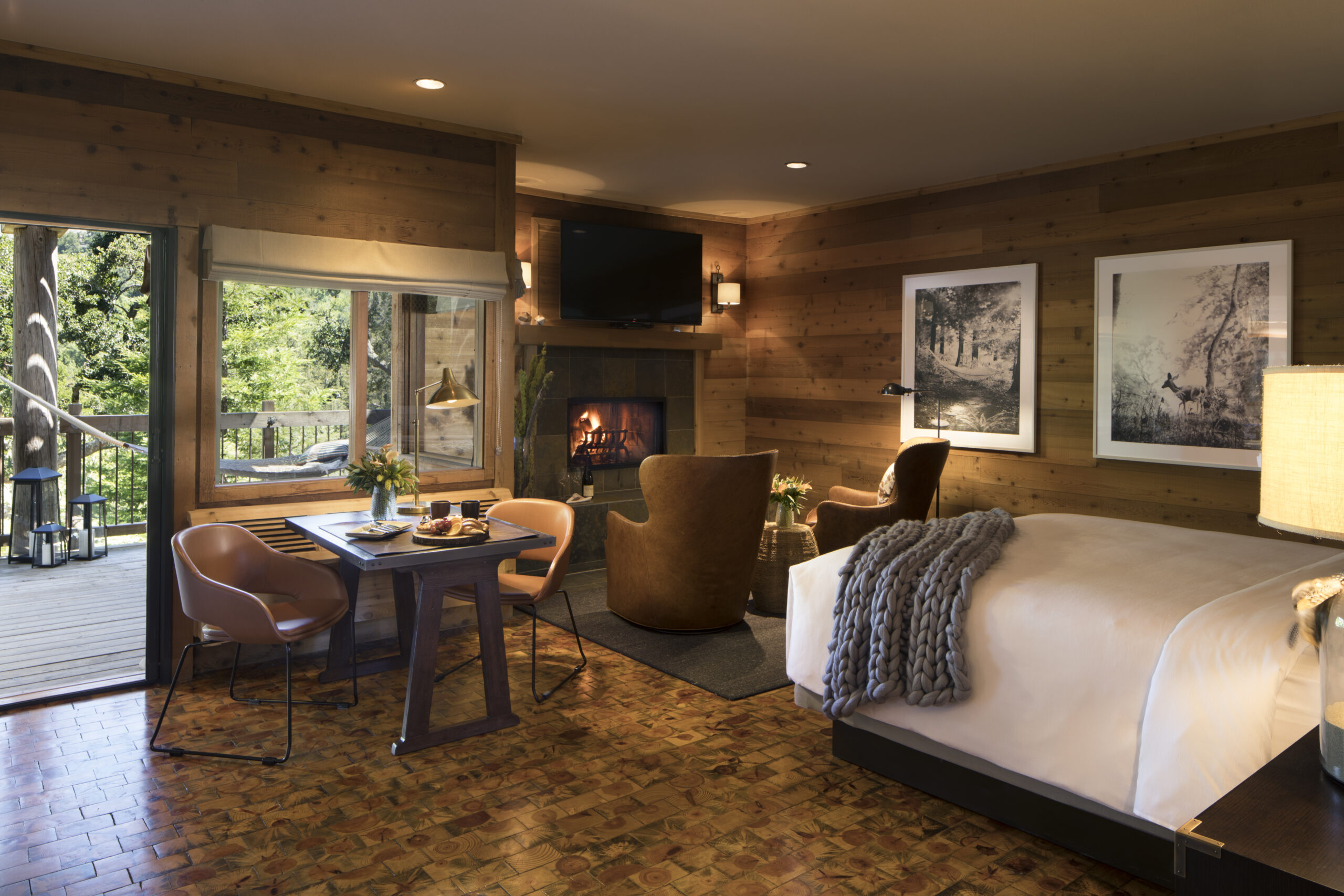 One meeting venue that personifies such potential and convenience is Alila Ventana Big Sur. This bohemian paradise is ensconced in towering redwoods off California's central coast with over 12,000 sq. ft. of indoor and outdoor meeting space that embraces the rustic aesthetic and spirit of the surrounding area.
Pricing for rooms, and for most services and activities at Ventana Big Sur, is all-inclusive with the exception of alcohol and individual activities such as spa treatments, making it easier for planners to create a budget, while incentivizing guests with an amazing trip that only requires them to show up.
Built in 1975 by movie producer Lawrence A. Spector with the money he made in the '60s from the film Easy Rider, Ventana Big Sur soon became the favorite resort for actors such as Steve McQueen and Ali McGraw, as well as being the one-time residence of celebrated authors Jack Kerouac and Henry Miller.
"One of the tenants of Alila as a brand is to embrace and promote this concept of locality," says Alila Director of Sales and Marketing Mark Ley. "Big Sur has long been a location for artists, creatives and thinkers—and that's because Big Sur is a place that almost forces you to disconnect while reconnecting with nature and people around you and we add a touch of luxury on top of that."
Event planners can choose from nine spaces at Alila Ventana that are fully immersed in the natural beauty across the 160-acre property, which completed renovations in 2017 which included upgrades like the new Glass House Gallery, the refurbishment of all 59 guestrooms, suites and villas, and the addition of Sur House restaurant with a gorgeous view of the Pacific.
"Retreats should be one part strategy and one part teambuilding," Ley says.
One such activity offered at the Ventana is the falconry course that allows participants to learn about the habits of birds of prey. "It opens up the space for these executives to disconnect from the regular world and reconnect with what's important," he says.
When time comes for a more traditional meeting space, the Ventana can accommodate that, too. The Loft is a unique space at 1,200 sq. ft. with views of the surrounding mountainous landscape and a casual, rustic atmosphere. The 700-square-foot Fireside Room is perfect for presenting and private dining equipped with audio-visual capabilities and is surrounded by windows, providing a picturesque view of the surrounding area. The Library features a more casual atmosphere with a 15-foot stone fireplace that isn't normally advertised by the resort.
Elevated Environmental and Social Responsibility
Reducing the carbon footprint of events has become a subject of great urgency. Many venues have put these sustainable practices at the forefront of their offerings, while taking the opportunity to educate attendees on environmental wellbeing.
"Sustainability is something every property needs to be focused on," Boher says. "If a property wants to attract the right kind of company and the right level of people, this needs to be something on their radar."
The Ritz-Carlton Toronto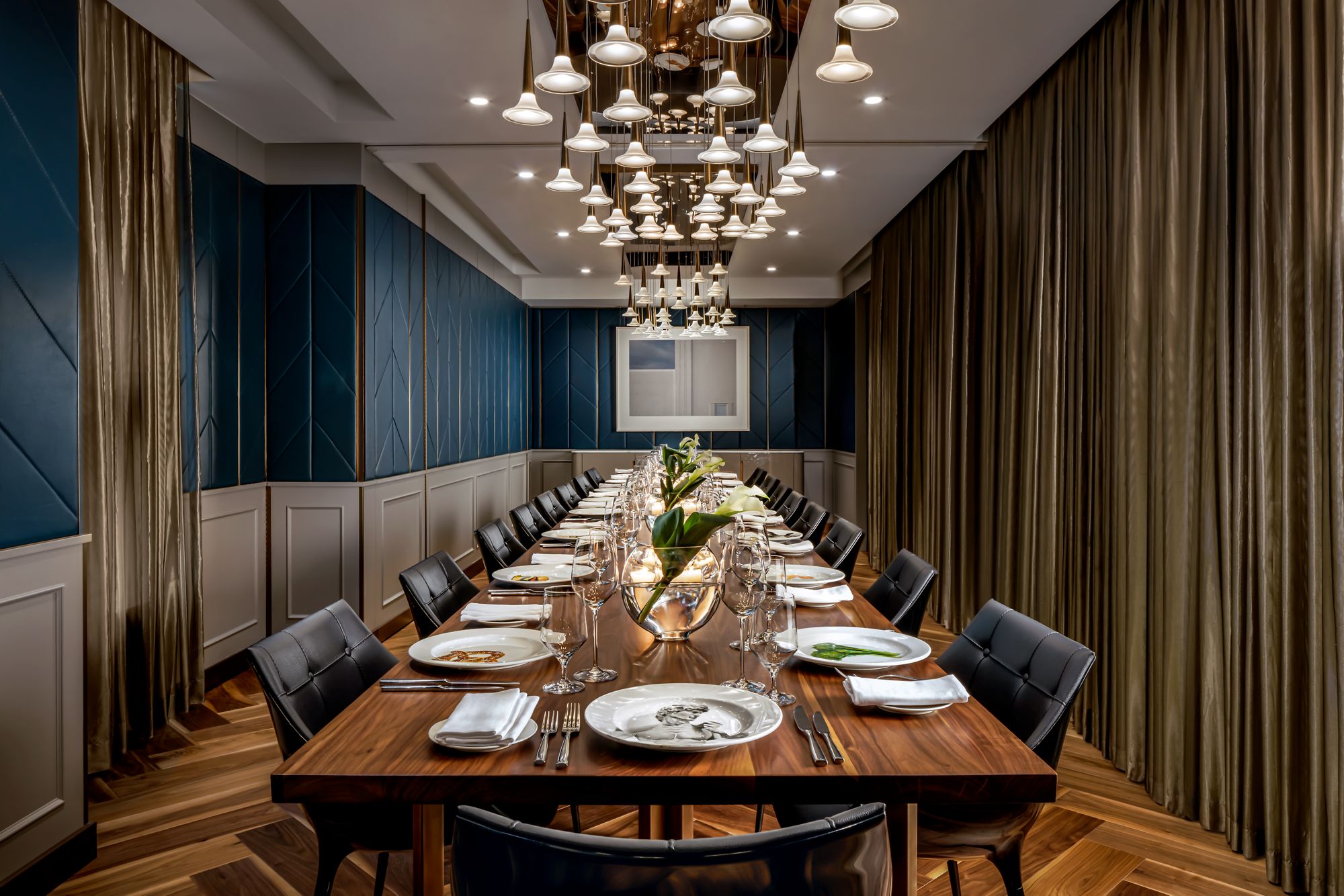 Attendees can feel good about their stay at The Ritz-Carlton Toronto as their property-based Ritz-Carlton Environmental Action Conservation Teams (REACT) works to reduce the environmental impact produced by the hotel by reducing energy and water usage, using environmentally friendly cleaning products and a linen and terry reuse programs.
"The Marriott and The Ritz-Carlton have taken that to the next level, so we've removed plastic straws and plastic one-use containers," says Mimi AuYeung, public relations and marketing manager at The Ritz-Carlton Toronto. "What we use is sustainable—we use bamboo cutlery and very little plastic," she continues.
In addition, The Ritz-Carlton Giving Back program operates under the three pillars, which include the wellbeing of children, environmental responsibility and poverty and hunger relief. "We've worked with a soup kitchen downtown," says AuYeung, explaining that chefs from the culinary team have prepared Thanksgiving dinner for those in need.
As part of this effort, The Ritz-Carlton Toronto has also donated backpacks filled with the supplies to the Tim Horton's Children's Camp.
And this sense of social and environmental responsibility is translated through the kitchen as well. "A big part of our culinary program is using as much as possible organic and local food suppliers and sustainable seafood," AuYeung says.
With a total of 15 indoor meeting spaces, there's no shortage of options and with numerous formats available for each room. While some of The Ritz-Carlton's meeting rooms can accommodate 200-500 people, the venue also features several smaller rooms. But for small executive events, AuYeung suggests hosting in one a spacious suite, such as The Ritz-Carlton Suite, with a kitchen, dining room and living room in a space totaling 2,415 sq. ft.—providing attendees with dedicated space to focus on the task at hand.
Family-Friendly Executive Meetings
High-end executive events don't need to exclude attendee's families. In fact, inviting VIP families along for the adventure can increase attendance and camaraderie. What's worked well to incentivize executive attendees to travel with their families to such events is offering pre- and post-event extensions, Boher explains. Packages could include discounted group rates that allow attendees to spend additional time with their families at the venue before or after the scheduled event. "All of us are looking for harmony in our personal and professional lives," Boher says, and giving attendees this option creates the best of both worlds.
Mohonk Mountain House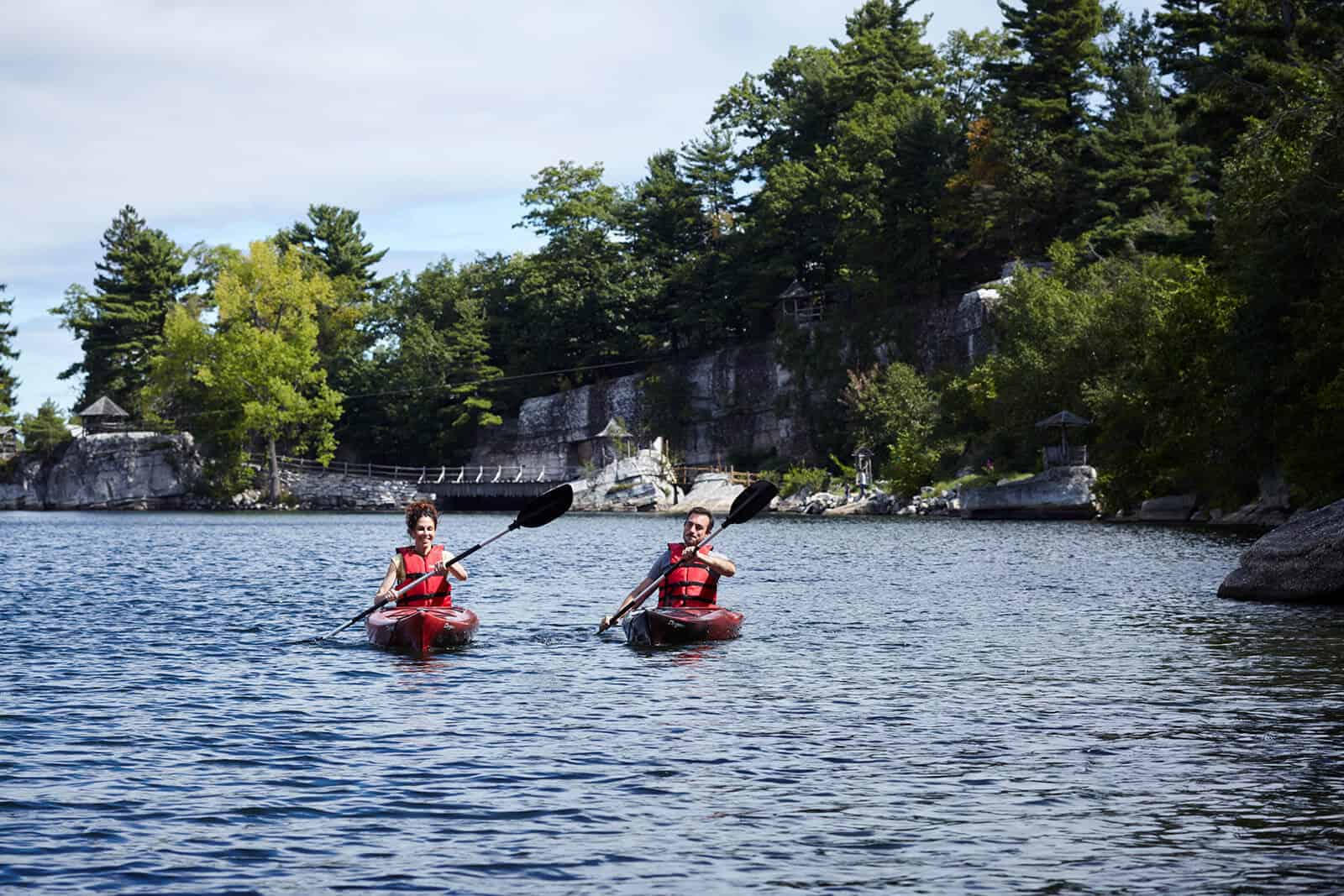 Venues such as Mohonk Mountain House allows event planners to straddle both worlds to elevate the experience for everyone. Located in the Hudson Valley 90 miles north of New York City, Mohonk features several prime meeting spaces, along with accommodations for the entire family including endless summertime activities.
And while Mohonk Mountain House offers a wide variety of kid-friendly activities, there's fun to be had by all with teambuilding and group activities. Event planners can select variations of activities such as hunts and challenges, team-building events that promote charitable causes, challenging rope courses, guided tours such as horseback riding and mountain biking and games like disco bingo and Mohonk Jeopardy.
Activities through Mohonk's Junior Naturalist Program are available for children as young as two and include adventures in nature like feeding the fish, having a splash-around on the beach of the lake, exploring the formal garden and other activities. An educational program is available for children ages 5-12 and allows young participants to experience animal tracking, tree and plant identification and fossil hunts to name a few. All activities were designed and are led by Michael Ridolfo to learn from and appreciate the earth.
Kids over the age of 13 can enjoy adventures of their own on the lake in a rowboat or canoe, during a tomahawk, during a game of disk golf or during a mountain bike ride.
Residential Resort Alternatives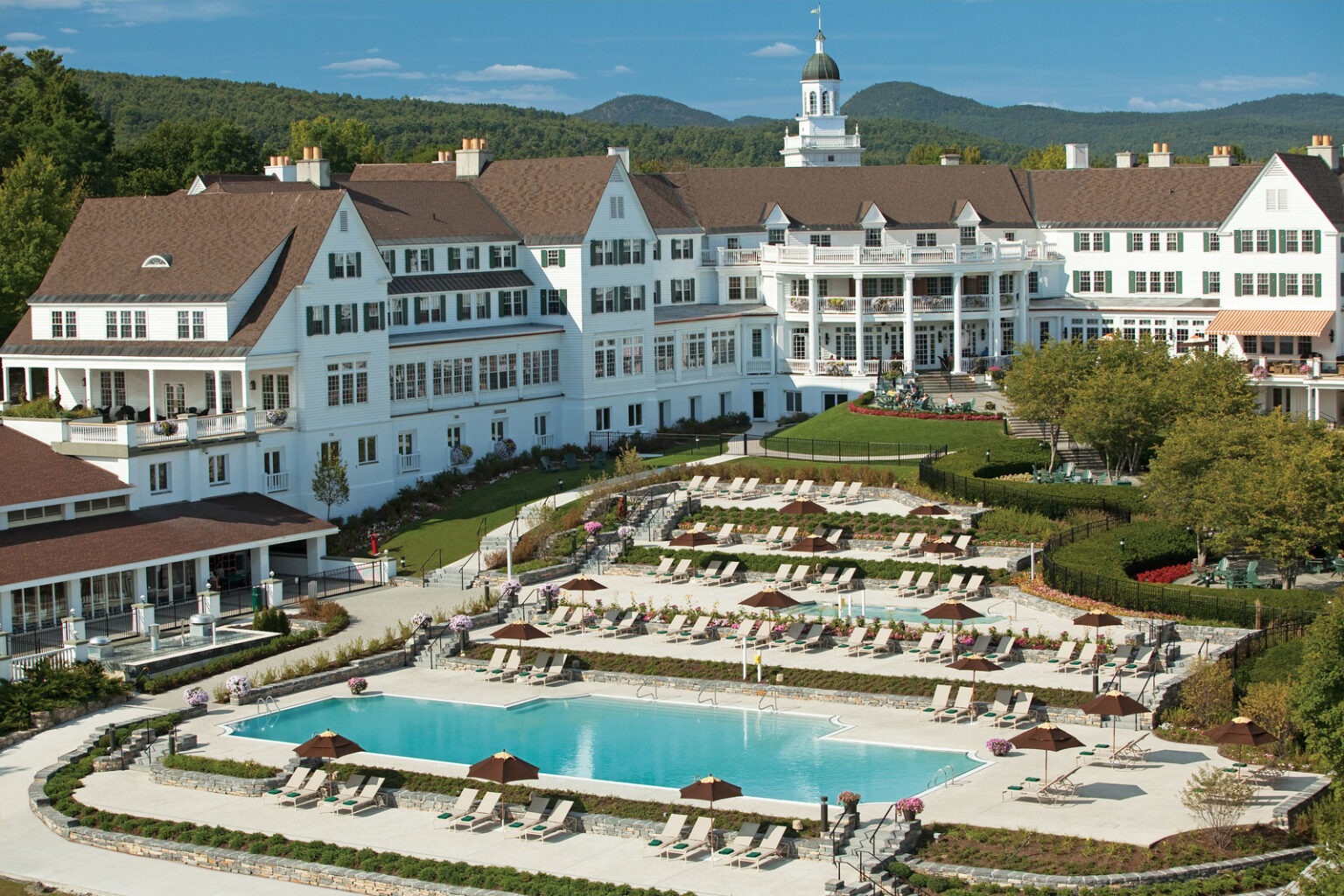 Meeting professionals looking to remove executive attendees from the norm of typical event settings are finding new residential options. Branded residential resorts such as Encore Resort at Reunion in Orlando, Florida, and Sagamore Resort on Lake George in New York are alternatives to big box hotels for memorable escapes.
Companies such as Rentyl Resorts allow meeting professionals to source from locations dotted across the globe from Athens to Miami. Properties feature resort-style amenities, including bartending and chef experiences and catering delivery, supported by 24-hour concierge service and daily housekeeping.
As team building and networking often top the list of objectives for incentives and retreats, curated packages allow for a seamless experience for groups of any size. Horseback riding, golfing, fishing expeditions and skiing are popular options.
Those looking for a more laid-back experience can relax on the beach, take a jaunt through shopping districts, rejuvenate with magical spa treatment, or take in the breathtaking panoramic view from locations overlooking the Pacific, Atlantic and Mediterranean.  
Each Rentyl property is fully supported with state-of-the-art technology and full-service catering to ensure events go smoothly and allow ample time for guests to relax and enjoy their surroundings.
This article appears in the September 2022 issue. You can subscribe to the magazine here.