Guest room at Hilton Anatole Dallas
Event professionals collect more than floorplans when they're out in the field. Most have a cache of stories about the crazy things they have found in hotel rooms when on site inspections, and we aren't just talking about balled-up undies left in drawers. Who, for example, thought it was a good idea to design showers in which you have to be soaking wet to adjust the temperature?
We all want clean, functioning bathrooms and comfortable beds. But attendee expectations are ratcheting up beyond the basics as never before. They watch all those design shows on television, too. So, Smart Meetings asked event professionals—our readers are always our best sources—what they look for on site visits. Then we asked designers to demystify the trends found behind hotel doors all over the country.
Fewer Tubs, More Showers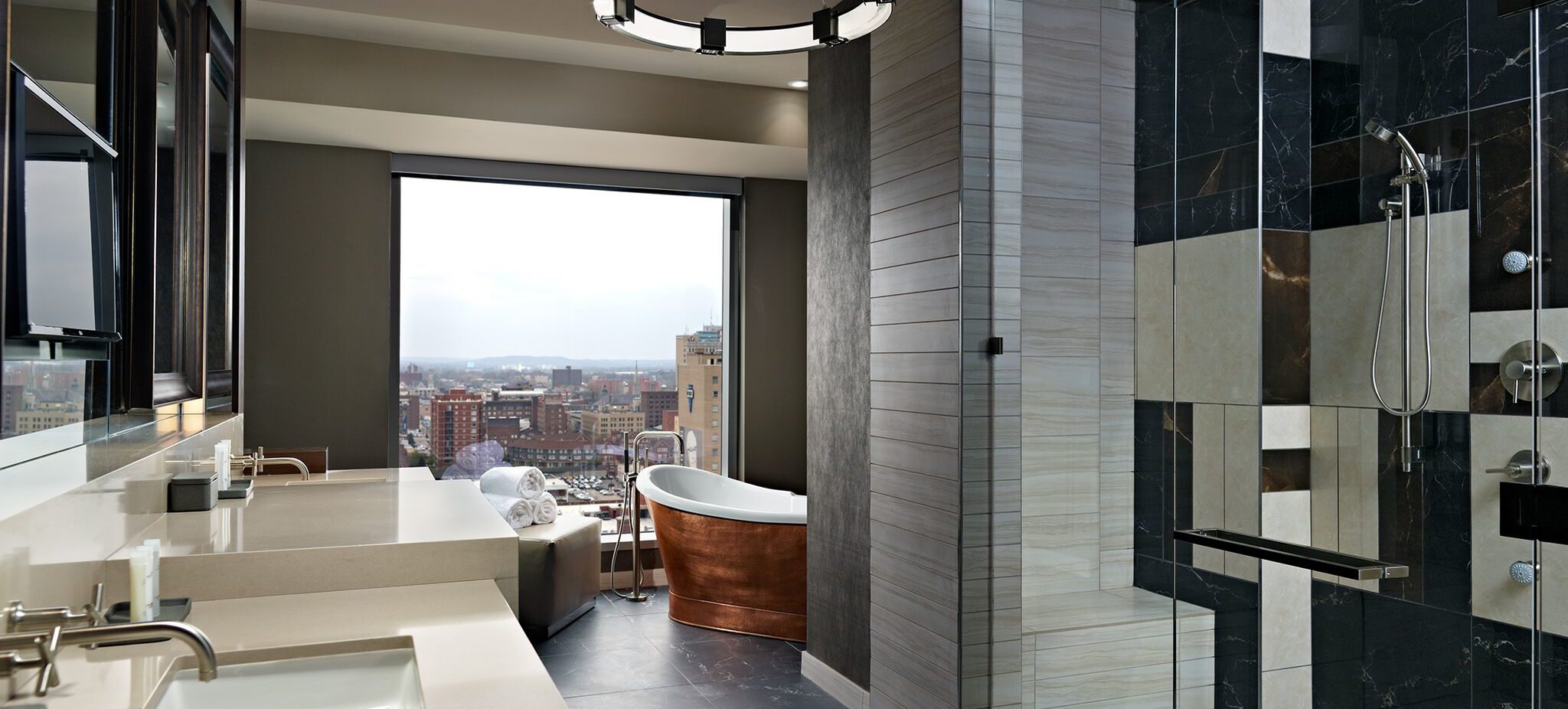 This trend started a few years back. Today, a glass-enclosed, waterfall shower is becoming more common than a ceramic bowl with a drain. Laura McKoy, creative director and vice president of interior design at Omni Hotels & Resorts, says her brand starts with the guest demographics in each hotel. You'll find more tubs in rooms with double beds (where families might be staying) than in rooms with a king-size bed. When these do have tubs, they are oversized soaking tubs deep enough to provide full coverage. "We want to give people choices," she said.
Anne-Marie de Lavison, vice president of business development at JPdL Toronto & Niagara, thinks hotels should leave instructions for how to operate what she calls space-age shower tap systems. "One does tend to get into a panic at the prospect of not being able to shower prior to attending an early-morning meeting," she said.
Sharon Robberson, owner of Facilitations in Apison, Tennessee, says she looks for lighted magnifying mirrors, night lights, large-enough soap bars and decent hair driers. A travel-size toothbrush and toothpaste in the bathroom amenities kit is nice, too.
Have you also noticed how bathrooms and closets are more often closed off by pocket doors—sometimes designed to look like barn doors—these days? It's to save space required for a swinging door.
Greener Bulbs, Abundant Outlets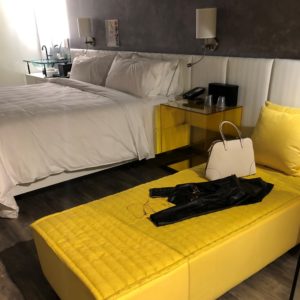 Lighting technology has improved to the point that LED lamps are now both energy efficient and warm-toned. And many have extra outlets for guests to plug in all their electronics. Gretchen Hartley, senior director of global design strategies at Marriott International, said outlets near the bed's headboard are a must-have, but they are also popping up all over the rooms in Marriott's Experience Zone—where model rooms for the company's many brands are tested—at company headquarters in Bethesda, Maryland. Clocks, on the other hand, are becoming optional because most people rely on their smartphones to check the time and set alarms.
Instead, some Marriott and Wynn Las Vegas hotels, among others, offer Alexa and Echo voice assistants to control everything from temperature and light to television and room service—all the while answering burning questions that hit in the middle of the night, such as: Will it rain on my outdoor reception tomorrow?
Functional Furnishings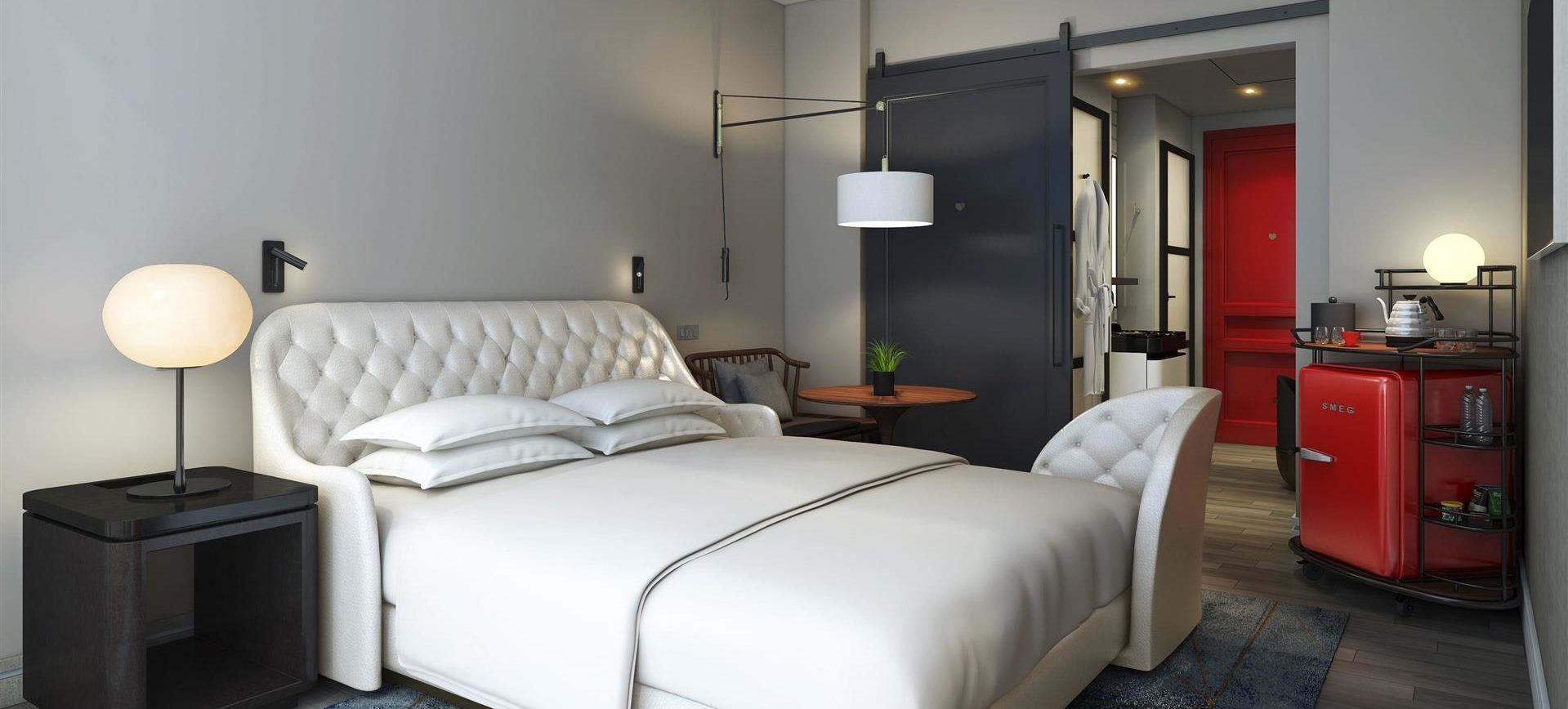 Desks, when rooms have them, are now designed as multifunctional spaces. You can work, sit and eat on them, and even park your suitcase on one without having to pull out the luggage rack. At Richard Branson's Virgin Hotels, the big desk was ditched in favor of beds with headboards and cushions designed to help people prop up with a laptop, according to Doug Carillo, vice president of sales and marketing for the brand.
Often, today's room seating is modular so guests can move it around to fit their needs. Underfoot, hardwood or vinyl flooring topped with an area rug is becoming more common, partly because it is easier to keep clean than wall-to-wall carpet.
Don't be surprised if you find a yoga mat rolled up in the closet at Sofitel Hotels & Resorts or a an exercise bike and weights tucked behind the bed at Hilton Hotels & Resorts as more guests are looking for their wellness in the room with the help of a video class rather than trudging down to a sweaty weight room.
Extremely Artful Spaces
More brands are including custom touches that reflect the location's local history and culture so when even a perpetual road warrior opens her eyes in the morning, she will know at a glance whether she is in Dallas or New Orleans. "I want people to feel that even if they didn't get a chance to get out of the hotel at a conference, they feel as if they have experienced the city," McKoy says, describing Omni's dedication to comprehensively researching a destination before designing the room.
Hotel art is no longer a derogatory term at many properties. Robert Watson, general manager at Hilton Anatole Dallas says the $35 million worth of museum-quality art at the massive conference-center property represents more than pretty pictures to break up expanses of white walls. In addition to its impressive paintings and antiques, the property's collection includes two 12-foot, painted segments of the Berlin Wall. These pieces make a statement and start conversations.
All Accessible and Super Sustainable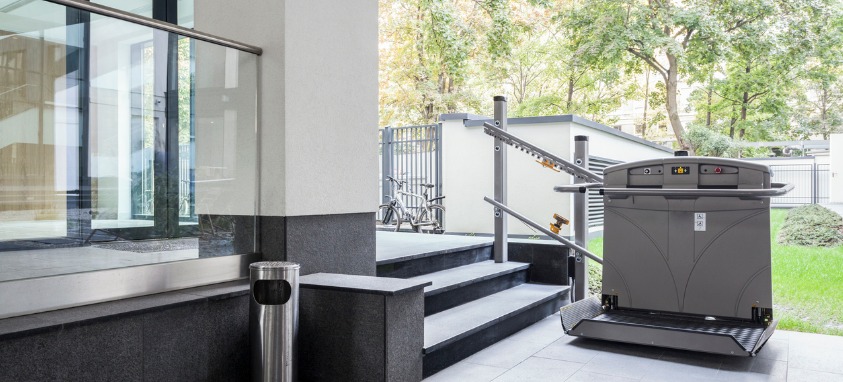 Hotel properties have made welcoming everyone a priority. McKoy explains that touches such as leaving generous clearances around beds benefits housekeeping staff as much as it does those with mobility issues. With 54 million Americans identified as having a disability and our increasingly aging population, more designers are looking for ways to accommodate their needs by incorporating assisted-listening systems, Braille, large print and wider doorways in all rooms.
Meanwhile, instead of $8 plastic bottles of water, planners are looking for more environmentally friendly alternatives, such as water dispensers and reusable cups. "As professional planners we have a responsibility to promote sustainability for our environment at our meetings and conferences," said Heather Tanfani, CMP, president of Events! "Venues should also be held to this standard to educate and inform planners about steps they can take to minimize waste."
Oh, and did we mention free, high-speed internet? A planner can dream, right?