A rocking band kept energy levels high
Themed outdoor event in Florida showed off thoughtful design
Editor's Note: For a behind-the-scenes look at how to mount a successful opening celebration outdoors in early spring, we chatted with Kathleen Cherubin, marketing manager at Hilton West Palm Beach in Florida.
Business goal: To celebrate Hilton West Palm Beach's two-year anniversary and officially unveil the newly redesigned Galley restaurant, the team designed an event to showcase the ambiance and persona of the restaurant—fun, creative, innovative, service-oriented, interactive and delicious. The focus was on giving hotel team members an opportunity to celebrate their successes while interacting with guests, with the aim of fostering personal relationships and showing off the amazing team behind the culinary and beverage program.
Challenges: From food stations and bars to live entertainment and dancing, the entire event took place on Galley's patio and pool deck. This put the event at the mercy of the weather, but luckily the day dawned with dry skies.
Event Solution: The team researched the event date, March 1, in the almanac and hoped the weather would track to previous years—and it worked.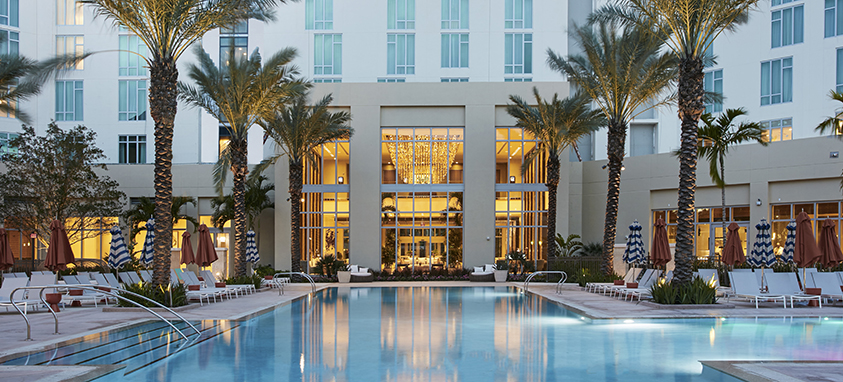 Focal Point: The event highlighted the creativity and playfulness of Galley's team members and a revamped menu designed by executive chef Miguel Santiago. Galley was transformed into a '90s-themed party, with matching music and decor, including vintage Lite Brite signage to describe food and beverage stations and descriptive, witty blackboards. A pizza oven was set up facing guests, so the chefs could engage. Lively entertainment and musicians threaded through the crowd. A radiating fireplace enveloped outdoor seating in a warm glow. Food and cocktails were presented at themed stations on the outdoor patio.
Interactive elements: To encourage guests to engage with team members, each station was named after the server who curated and customized the set-up, and each location reinforced an attribute that made Galley stand out. For example, a lead "cocktail smoker" designed the look, feel and taste of a Smoked Old Fashioned drink station. Another server designed the ambiance for her French fry station, and the pizza team seasoned, cut and served fresh pizza. The thank-you gift was a bag of s'mores ingredients with a note reading, "We hope to see s'more of you soon."
Success measurements: About 170 people attended the event, which exceeded expectation. Guests ranged from team members, friends and family, to hotel guests and members of the community, including neighboring hotels and cultural organizations.
Lessons Learned: Encourage creativity and push the envelope, while having fun.