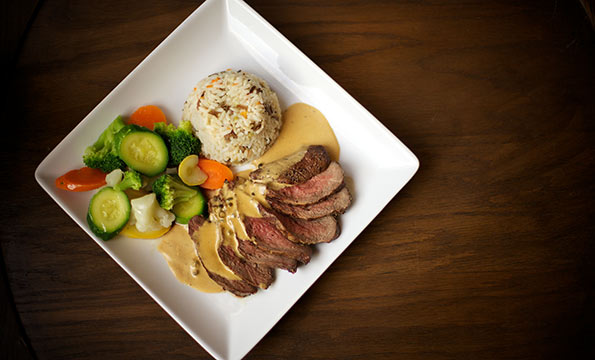 After a long day of learning and networking, event attendees are often famished. In such cases, nothing satisfies quite like meat. While burgers and steak are perennial favorites, planners game for new ideas are experimenting with more exotic carnivorous offerings. With a host of unusual proteins, from elk and buffalo, to tongue and sweetbreads, planners are putting the meat back into meetings.
Where Buffalo Roam
Snake River Lodge & Spa in Teton Village, Wyoming, is an upscale meeting destination adjacent to Grand Teton National Park. Specialties at its Gamefish Restaurant include buffalo carpaccio on artisan toast points with shaved reggiano cheese and black truffle vinaigrette, and elk and juniper sliders served with beer-battered onion rings.
Casablanca Revisited
The Cypress Room in Miami takes patrons to a bygone era of Bogart, cocktails and unusual meats. The menu features delicacies such as wild boar with celery root puree or pheasant prepared with farro, zucchini, almonds and swiss chard. Appetizers include frog legs with capers and garlic or roasted marrow bones.
Meat Your Maker
Chef Michael Symon's acclaimed Lola Bistro in Cleveland is a feast of mouthwatering meat options. Appetizers include beef cheek pierogis stuffed with wild mushrooms and drizzled with horseradish creme fraiche, and veal sweetbreads prepared with turnips and grapes. For an entree, how about lamb loin with fava beans or calves heart with preserved lemon?
Got Game?
Cottonwood Grille in Boise, Idaho, sure does! For a taste of the true Northwest, try its premium sauteed elk loin, dressed with a green peppercorn sauce (pictured). The restaurant, which can accommodate meeting groups of up to 80, also features buffalo, venison and prime-grade American beef.
Tongue in Cheek
Everyone is talking about tongue, the hip beef that is commonly piled high in a sandwich. Have it on rye with mustard at Katz's Delicatessen, the iconic New York City restaurant where Harry Met Sally. Its gigantic version is served with sour pickles. You'll have what she's having.
---