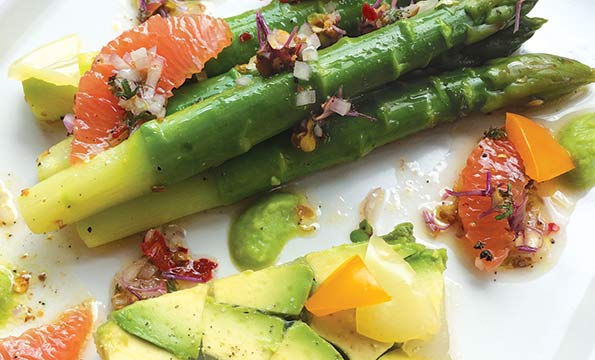 After a tough winter in much of the country, spring has finally arrived. The air is getting warmer, buds are appearing on trees and the landscape is taking on an Oz-like hue. Chefs at restaurants and hotels across the nation are taking advantage of nature's offerings by incorporating a variety of green foods into their menus. Take notice, meeting planners. It's time to go green!
Spinach: A Green Superfood
There is a reason Popeye loves spinach. It is a green superfood. Entice meeting attendees to try it at Peter Luger Steak House in Brooklyn, New York. Rich in vitamins (and butter), its creamed spinach pairs perfectly with ajuicy steak.
Hail to Kale
Kale is everywhere, including The Roosevelt New Orleans. Don't miss the Tuscan Kale at Domenica Restaurant & Bar, the property's Italian restaurant, where they deep fry the fibrous green, mix it with pine nuts, tomato and Parmigiano Reggiano, and finish it with a tasty balsamic glaze.
Mucha Matcha
Matcha, a finely ground green tea powder, is appearing in soba noodles, lattes and ice cream. At Matcha Love in San Jose, California, try soft-serve matcha, hojicha (roasted green tea) or go wild and add some black sesame. The tasty frozen treats are served in waffle cones or bowls.
Green Cocktails
When meeting in Southern California, slide up to the Moon Juice bar at the ultra-trendy Ace Hotel Downtown Los Angeles for healthy cocktails brimming with enzymes, vitamins and trace minerals. Its emerald-colored Goodness Greens juice is made from cold pressed kale, dandelion, parsley, spinach and celery.
Savory Salads
The focus at Natural Epicurean at The Broadmoor in Colorado Springs, Colorado, is wholesome, organic dishes made with locally sourced ingredients—some of which are grown on the premises. Its Chilled Green Asparagus dish features the perennial spring green, in addition to pink grapefruit segments, avocado and pickled chiles.
---
---