Isadore Sharp in 1982, when Four Seasons Hotels and Resorts managed 12 properties
Isadore Sharp has built Four Seasons based on one basic principle—the Golden Rule
Position: Four Seasons founder and chairman of the board
Birthplace: Toronto
Education: Bachelor's degree in architectural technology from Ryerson Institute of Technology in Toronto
Family: Wife, Rosalie; three sons; their fourth son died from melanoma in 1978
Interests: Spending time with his wife (No. 1 priority), tennis and bridge
Isadore "Issy" Sharp was struggling to make a career in the construction business when a couple of unexpected occurrences veered him in a new direction.
First, though he had never built a hotel, a family friend hired him to build a 22-unit motor hotel, Motel 27, on a limited-access highway in Toronto.
"I was surprised at how successful it became, and it made me think about how well a downtown hotel would do in Toronto," he says.
Sharp was able to secure funding through family, friends and corporations to open the first Four Seasons hotel, a 125-room property, in a rundown downtown area of Toronto in 1961. It, too, was very successful, and he and wife Rosalie traveled to London to celebrate. The couple was very impressed with The Dorchester hotel, where they stayed. After returning to Toronto, Sharp happened to meet a builder who worked for the Robert McAlpine Company, which owned The Dorchester.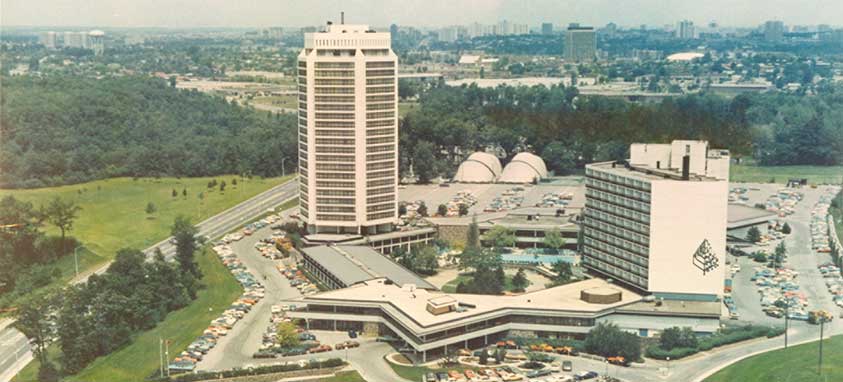 Vintage photo of Inn on the Park Toronto

Sharp and the builder collaborated to open Inn on the Park London, the second Four Seasons hotel, in 1970. It received widespread praise—including being voted best hotel in Europe and best hotel in London—mainly because of the outstanding service guests received.
"When I started building hotels, I didn't know anything about the hospitality industry," says Sharp, now chairman of Four Seasons Hotels and Resorts. "I viewed building hotels just as real estate deals. But with our success in London, I realized that we could offer a level of customer service that would make us very competitive in the industry.
"Up until that point, I hadn't even thought about having a career in the hotel business. I grew up in a poor immigrant household, and that didn't give me a feeling of what I could become. I had no vision. I believe your ability to predict your future relies on your experiences and background."
Four Seasons' Culture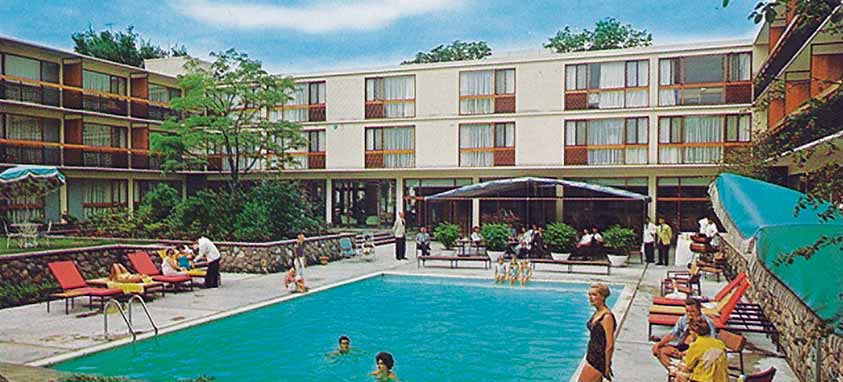 Pool at original Four Seasons hotel, Toronto
Four Seasons Hotels now operates 105 properties in more than 40 countries, with more than 50 in the pipeline. The properties generally are medium size, with around 200 guest rooms, although the number ranges from less than 100 to up to 420.
Meeting and convention groups account for around 20 to 40 percent of the occupancy, depending on the market.
"The hospitality industry relies on conventions and meetings," Sharp says. "Without them, hotels would have a difficult time maintaining needed occupancy."
To this day, superb customer service remains the main distinguishing feature of Four Seasons—and a simple but powerful principle is at its core.
"We put in place the concept of the Golden Rule to show what we expected of our employees and what they could expect from managers," Sharp says. "It is the first rule of human rights and is honored by every major religion."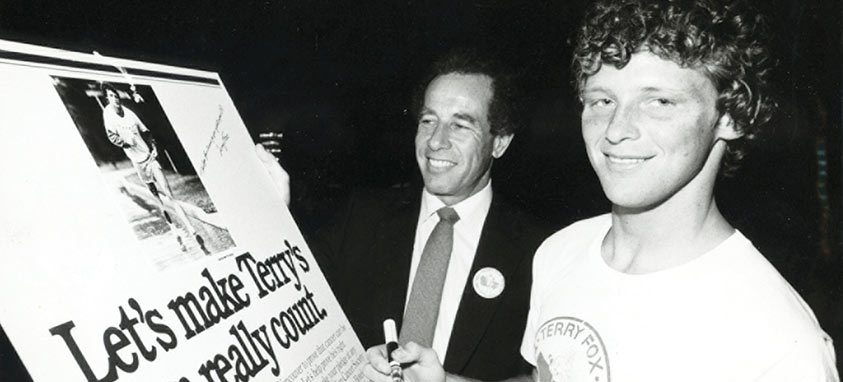 Isadore Sharp and Terry Fox promoting the National Terry Fox Run
The company implemented both a customer-centric and an employee-centric approach, resulting in Four Seasons winning a steady stream of customer service awards, having one of the lowest turnover rates in the hospitality industry and being named by Fortune as one of the 100 Best Companies to Work For every year since 1998.
"I believe that all employees should feel that their role has a purpose, and that they have a duty and responsibility that goes with their position," Sharp says. "We all have a skill, and for the company to succeed, we require skills in many disciplines. I'm a great believer in team efforts.
"It's all about 'we,' not 'me.'"
Four Seasons strives to achieve excellence in service, product, location and recognition.
"Those four points are consistent, both in good and difficult times," Sharp says. "They don't change. What does change is the way that we accommodate customers. We always need to be aware of changes taking place in the world and the changing needs of customers. Our ability to understand and address their needs has set us apart from the competition.
"It's really about intangibles."
Finding a Focus
Sharp's approach stems from the values he and his three siblings learned from their parents—who emigrated from Poland—while growing up in a Jewish ghetto in Toronto. His father, Max, was a devout Torah scholar who ran a small construction business, while his mother, Lilly, raised the children and attended to boarders at the family's home.
"I was fortunate to have a family of sisters and hard-working parents who gave their children guidance and values that enabled us to become successful," he says.
Sharp was popular among his schoolmates, but not very focused on his studies.
"To me, school was a playground for sports," he says. "As a teenager, I participated in just about everything, including basketball, football, hockey and track and field."
During summers, rather than attending camps, he worked for his father, who specialized in home renovation, often reselling homes for a profit as a real estate investor. The experiences Sharp gained gave him insights into the construction and real estate business that proved vital to his career.
He then attended Ryerson Institute of Technology in Toronto. In his freshman year, Sharp was voted Athlete of the Year, though he still was not very engaged with his studies. By his senior year, however, he won a silver medal for academic proficiency.
He received an undergraduate degree in architectural technology in 1952, but intended to become a construction worker.
"I studied architecture because it was one of the main ways to learn more about the methods of building," he says. "I did not intend to become an architect."
In 1955, Jack Gould hired him to build Motel 27.
Pivotal Changes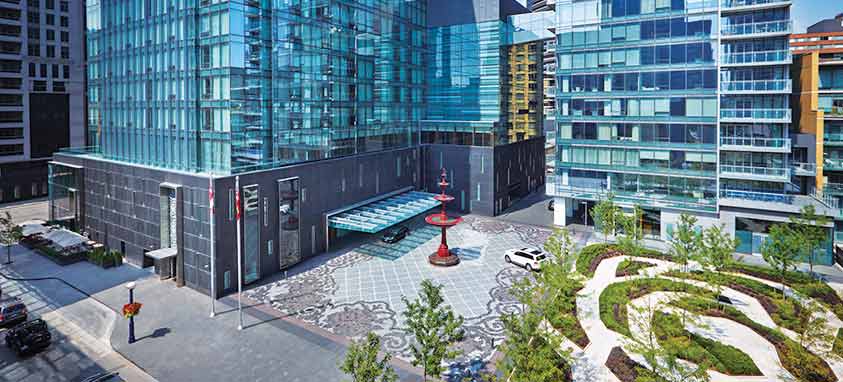 Four Seasons Hotel Toronto (photo by Christian Horan)
Initially, Sharp owned the hotels he built, but this changed due to a near-catastrophic situation in the mid-1970s. Four Seasons had committed to build a $25 million hotel in Vancouver, British Columbia, but unexpectedly, economic inflation substantially increased construction costs, making it virtually impossible for the company to pay back the money it had borrowed to build the hotel.
The three corporations that owned the land agreed to rewrite the agreement and Sharp borrowed additional money to complete the hotel, but the experience taught him that the risk of building and owning hotels was too great.
"The business deal was restructured so that we could survive, but I realized we could not build and own our hotels anymore," Sharp says. "I don't want to take on financial liabilities that we can't meet.
"This could have been a destructive situation, but it turned out to be a great learning experience. We switched to operating hotels, and that has enabled us to be very successful."
Four Seasons is the leading designer of the properties it operates and has nearly total control of operations.
The company also underwent major changes in 1986, when it went public, and in 2007, when Microsoft founder Bill Gates and Prince Al-Waleed bin Talal of Saudi Arabia paid $3.8 billion for 95 percent ownership of it. Sharp maintains a 5 percent stake in the company.
"I selected the other owners because they are the best people to continue the legacy of Four Seasons," says Sharp, 85. "They provide stability and certainty for the future. I know that they'll never have to sell, because they're on solid financial footing, and they will help the company to build on its strengths."
Maintaining an Active Life
Young Isadore Sharp, the builder
Sharp served as CEO of Four Seasons until 2010, but continues to serve as chairman of the board. He's still closely involved with properties' aesthetics and design. His wife, a professional interior designer, has played a major role, as well.
"When we build and renovate, I give the final approvals," he says. "I also act as a statesman in preserving our partnerships and products. And when existing and new partners come to Toronto, we host them."
He also travels to Four Seasons properties.
"I give a state of the union address, so to speak—but I'm speaking from a different pulpit now," he says.
Sharp also is very involved with his philanthropic efforts. He helped to start and is director of the National Terry Fox Run, which has raised $750 million for cancer research since it began in 1981. Also, he and his wife have contributed to many other organizations, including Ontario College of Art and Design, Mount Sinai Hospital and Hebrew University of Jerusalem.
"We've had the privilege of sharing some of our fortune with others," he says. "It's part of our upbringing: The Jewish word 'tzedakah,' refers to the importance of sharing your good fortune."